Here is a story that is the literal embodiment of: "Want to feel old?"
It was posted to Facebook by Barbara Noble Sobel, who said she got permission from the mom in the screenshot conversation on the condition of anonymity for her son—probably because she doesn't want people yelling at him about bulletin boards.
In the hilarious text exchange, the son is really trying to wrap his head around his mom getting through college without email. Keep in mind that most people in the history of humanity went to college before email, and it's already become a distant memory.
The son wants to know what his mom did when class was canceled, and she laughingly explains that students would have to walk over and see the note on the door canceling class.
"What if it was at 8am?" he asks, incredulous. "You'd still have to wake up early and walk all the way in?" That's right, they would make you get out of bed!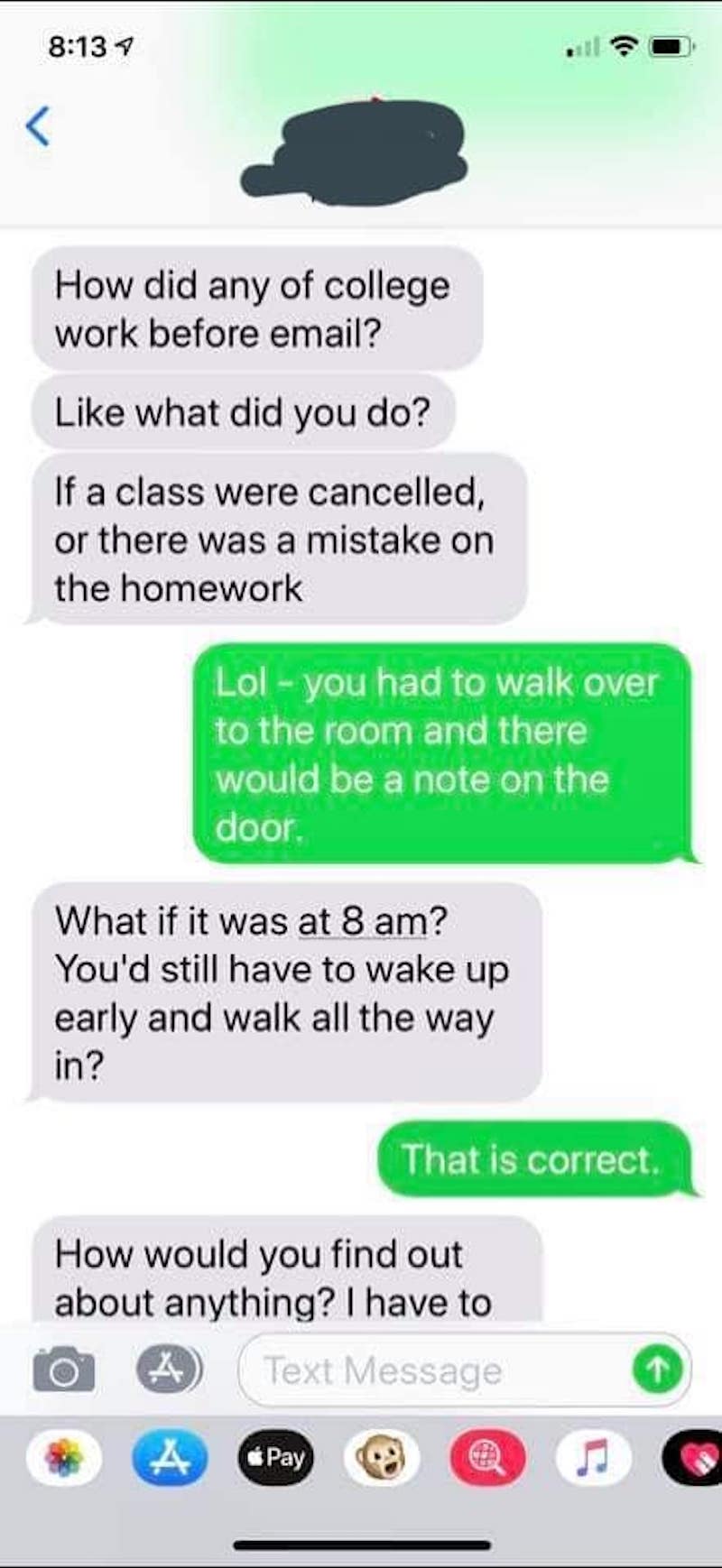 Her son doesn't even understand how his mom kept track of info, plans, and classes without email, and she says that students would "write things down."
Then she explains bulletin boards, which have apparently become a foreign concept. I don't know how that's possible, because I still see flyers everywhere, but I guess they're not commonly used by college administration anymore.
"But how would you read that without walking all the way to the building?" he demands. He's having a lot of trouble grasping the going to school to learn about school concept.
When she reaffirms that she had to DRIVE to school to get info, she blows his mind further when she explains that she would see job listings on bulletin boards to, and had to actually call in for information and to possibly get hired.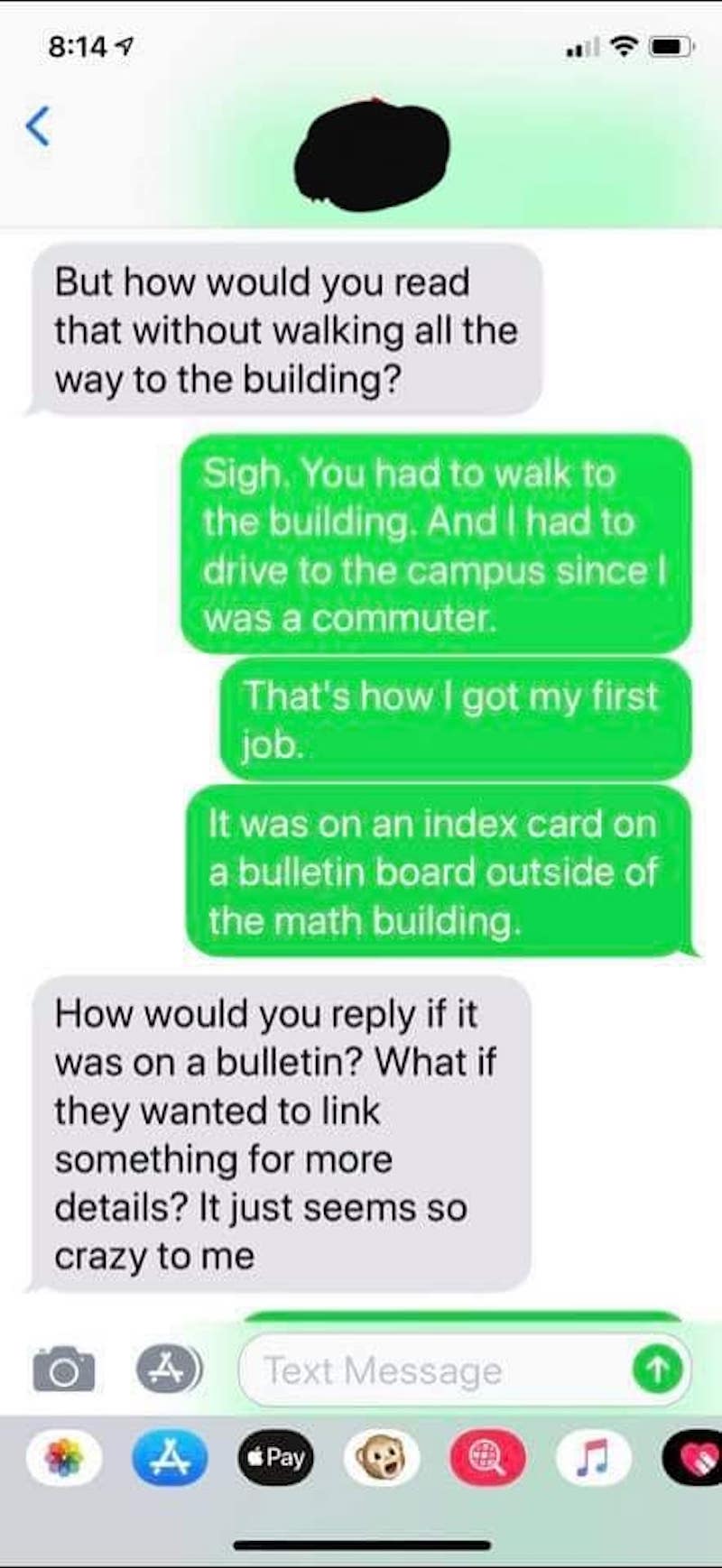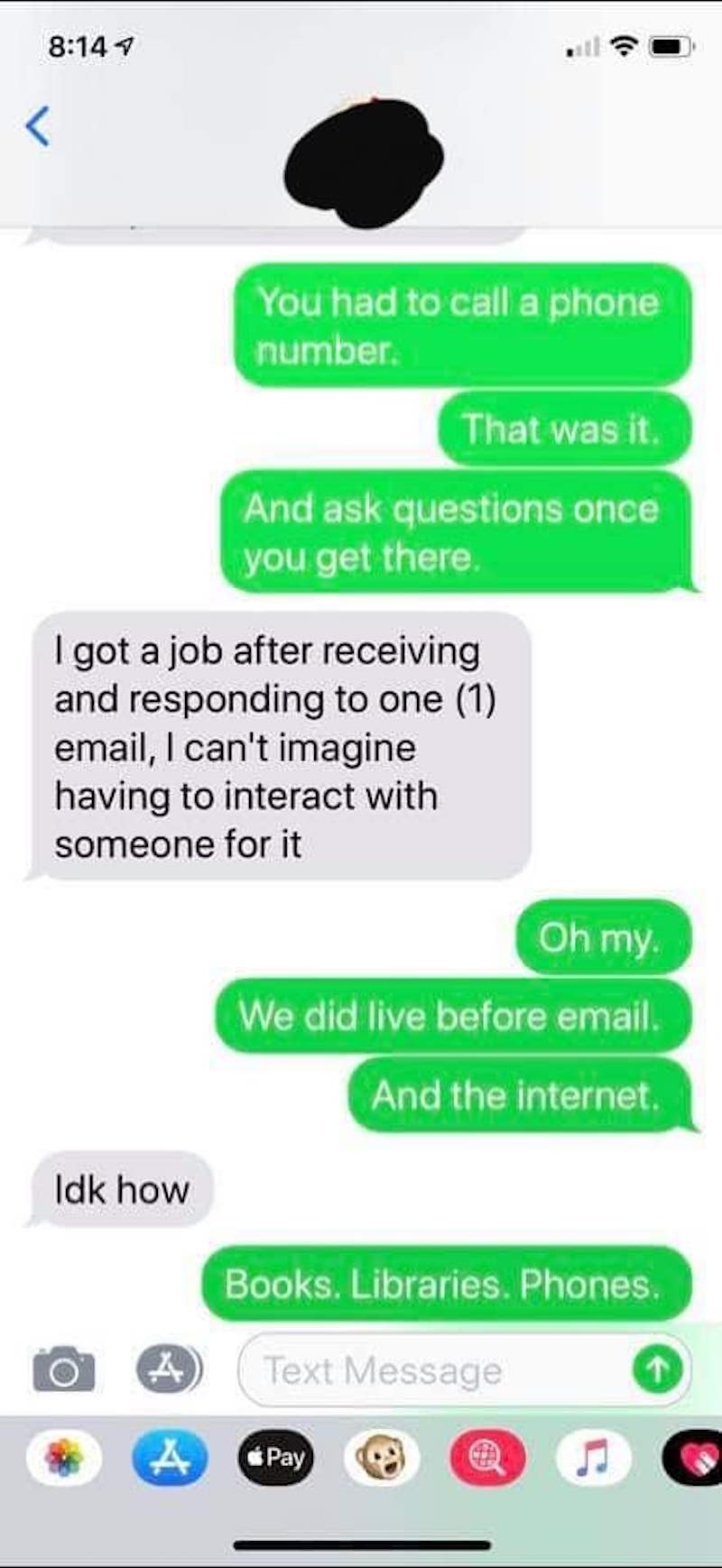 Her son says he got a job off of an email and can't imagine "having to interact with someone for it."
It is terrible to have to interact with people for a job, I agree. When he says she doesn't know how people lived before the Internet, she reminds him of the existence of "Books. Libraries. Phones."
While I would not want to have to walk to class only to find out it's canceled, it would be pretty thrilling to have Inbox Zero because my inbox doesn't exist.
More parent texts: