Weddings are joyous and stressful events and with so much cultural importance laid on them people tend to get a little wacky in their attempts to make the occasion a memorable one.
One man on Twitter named Louis Bam (@BokNRoll) decided that as a funny present to his wife he would secretly invite several hundred celebrities to attend their wedding and make her a scrapbook of their responses.
The result was stranger and funnier than he could have imagined and he told the curious tale in an entertaining thread on Twitter.
Ok so due to popular demand (literally only @mspr1nt asked) Im going to tell you about the time I invited 300 people that I didnt know, to my wedding.

This was in 2012 and it seems now that back then, I had nothing better to do.

— 32-12 (@BoknRoll) May 21, 2018
Right, so the idea was simple enough. Google celebrity addresses (turns out there are websites that help stalkers with just this),mail them invites, and present my wife with an album filled with celeb wellwishes at the wedding as one of a couple of small surprises during the day.

— 32-12 (@BoknRoll) May 21, 2018
After ponying up the money and licks for a few hundred stamps the ball was rolling.
My sister @mrsivymadn helped me a lot with this ludicrous idea. We sent approx 200 letters to celebrities that my wife and I liked, and world leaders that, well, lead stuff.

Did not foresee that the toughest bridge to overcome would be the price of postage, but it was.

— 32-12 (@BoknRoll) May 21, 2018
Amazingly a large number of celebrities (or at least their assistants) sent polite written replies.
The invitees ranged from actors and politicians to royalty. While they (unsurprisingly) all declined to interrupt their lives to attend a stranger's wedding their responses were shockingly polite. Here are a few who wrote back.
Ewan McGregor
Princes William and Harry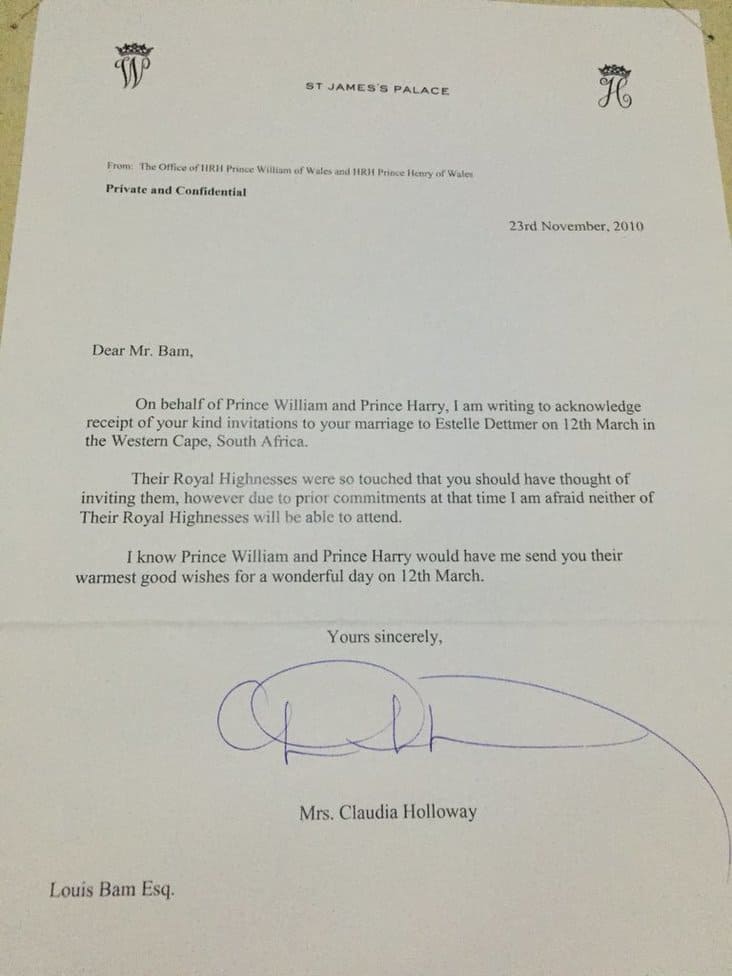 Heidi Klum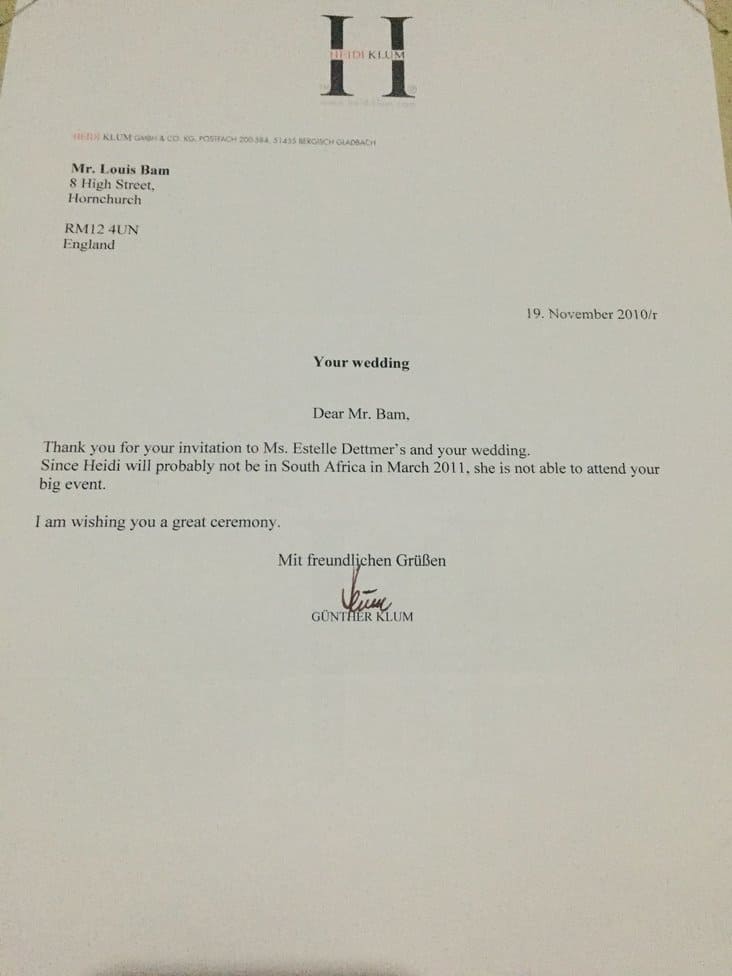 Prince Charles
Gordon Ramsay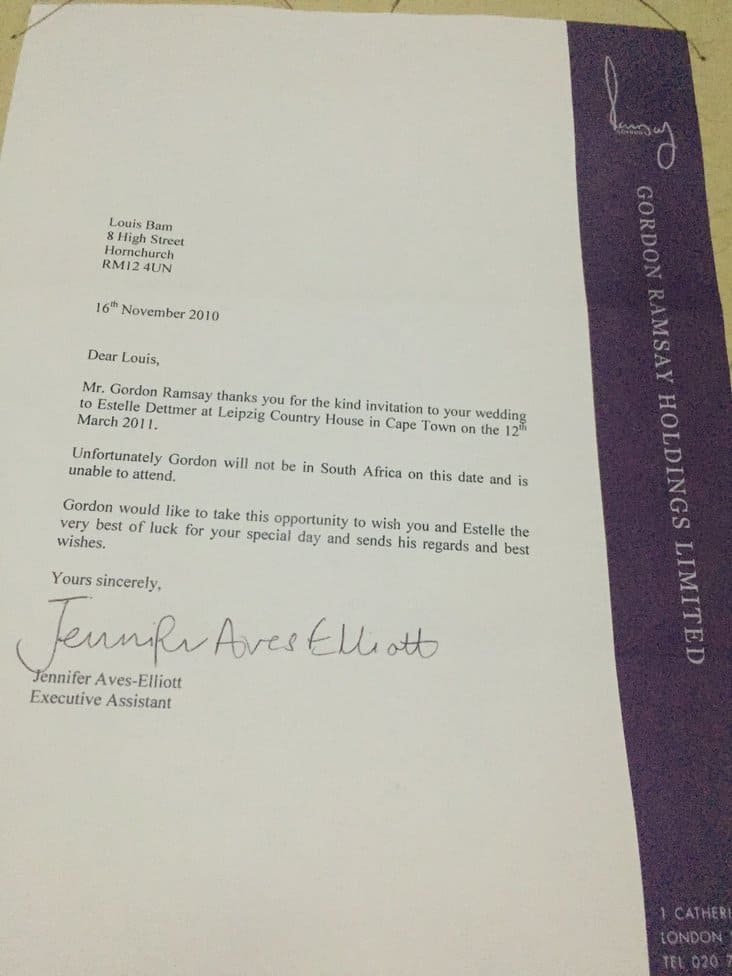 Queen Elizabeth II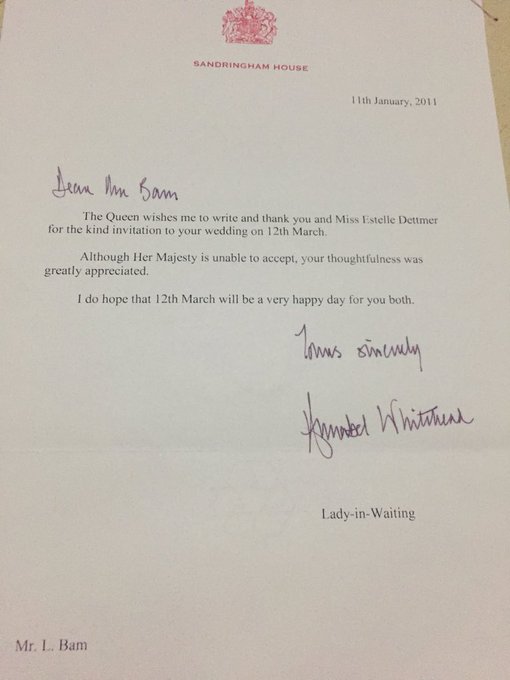 Dame Judi Dench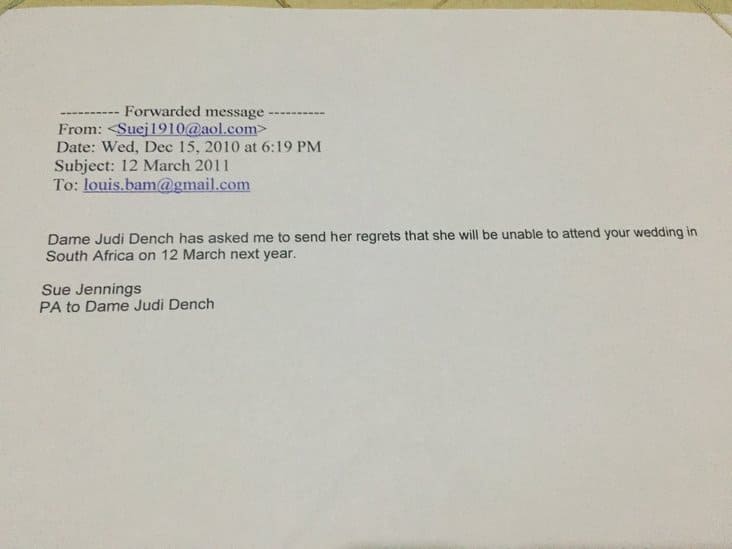 Lance Armstrong
She told me Louis, I dont know what youre up to but you better now be inviting people to my wedding. We only have 120 seats and theyre full.

Knew Lance Armstrong wouldnt come. Probably doping somewhere.

Sad @davidwalliams couldnt make it pic.twitter.com/SUOFHz59EC

— 32-12 (@BoknRoll) May 21, 2018
George W. Bush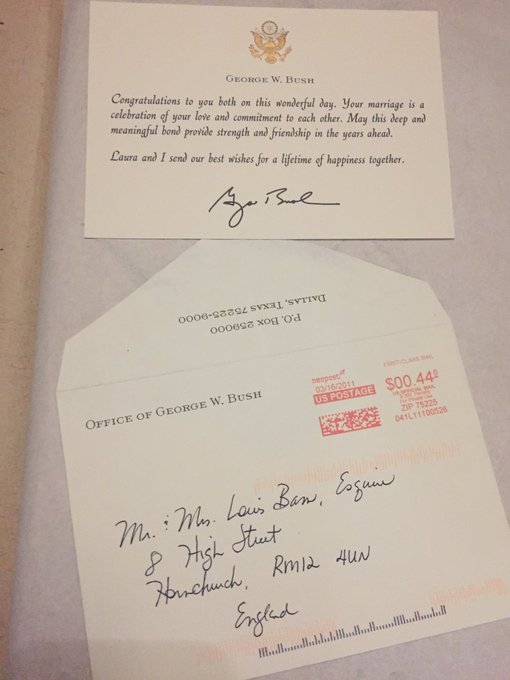 Fidel Freakin' Castro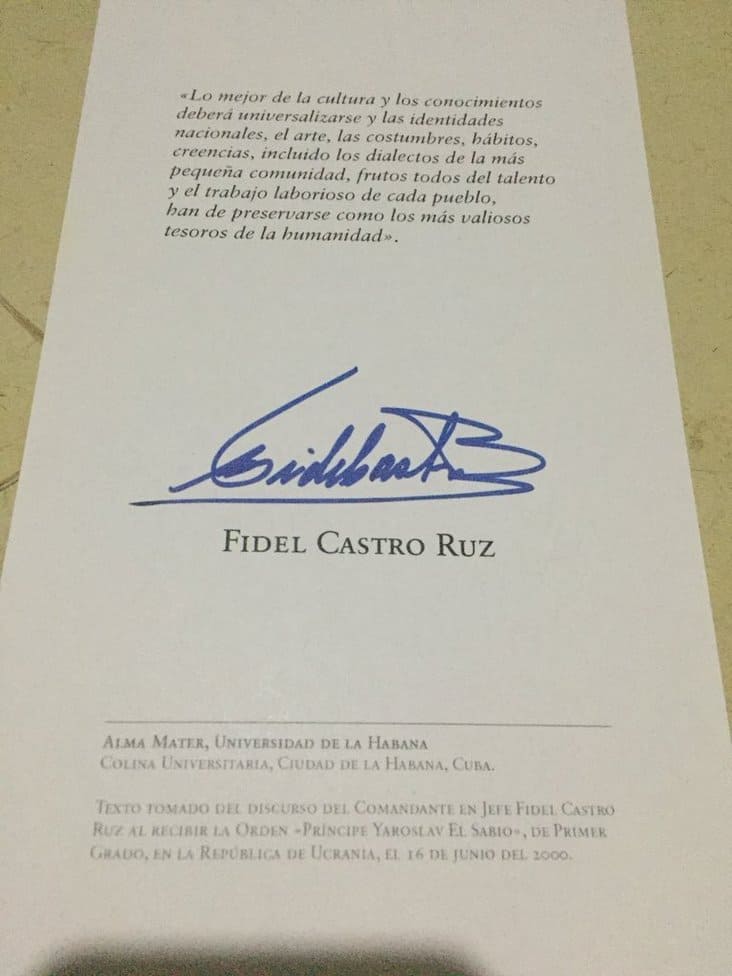 Some more politicians. Bill Clinton (hope he stays away from my cuban cigars) and a couple of George Ws pic.twitter.com/IFsUfpUMO0

— 32-12 (@BoknRoll) May 21, 2018
But the best response of all was sent by actor John Travolta who sent his congratulations on a signed glamour shot of himself.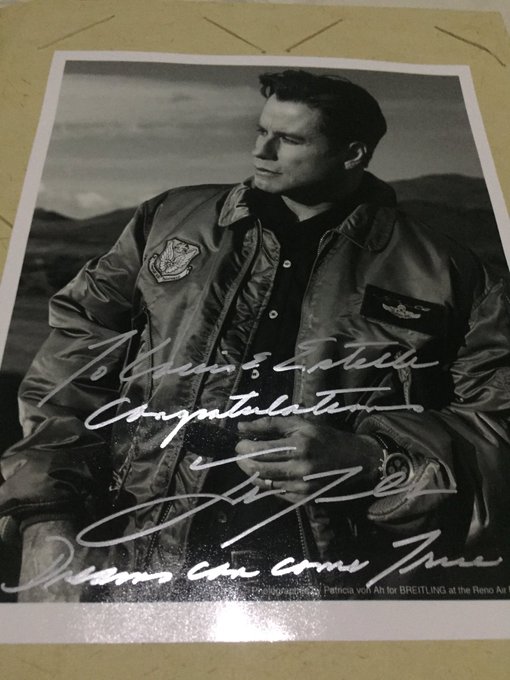 Glorious. This union has been truly blessed.
More from Twitter: