No matter where you fall on the Zoomer to Millennial to Boomer continuum there's always something people younger than you do that will confuse and annoy you. And if you're too young for that, just wait. With age comes a widening gulf in understanding and shared experiences with the young and sometimes their ignorance of recent(!) history can be downright startling. Gameboys? N'Sync? Things with wires? Forget about it. Whether it's a commonplace piece of technology that you grew up with that baffles Gen-Z or a reference to a world-famous musician that flies over their young heads, the result is that elder Millennials are starting to feel old.
Elder Millennials: grab your floppy disks and hang on tight because you're about to feel ancient.
1.
My daughter just asked why we say "hang up" the phone and now I feel 90.

— Jason English (@EnglishJason) June 2, 2015
2.
In the "I'm getting old" department.., a kid saw this and said, "oh, you 3D-printed the 'Save' Icon." pic.twitter.com/rwgCpSjfDQ

— Bill Gross (@Bill_Gross) October 17, 2017
3.
The kids found this Lynyrd Skynyrd tape in the creek bed and asked if it was "from the Civil War." pic.twitter.com/ViQZYeDmyH

— Ed Wiley (@EdWiley) May 29, 2016
4.
i just asked my sister what this is, she said 'record player?' I WAS LAUGHIN TOO HARD SHE WAS YELLING "WHAT? WHAT IS IT? A TV?" yall im done https://t.co/AfpFdPEI62

— marina 🥀 (@marinap_13) July 28, 2017
5.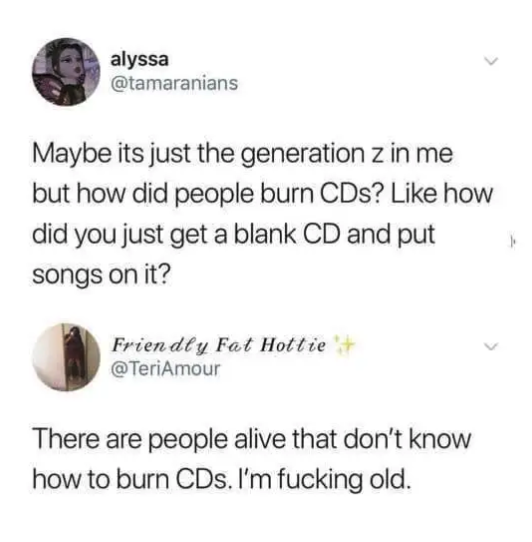 6.
7.
Ya'll, visited my mom today. My niece asked what this was.
I now feel old.😦 pic.twitter.com/BYjcyAqjBu

— Veronica Colon (@L0stPh03n1x) August 17, 2019
8.
9.
Today, one of the kids I babysit asked me "what is this lever for" and I had to explain it rolls the windows up and down. Yes, I do feel old pic.twitter.com/huKMqR8EoH

— Stephanie Richey (@StephanieLentz) June 19, 2017
10.
My son just asked me what this is, he's 11 years old….have times changed THAT much?! #OldMan #KidsTheseDays pic.twitter.com/lJSa1Uan5s

— Gil_6:30 (@Gil_630) August 8, 2016