11.
My daughter just asked why we say "hang up" the phone and now I feel 90.

— Jason English (@EnglishJason) June 2, 2015
12.
In the "I'm getting old" department.., a kid saw this and said, "oh, you 3D-printed the 'Save' Icon." pic.twitter.com/rwgCpSjfDQ

— Bill Gross (@Bill_Gross) October 17, 2017
13.
The kids found this Lynyrd Skynyrd tape in the creek bed and asked if it was "from the Civil War." pic.twitter.com/ViQZYeDmyH

— Ed Wiley (@EdWiley) May 29, 2016
14.
i just asked my sister what this is, she said 'record player?' I WAS LAUGHIN TOO HARD SHE WAS YELLING "WHAT? WHAT IS IT? A TV?" yall im done https://t.co/AfpFdPEI62

— marina 🥀 (@marinap_13) July 28, 2017
15.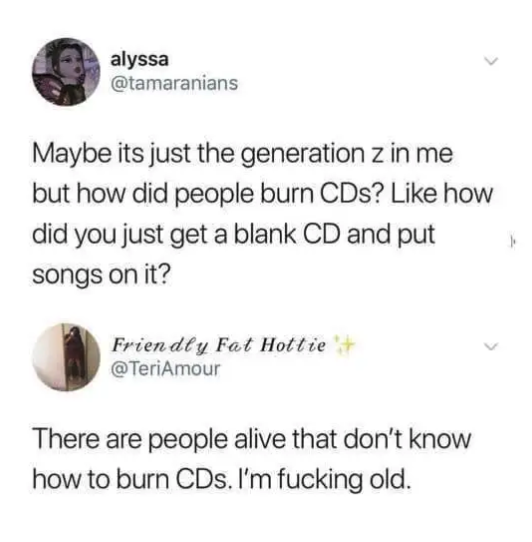 16.
17.
Ya'll, visited my mom today. My niece asked what this was.
I now feel old.😦 pic.twitter.com/BYjcyAqjBu

— Veronica Colon (@L0stPh03n1x) August 17, 2019
18.
19.
Today, one of the kids I babysit asked me "what is this lever for" and I had to explain it rolls the windows up and down. Yes, I do feel old pic.twitter.com/huKMqR8EoH

— Stephanie Richey (@StephanieLentz) June 19, 2017
20.
My son just asked me what this is, he's 11 years old….have times changed THAT much?! #OldMan #KidsTheseDays pic.twitter.com/lJSa1Uan5s

— Gil_6:30 (@Gil_630) August 8, 2016