Last Sunday, Twitter user @jazz_inmypants kicked off a thread asking the community to share movie mistakes, bloopers, pictures and plot holes that bothered them but simply are not talked about enough.
He first shared his own: "naming the ant in A Bugs Life 'Flick' is super insensitive to ants that have died from flicking. It's like if they named Bambi Shotgun."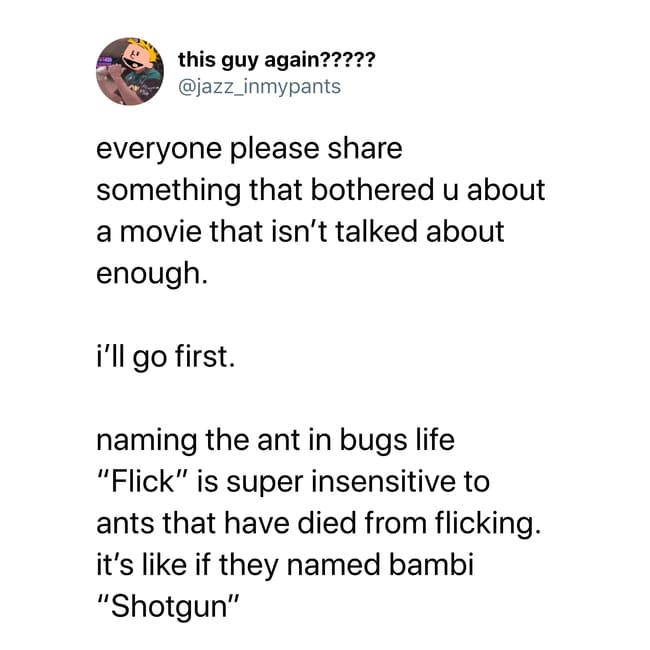 Average Joe's tweet garnered thousands of illuminating replies from folks who were BOTHERED by some BOTHERSOME movie details!!!. Here are 31 of the best.
1.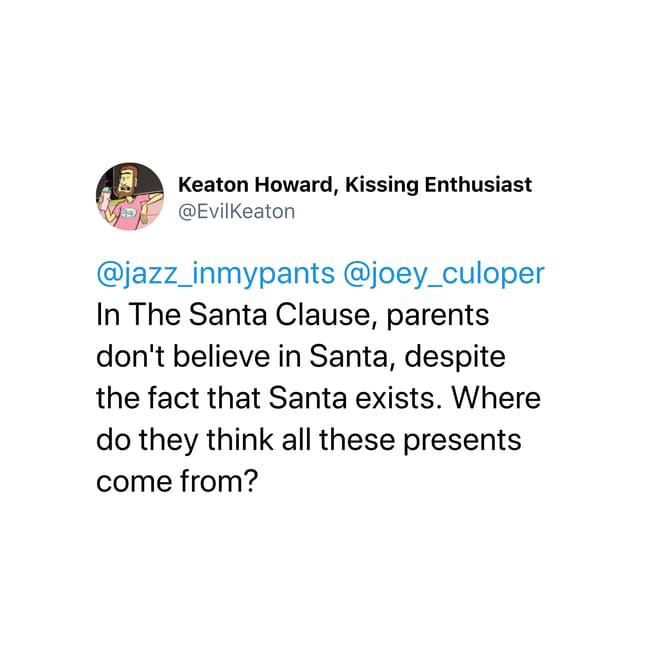 2.
in the lion king simba keeps saying he can't wait to be king then he becomes king and moves to the forest to eat bugs with a capybara

— mate (@AlwaysAButt) June 23, 2019
3.
jason from friday the 13th was 11 when he drowned so he should've been an 11 year old serial killer in all the sequels!!! that would've been sick

— haley⚰️ (@hp91825) June 23, 2019
4.
Weekend at Bernie's. How TF didn't anyone smell a dead body over the entire weekend

— Kenwyn Davids (@kenwyntheking) June 23, 2019
5.
In the parent trap, the fact that the parents were just okay with splitting up their kids and never seeing the other one ever again??

— Kara Gillespie (@KGillespie2198) June 23, 2019
6.
Willy Wonka – The poor mom slaving away for years doing laundry for a living while caring for all of the bedridden grandparents only to find out that Grandpa Joe was perfectly capable to bound out of bed and head off with Charlie after he won the Golden ticket.

— Sonya Duren (@SonyaDuren) June 23, 2019
7.
Grease is a movie that's message is change yourself so other cool people will like you.

— ShastaFeye (@badgalshasta) June 23, 2019
8.
In Disney animated movies, the main character has an American accent, the bad guy has an English accent, and everyone else has the accent of the country it's set in.

— Kyle (@KylePlantEmoji) June 23, 2019
9.
Patrick Swayze's character in Dirty Dancing being into under age girls
— @dr_ballache
10.
Beauty and the Beast (1991) – How does Belle's village support such an extensive bookstore when she's the only reader in town and she doesn't even pay for her book?
— @lbeach5885
11.
Jenny kept her son a secret from Forrest Gump for three years, knowing he's the father and only contacted him after she'd been diagnosed with an incurable disease.

— DOM (@domjohn55) June 24, 2019
12.
In Shrek the Third it is heavily implied that Shrek and Fiona had sex and I would rather it not be

— ️‍Allen Allen️‍ (@ItsAllenAllen) June 23, 2019
13.
In the Polar Express, Billy (the poor kid) finds his present in the workshop that is going to be his FIRST CHRISTMAS GIFT EVER, meaning 1 of 2 things:

1. Sweet, shy Billy has always been on the naughty list

OR

2. Poor kids don't typically get presents from Santa Claus

— (@MattyC_1995) June 24, 2019
14.
Matthew McConaughey's character in "interstellar" just ignored his son entirely and focused on his daughter instead

— Mark Anthony (@therealquillboy) June 23, 2019
15.
how they gonna say that the wizard of oz is a classic when they did that basic 4th grade writing trick of "aNd It WaS All JuST a DrEaM" like fuck off.

i wanted to believe witches and munchkins are real. why would they do that to us? who decided that shit? i just wanna talk

— Caroline (@car0liineee) June 23, 2019
16.
Were Westley's nipple cups in the pit of despair in Princess Bride absolutely necessary?

— Mr. Higgins~totally not an alien in a skin suit. (@TheGFEwebcomic) June 23, 2019
17. (The fish should be below the waterline, in other words, you should only see the air in the top of the bags…right??)
This disregard of gravity… pic.twitter.com/IdNX4zBSuV

— Jen (@jshamsmith) June 23, 2019
18.
in sky high, during those stupid PE hero/villan exams they literally try and kill each other and no teacher tries to stop them, and shouldnt kids that play the villain role be sent to counciling???? or locked up?? or at least TALKED to??

— Smolie (@GivesGoodSucc) June 23, 2019
19.
Endgame Spoilers: That a rat is the only way in 14,000,000 different realities that the universe could be saved. pic.twitter.com/lOnjbN25wG

— Roberta™ (@robertatrash) June 23, 2019
20.
In Lion King There are no other males in Mufasa's pride, so the super sexy Can You Feel the Love Tonight scene is between siblings — @professorxavi
21.
I always wondered how Batman got back to Gotham in the Dark Knight Rises. He crawled out of a hole in the middle of the desert with no money and no ID and suddenly just pops back up in Gotham which is under fascist rule at the time?

— the drake gatsby (@DrakeGatsby) June 23, 2019
22.
this part in beauty and the beast has never left my mind. it's what I see when I have sleep paralysis, it is the worst thing my eyes have beheld pic.twitter.com/u7aT3g7JPo

— c l a i r e (@clairegurholt) June 23, 2019
23.
Nate from The Devil Wears Prada is a Chef—one of the most time-demanding careers out there—and instead of understanding Andy's late nights, and dedication to an equally time-demanding job that'd land her in her dream career, he threw pity parties left and right.

— nat (@nataliesdilemma) June 23, 2019
24.
The Bellas should not have won in the second Pitch Perfect.

— Tory Harrington (@ToryHarrington) June 23, 2019
25.
Both Stuart Little and Ratatouille star small rodents with an expected lifespan of 12-24 months. Stuart would have died in the orphanage and Remy would have never lived to see his own restaurant.

— Nils Thomassen (@nils_thomassen) June 23, 2019
26.
Clueless………she ends up with her step brother????? Literally no one else is ever weirded out by this??????

— strega nona (@stephferrari_) June 24, 2019
27.
In Endgame when they had Thanos and were trying to pull the Infinity Gauntlet off his hand, instead of Dr Strange making a portal above his head for Mantis to jump through to make him sleep, he could have just lowered that portal over Thanos' head and closed it, decapitating him.

— Galactic Fleet Cmdr (@NSAtookmyID) June 24, 2019
28.
The first Harry Potter movie Hagrid goes and gets Harry on his birthday (July 31) and the next day sends him on the train to Hogwarts when school doesn't start until September and students arrive the day or two before classes start

— Mary (@marystjohn25) June 23, 2019
29.
In Toy Story, Buzz doesn't think he's a toy. However, he flops whenever humans enter a room, which is a voluntary toy rule, which they break in front of Sid. If he thought he was a space ranger, he wouldn't flop.

— Christy Hurt (@ProfChristyHurt) June 24, 2019
30.
they called the now you see me sequel now you see me 2 instead of now you don't

— reeb (@_reebeecca_) June 23, 2019