Possibly more important to fans than the Super Bowl itself are the parties surrounding the Super Bowl. If you're a football fan, whether your team has made the cut or not, you're going to either host a party or be heading over to someone else's, and stuff yourself full of mediocre food and mediocre beer. It's just tradition.
And, naturally, Google has done its best to compile data on just what those traditions are made up of.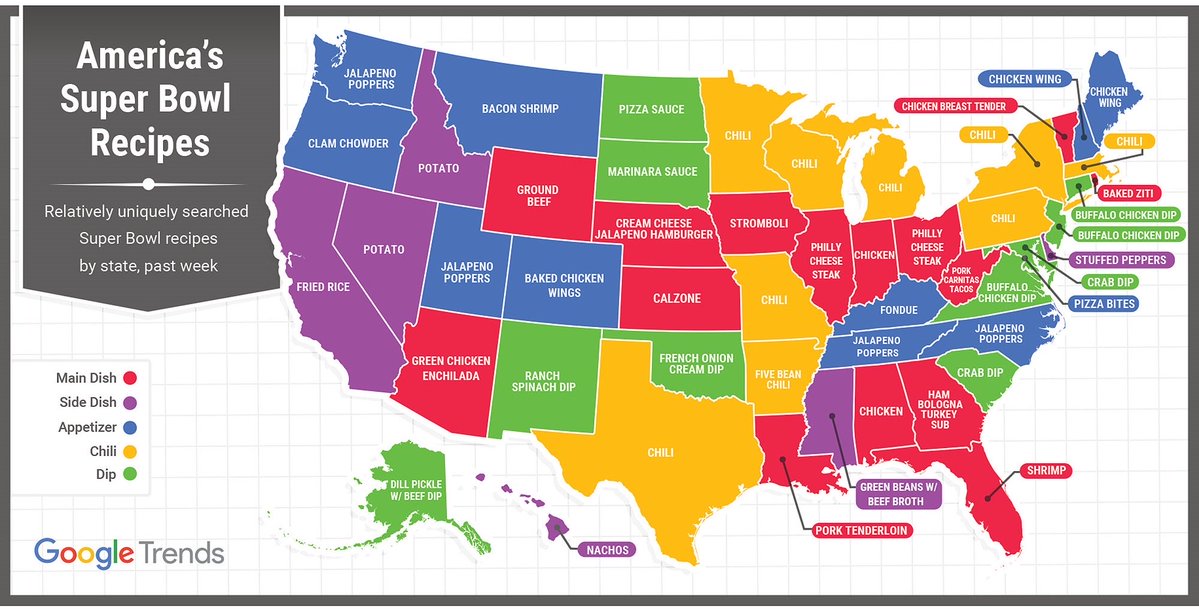 Specifically, they've released a map detailing which "relatively uniquely searched Super Bowl recipes" have originated from each state over the past week leading up to the game.
Most popular Super Bowl recipes in every state (per @GoogleTrends) #SuperBowlLIV #SuperBowl #NFL pic.twitter.com/Eoy1yx7JrN

— #TodayInSports (@TodayInSports3) January 29, 2020
The map is even color-coded by whether the item is a main dish, side dish, appetizer, chili, or dip. For some reason.
When did "ground beef" become a main dish?
I know it's Wyoming so ‍♂️but still.

— Momus (look it up) (@Momus_Du_Jour) January 29, 2020

Of course, the map quickly sparked a discussion, with many ready to poke fun at other states' "weird" food choices.
Big ups to the psychopaths in the Dakotas who shovel pizza and marinara sauces directly into their mouth holes during the Super Bowl.

— Jake FF'ing Trowbridge (@JakeTrowbridge) January 29, 2020
Wtf is this, MS pic.twitter.com/0NOOHIUxJ4

— Starling (@thx4alldafish) January 29, 2020
This makes me not want to visit the Dakotas since their popular snack is a pizza sauce….really? Their parties must suck

— WrongedSports (@SportsWronged) January 29, 2020
Wyoming – big pile of ground beef. Not a cheeseburger. Not spaghetti. Not even sloppy joes. Just a pile of ground beef.

— Jerry (@Jerry_Kidz) January 29, 2020
Some were frustrated with the responses for their own states, calling them inaccurate and absurd.
I call BS. I don't know anyone here in Mississippi that eats green beans with beef broth. ‍♂️

— (@itsthejody) January 29, 2020
Who the heck in Illinois is making Philly Cheese Steaks for the Super Bowl?

— Earth-2.net (Michael Sims) (@earth_2) January 29, 2020
— Gianni Mosquito (@giannimosquito) January 29, 2020
yeah. No one in Iowa eats Stromboli. idk where this is coming from

— CHIEFanatics (@KCCHIEFanatics) January 29, 2020
I'm in Indianapolis so if I just wanted to share my chicken 'recipe'?

1 get chicken
2 heat it up

— Paul B (@PB23aledog) January 29, 2020
Others just had some questions and general complaints about…everything going on here.
Few things:

1. How is BBQ not on the list?

2. How did clam chowder not make the list on any New England state, but ended up in Oregon?

3. How is Florida's food not literally anything Cuban?

4. How does Philly Cheesesteak end up on Illinois and Ohio instead of Pennsylvania?

— Your Product Sucks (@UrProductSucks) January 29, 2020
"Chicken" isn't a recipe

— TweedleDee (@DeeWilson24) January 29, 2020
Whoever made this must've had the list of states, list of foods, then had a stroke and just threw them together.

— Jobin Newl (@JobinNewl) January 29, 2020
It's that time of year again,, where the family gathers around the table, creating new memories while sharing our favorite "pizza sauce"

— Dr. Tobin S. Football, MD (@DrFootball_1966) January 29, 2020
But one man stepped up to be the hero Super Bowl fans across the country need, the hero Google Trends may not deserve.
Fixed it pic.twitter.com/jWS8gSVvVY

— Ed DiTusa (@edward_ditusa) January 30, 2020
More stories to get you ready for the Super Bowl: