From $2 wine to $2 wine, there are many reasons Trader Joe's has a cult-like following, but I like to think their suspiciously friendly, bell-ringing, Jimmy Buffet-looking employees are a big draw.
Unfortunately, earlier this week, at a Los Angeles area Trader Joe's, a total Karen decided to make life difficult for these flower-print clad heroes by throwing an absolute fit over having to wear a mask.
https://twitter.com/RexChapman/status/1276882898730323968
And here's the thing: whether you "agree" with wearing a mask or not, being a petulant a-hole to someone who's just trying to do their job is beyond childish.
Thus, we thought we'd make a little list of all the funny tweets about TJ's employees, as our heartfelt apology on behalf of a-holes who are incapable of apologizing themselves. Keep up the good work!
1.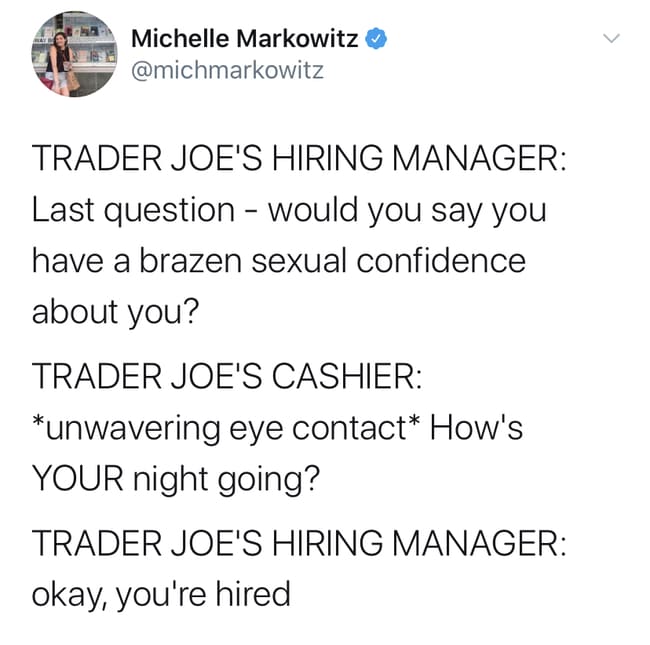 2.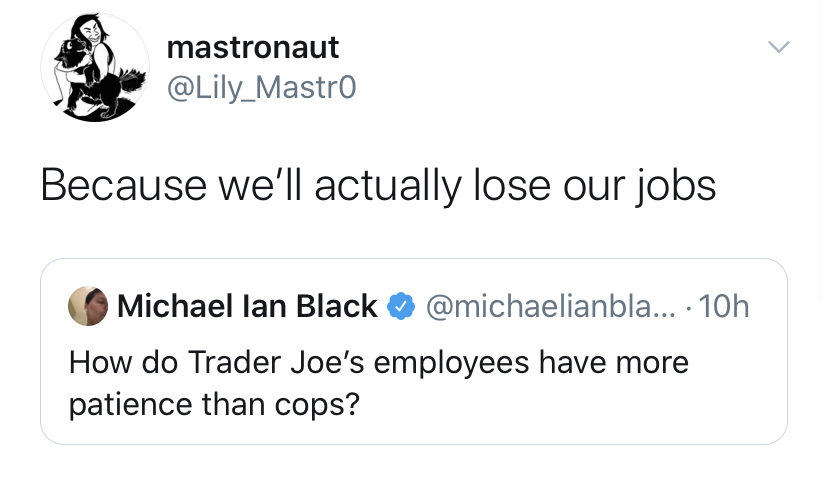 3.
name one mental health professional that could teach me as much about emotional intimacy as a Trader Joe's cashier

— rachel (@BUGPOSTING) February 19, 2019
4.
Me:
Trader Joe's Cashier:
Me:
Trader Joe's Cashier:
Me:
Trader Joe's Cashier:pic.twitter.com/CglQ46Ulq9

— ˗ˏˋ wren ˊˎ˗ (@wren_needs_rest) March 11, 2019
5.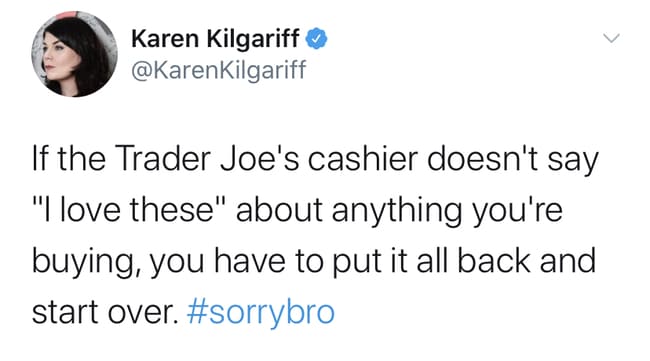 6.
You know you're on a bad date when they all like "Thanks for coming to Trader Joe's!"

— Aparna Nancherla (@aparnapkin) May 6, 2016
7.
The cashier at trader joes was so nice to me that when I walked out of the store I thought "should I go back in"

— audrey farnsworth (@audipenny) April 30, 2016
8.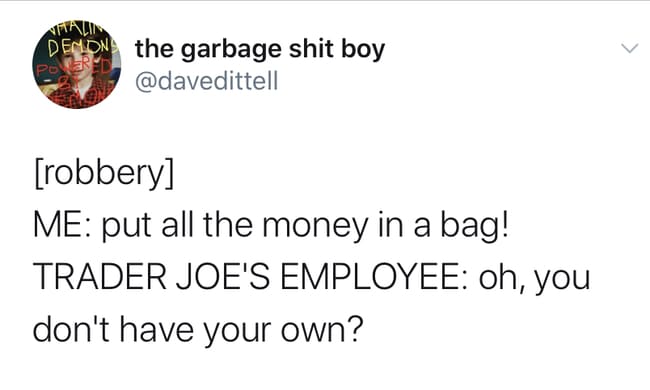 9.
when the Trader Joe's cashier flirts with another customer I get jealous and buy a second frozen pizza so he thinks I'm having fun tonight

— the garbage shit boy (@davedittell) August 18, 2016
10.
I told my therapist, "I just want to be as happy as a Trader Joe's cashier."

— Conan O'Brien (@ConanOBrien) May 1, 2019
11.
i can't tell who is an employee and who is a customer at trader joe's or southwest airlines

— chrissy teigen (@chrissyteigen) June 4, 2017
12.
Trader Joe's employee discovering you don't have your own bags pic.twitter.com/bVxNqruwSD

— Alyssa Limperis (@alyssalimp) February 28, 2019
13.
I've never met a Trader Joe's cashier who I didn't want to officiate my wedding

— Julia Claire (@ohJuliatweets) April 27, 2019
14.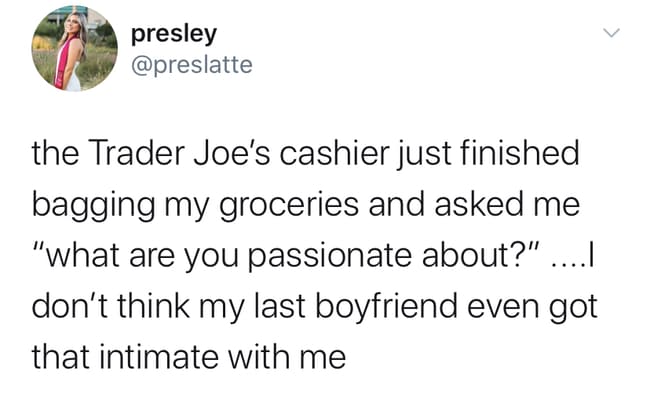 15.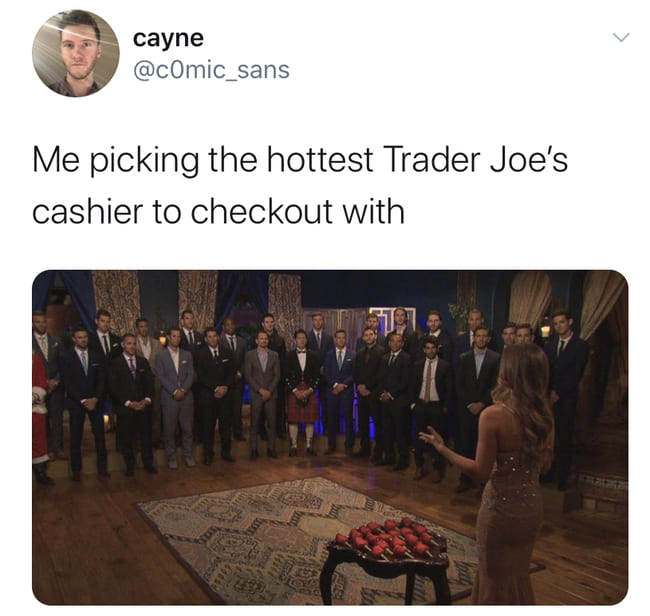 16.
Trader Joe's employees are legally required to scan one item in your cart and say "ooh these are dangerous"

— Marc (@MarcSnetiker) July 29, 2019
17.
I had a dream last night that I was flirting with a really hot Trader Joe's cashier and he wrote his number on my tofu

— Sabrina (@sabrinaxo_love) October 4, 2015
More relatable tweets and memes: