Have you ever seen pictures of your parents when they were your age and wondered if they were actually twice that age in reality?
I can remember 1970s composite pictures from my fraternity house and to this day there's no way you could convince me that those dudes weren't 47-years-old with 3 kids, a mortgage, and a bad back.
Twitter user and former MLB pitcher Brandon McCarthy seems to agree with me, as recently he posed an odd question to the void:
Did people in the past look older than their ages?

Surely that can't be right….right?
Evolution is very slow and humans are still the same basic issue model that they've been for thousands of years.
And yet, as people considered the theory, they began to see more and more examples in popular culture, sports, and their own lives of old-looking young people. Some of which are truly mind-bending.
So did people age faster in the past?? Some evidence…
---
1.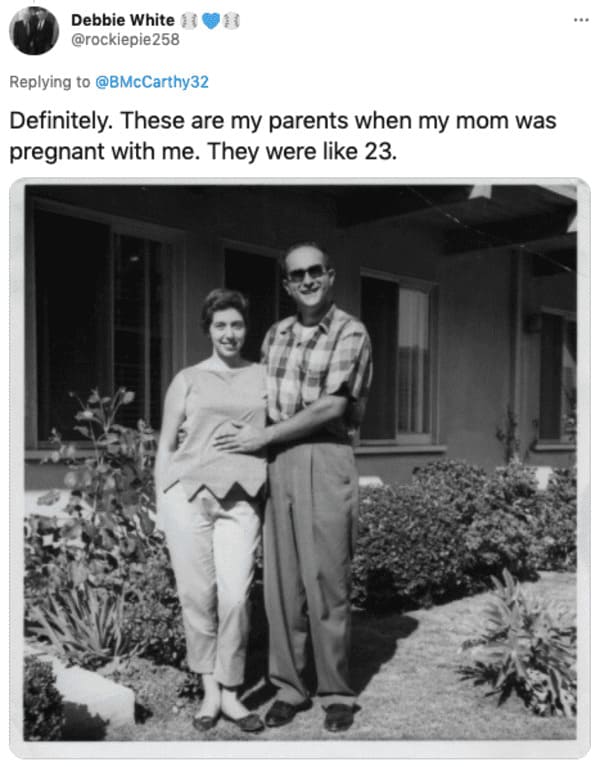 2.
3.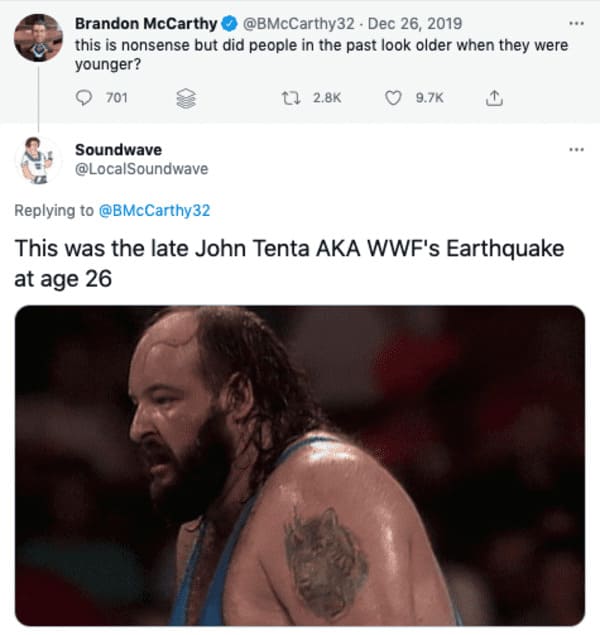 4.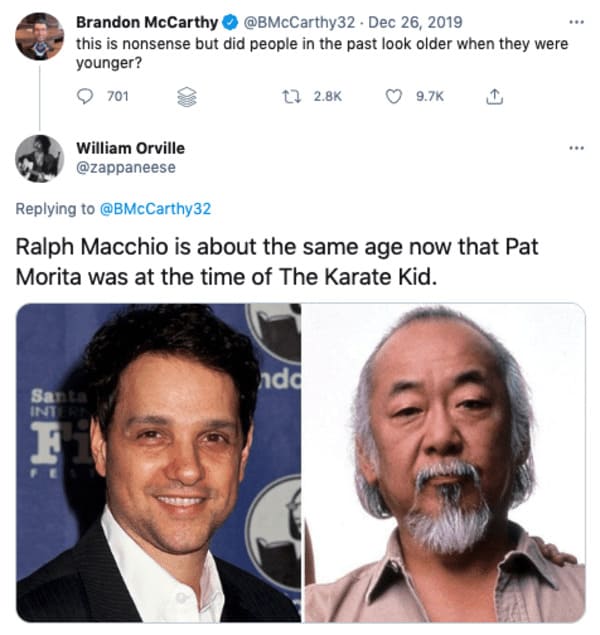 5.
My grandmother was only in her mid-50's in this pic. My dad was 26 pic.twitter.com/iZh6inot2a

— Andy in 2020 vision (@AndyLChapmanLA) December 27, 2019
6.
We call this age anomaly "the Jim Croce." This is a man who died at !30! pic.twitter.com/YvU1YUKWGG

— Daniel Kreps (@danielkreps) December 27, 2019
7.
The day the music died. Buddy Holly, Ritchie Valens and The Big Bopper. Age 23, 17 and 28 respectively at the time of death. pic.twitter.com/t15LU9r1VW

— Mike (@MikeI70) December 27, 2019
8.
1969. Sir Bobby Charlton was *32*. pic.twitter.com/H7bbgF027t

— Shane Bua (@ThatShaneBua) December 27, 2019
9.
Soccer players in the 70s looked super old. This is one of the stars of the 1974 World Cup, Grzegorz Lato. He was 24 years old at the time pic.twitter.com/JB7kvwsNLZ

— Dominik Stecuła (@decustecu) December 31, 2019
10.
The Rock looked older in high school than he does right now. pic.twitter.com/QS2yM7z4gH

— . (@nthomasrios) December 27, 2019
11.
Random pic of me, age 50 and a random pic of Gordon Jump from WKRP In Cincinnati, age 44 pic.twitter.com/hD8DrTiD4M

— Gary Danger Moore (@GaryMoo14010104) December 30, 2019
12.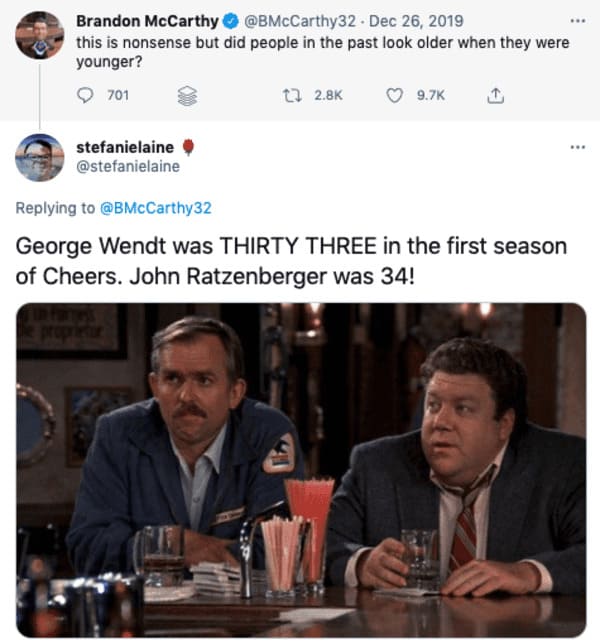 13.
14.
Ken Stabler played for the Saints from ages 36-38. Here's a picture of Ken Stabler while he was with the Saints: pic.twitter.com/qA1g8QqLXr

— Josh DeFamio (@JoshDeFamio) December 27, 2019
15.
I was going to point this out – O'Connor was actually only 47 when All In The Family started! Harrelson is a decade older, but looks two decades younger. pic.twitter.com/G8uyXsPnMt

— Mark O'Wokeness (@Solvang84) December 27, 2019