The way this year is going, I wouldn't be surprised if someone decided to clone a dinosaur. After all, there were only more movies than you can shake a stick at warning us NOT TO DO THAT. And then there were the fires. The pandemic. The president telling a white supremacist group to "stand by."
2020 has been so chaotic, maybe a dinosaur wouldn't be unbelievable. Maybe he would even be nice!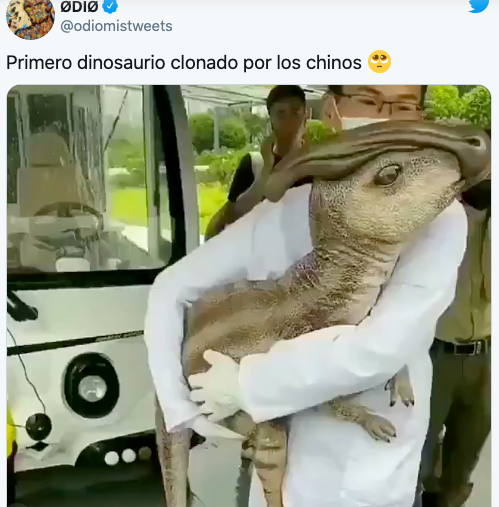 But don't worry, folks. There is no dinosaur. However, based on a video on Twitter, people temporarily wondered if Jurassic Park had come true.
On Sept. 26, a tweet by a verified account, @odiomistweets, posted the video and claimed that the dinosaur on film was the first cloned by scientists in China.
Primero dinosaurio clonado por los chinos 🥺 pic.twitter.com/1uZBG1HbWe

— ØMT (@odiomistweets) September 26, 2020
In the video, a man in a lab coat holds what looks like a baby parasaurolophus (when you have a toddler, you learn all of the dinosaur names). The dinosaur lets out a tiny roar. It's pretty cute.
Other accounts furthered the dinosaur craze, causing some people to worry.
Why would they clone a dinosaur! Why would they want to bring them back????

— Your Future Esthi Bestie (@B_REZ_) September 28, 2020
bro they found a dinosaur in China,
bro there is literally a living, breathing and walking dinosaur in China

— empty (@ukh0na) September 28, 2020
the season finale of 2020 is gonna be a RIDE Y'ALL. BUCKLE UP ashjdkdkd https://t.co/wqw0doIvnG

— pheleen tweets dickinson and wandavision spoilers (@pheeeeleeeeeen) September 28, 2020
But, relax. 2020 hasn't thrown us that curveball just yet. According to Latestly, the dinosaur is actually an animatronic puppet from China's Jurassic World exhibition. So just continue worrying about…everything else.
More viral videos: