A video taken in a gas station in Pheonix, Arizona, by a man named Greg Conn on Saturday shows a white woman approaching a woman of color telling her to "go back to Mexico."
"Native Americans are from this country!" the younger woman says, indicating that she is Native. She tells the clerk, "Don't serve her racist a**."
Since the video starts in the middle of the argument, the man behind the camera tries to fill in context. He says that the white woman told the Native woman to "go back to her country."
The white woman continues to demand to know where the Native woman was born. The Native woman says she was born in America and demands to know where the white woman's family was born. The white woman seems to become more and more incensed at being questioned and grabs the Native woman's arm. She then gets slapped. This seems to knock her to her senses somewhat and she finally leaves.
#Phoenix #Arizona – Shell gas station 7th and Greenway #racism #racist pic.twitter.com/FCCgKptbAK

— BallerAlert (@balleralert) June 7, 2020
According to TMZ, the white woman initially ID'd herself as a manager at the establishment, which was a lie. She is not employed by that chain of gas stations and is "no longer welcome at any of their locations nationwide."
Complex reports that the white woman's identity was soon uncovered by Internet detectives and she works at her husband's law firm. His business pages have been spammed by negative comments:
I googled the Phoenix Karen that got rightfully slapped and it looks like the internet already took care of her husband's law firm's google profile. (She works at that law firm.) pic.twitter.com/MaTgJcqoeb

— Mike Vigil (@protectedpick) June 8, 2020
I'm dead 😂😂 You know the Pheonix "Karen" who was harassing a young women and told her to go back to her country. Well turns out she owns a law firm. I went to read the reviews and I'm done 🤣 #Phoenixkaren pic.twitter.com/5XE78tsCE0

— Lina (@linaa_b2) June 8, 2020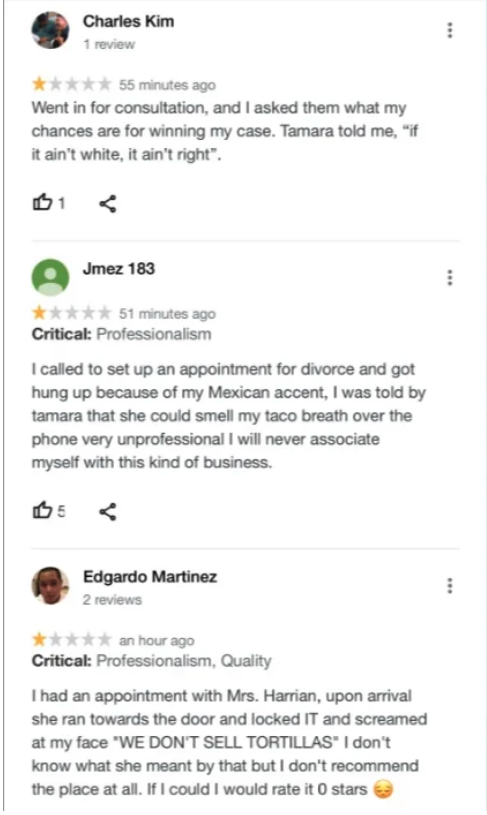 And people are still widely sharing the video to show what happens when you lay your hands on somebody (and how easily white people lose it when questioned about their own origins):
This occurred at 7th Street and Greenway Rd., in Phoenix, AZ.

Please share widely, and help identify the racist in this video.

I'm sick of being told to go back to Mexico.@sethmeyers#racist #gobacktomexico #karen #gobacktoyourcountry #racistkaren #immigrantabuse pic.twitter.com/MYaPnZ1atn

— Carlos Galindo (@carlosgalindo) June 7, 2020
I'm not a violent person by any means, nor do I advocate for it…but…seeing this racist Karen in Phoenix get SLAPPED after telling a Native American woman to "go back" to her country was refreshing. More so than Savasana (yoga). pic.twitter.com/FCf1ORrcDx

— Rita (@esquireswag) June 8, 2020
PHOENIX.
KAREN TELLING A NATIVE AMERICAN TO GO BACK TO HER COUNTRY.
KAREN PUSHES HER.
KAREN GETS SLAPPED.
DON'T BE LIKE KAREN. https://t.co/cfs7JWdokh

— mixedstardust_II🐍🏁 (@mixedstardustII) June 7, 2020
Being racist is evil. Being racist and thinking you can keep getting away with this sh*t is stupid.
More racists caught on tape: