The best kind of Karen story is where no one gets hurt and the Karen in question looks like a fool. This story from u/TrashGoblin2_0 on r/maliciouscompliance absolutely fits the bill. If you don't know, a Karen is a privileged white lady who makes demands on everyone, especially the demand to talk to the manager. Check, check, and check.

She says that in high school, she worked for a fast food place that was the "US east coast equivalent of the place that had a smiley yellow star as the logo." You know the one.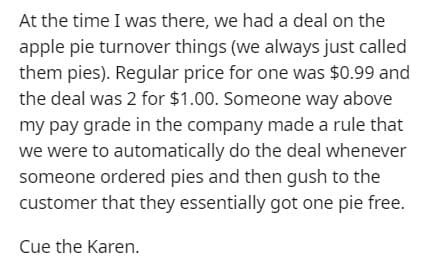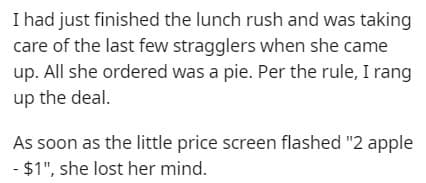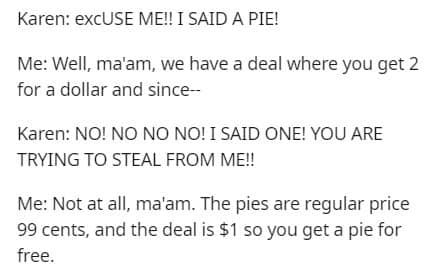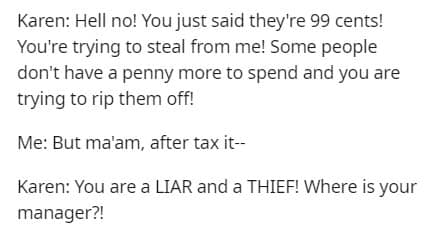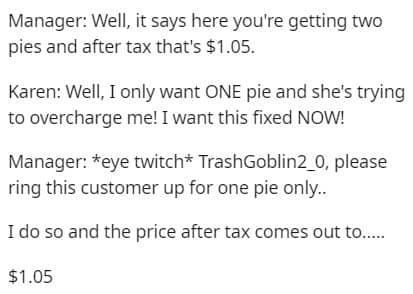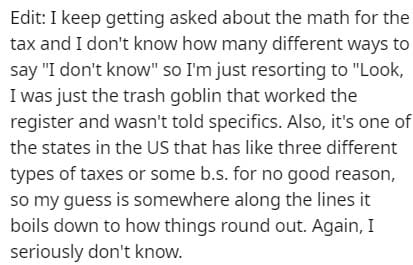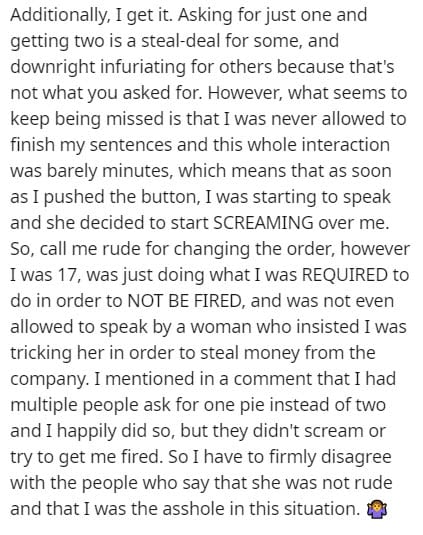 While employed there, the company ran a deal on apple pie turnovers where you could get one for $0.99 or two for $1.oo. It was a cashier's job to sell the deal, though I have no idea what kind of money the company could be making on that bargain. Maybe they were trying to get people addicted to pies? Usually, it worked out fine. But not on the day of the OP's story.
Cue the Karen.

I had just finished the lunch rush and was taking care of the last few stragglers when she came up. All she ordered was a pie. Per the rule, I rang up the deal.

As soon as the little price screen flashed "2 apple – $1", she lost her mind.

Karen: excUSE ME!! I SAID A PIE!

Me: Well, ma'am, we have a deal where you get 2 for a dollar and since–

Karen: NO! NO NO NO! I SAID ONE! YOU ARE TRYING TO STEAL FROM ME!!

Me: Not at all, ma'am. The pies are regular price 99 cents, and the deal is $1 so you get a pie for free.

Karen: Hell no! You just said they're 99 cents! You're trying to steal from me! Some people don't have a penny more to spend and you are trying to rip them off!

Me: But ma'am, after tax it–

Karen: You are a LIAR and a THIEF! Where is your manager?!

I begrudgingly get Manager and Karen starts screaming about how I'm trying to force her to pay more for things she never asked for and how I was likely going to try to pocket the difference/steal from the company.

Manager: Well, it says here you're getting two pies and after tax that's $1.05.

Karen: Well, I only want ONE pie and she's trying to overcharge me! I want this fixed NOW!

Manager: *eye twitch* TrashGoblin2_0, please ring this customer up for one pie only..

I do so and the price after tax comes out to…..

$1.05

Karen insists that we're still wrong and Manager ends up telling her to buy the pie or leave. Karen tries to demand the 2 pie deal and Manager sticks to "Well, you demanded me up here insisting you only want one so either pay or leave."
So, did she get the pies or not?! Oddly, this story generated fewer comments about how much Karen's suck and many more about how no one understands how the taxes worked out that way.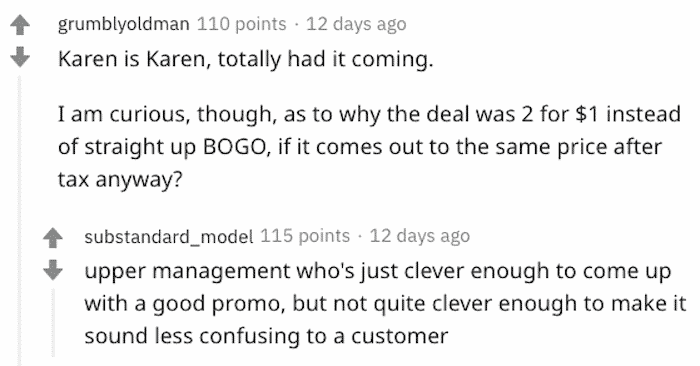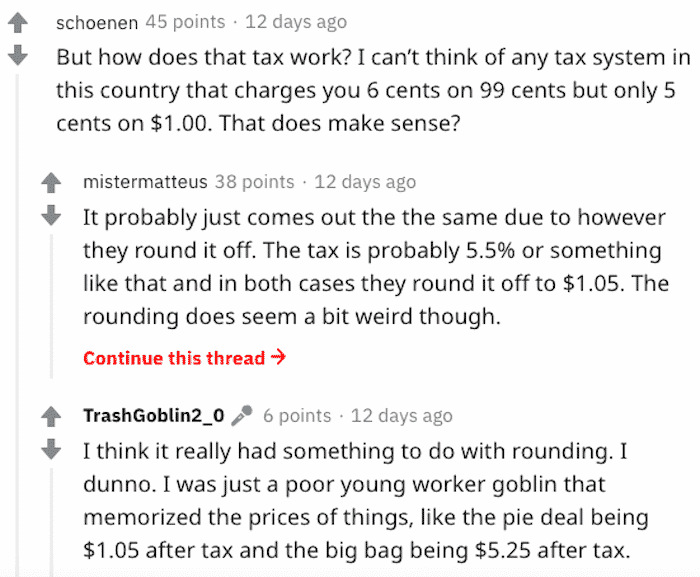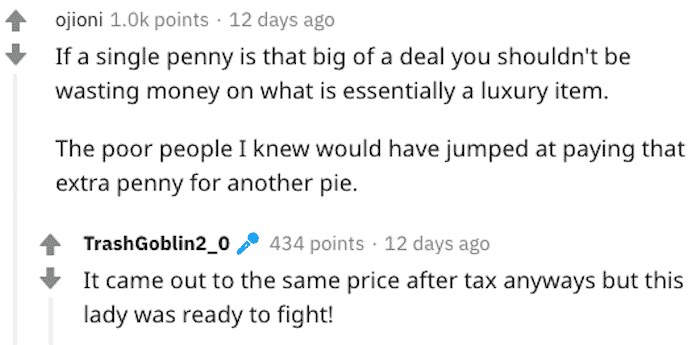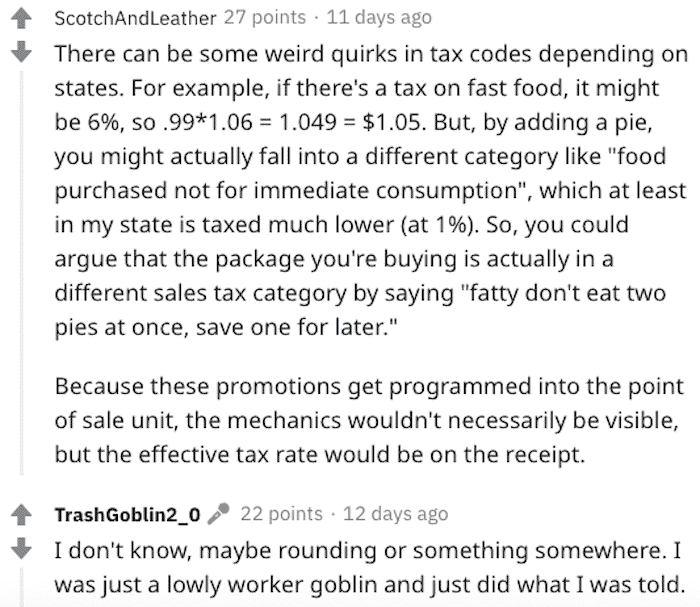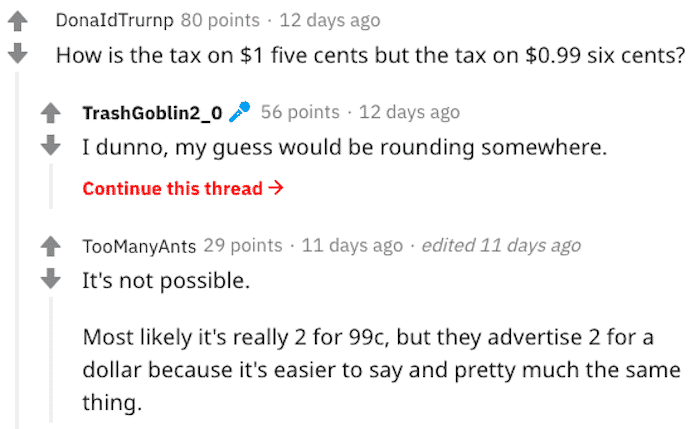 Eventually, the OP updated to say:
I keep getting asked about the math for the tax and I don't know how many different ways to say "I don't know" so I'm just resorting to "Look, I was just the trash goblin that worked the register and wasn't told specifics. Also, it's one of the states in the US that has like three different types of taxes or some b.s. for no good reason, so my guess is somewhere along the lines it boils down to how things round out. Again, I seriously don't know.
I'd like to speak to their manager about this.
More Karen stories: