Even considering that everyone has been quarantined for a month, this new hot take from writer Julie Bindel is really hard to excuse. Bindel decided to come for a common Internet colloquialism, and she got shut down real quick. If you didn't know, people sometimes refer to a certain type of white woman as a "Karen."
A Karen is someone with a lot of privilege who pops off as soon as she doesn't get her way and demands to speak to the manager. Visual representation of a Karen usually is of a blonde woman with a bob and duck butt tufts on the back of her head. You know the look.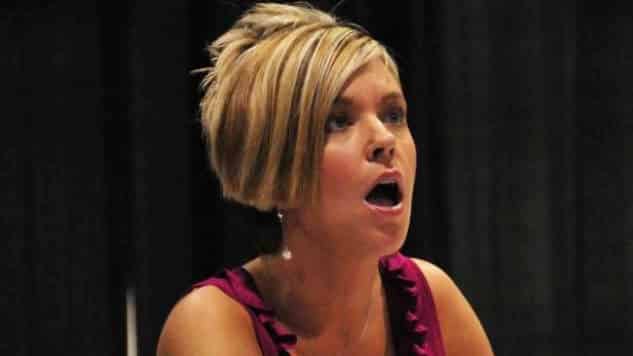 Instead of taking this in the way it is intended—not a big deal— Bindel decided to claim that Karen was a slur. That's right. A slur.
Does anyone else think the 'Karen' slur is woman hating and based on class prejudice?

— Julie Bindel (@bindelj) April 5, 2020
It is certainly used by enough white men for it to be morphed into a misogynistic slur. Also, those names are classically working-class, and I do object to the classism within this narrative. The ageism too is a massive problem. I think countering racism with ageism is not great.

— Julie Bindel (@bindelj) April 5, 2020
In a way, I comprehend what Bindel is getting at, though I think she is being disingenuous in her comparisons. Some guys do enjoy hating on women because it makes their misogyny suddenly palatable— the white women they're attacking are oftentimes acting racist or entitled. Racism is bad, and sexism is bad. But being called a Karen is definitely not comparable to the badness of real racist, sexist, homophobic, and transphobic slurs. SLUR, she said!
For provenance:
The apples and oranges comparison didn't stop people from agreeing with Bindel:
Exactly.

— Julie Bindel (@bindelj) April 5, 2020
of course. And see also 'Becky', the prototype white racist. Women are consistently cast as icons of prejudice/privilege which men share at least equally

— Debbie Cameron (@wordspinster) April 5, 2020
A lot of people did note that Bindel has a reputation for being transphobic as well. She's made claims that TERF (which stands for a trans-exclusionary radical feminist) is a slur in the past as well. This is kind of her usual plea for attention:
Hey just FYI everybody the "Karen is a slur" lady, Julie Bindel, is an extremely well-known TERF so you really dont have to act like any of her arguments are in any way serious, and if you're going for low-hanging fruit honestly she's said way dumber shit about trans women

— Jeff (@PureStrongStyle) April 5, 2020
It seems some folks outside the UK are learning who Julie Bindel is now (re: this tweet).

To answer the question you're thinking: oh yes, she is a TERF. (She's even written some wild TERFy stuff for Quillette.) pic.twitter.com/BPgwZ2sEK8

— (((Mx. Rine ❤️ A Wildcat))) (@rinewithoutacat) April 5, 2020
Why am I not surprised that the source of the "Karen is a slur" trend is Julie Bindel.

A woman who ALSO thinks that TERF is a slur.
(and who thinks being gay is a deliberate political choice.) pic.twitter.com/L7Kkr4MIPp

— 😷 Hugo the quarantined pink snep 😷 (@HugoThePinkCat) April 6, 2020
Bindel might be getting what she wants by being ratioed, but at least she also gave Twitter plenty of fodder for jokes at her expense, just like a Karen. Here are the best ones:
1.
petition to change karen to "julie". definition : a woman who erases black women & woc and manipulates misogyny to evade accountability in regards to whiteness and the many forms in which it commits aggression

— Bolu Babalola (@BeeBabs) April 5, 2020
2.
Love love love to see any data supporting the name "Karen" is working class. pic.twitter.com/WRT8lNh38N

— Emma for that #GeneralStrike (@ShredyBettyMTB) April 5, 2020
3.
What do you think a slur is

— Kyle (@KylePlantEmoji) April 5, 2020
4.
what's the "we shall overcome" of karens? shake it off???

— Steadman™ (@AsteadWesley) April 6, 2020
5.
"Karen [the term popularized due to its usage by POC to refer to the entitled, often racist well-off white women they had to deal with] is a sexist classist ageist slur"

White feminism never ceases to amaze pic.twitter.com/5c4DlvMjEJ

— ThePedanticRomantic @ AX (@PedanticRomantc) April 5, 2020
6.
The fact is, "Karen" is still a humanizing term, unlike ALL the dehumanizing terms y'all have for PoC and that's the difference. https://t.co/zBwCTp5DEi

— Frijol (free-hole) (@queerguayabin) April 7, 2020
7.
If being called "Karen" is a slur to you I think you'll be okay

— Justin Jackson (@J_ManPrime21) April 5, 2020
8.
i've dated a white women before so im allowed to say karen with a hard n

— karen thee stallion (@fopeolaleye) April 6, 2020
9.
My white friends when I ask why I'm not allowed to say Karen pic.twitter.com/jhJyxvr48s

— TJ (@Quantum_King_) April 6, 2020
10.
i'm allowed to say karen because my cousin is married to one

— joe (@jxeker) April 6, 2020