The roads are wild right now and the Karens are out in full force. Someone posting under the name u/amrindersr16 shared a story that will remind everyone to re-up their insurance on r/entitledparents titled, "Karen crashed into my Jeep and expects me to pay her cash for her damages because her children will starve [if] she pays to fix her car."
The OP writes that they drive a Jeep and it's got big ole bumpers. They were driving home from work when they stopped at a red light. Then suddenly they heard a screech and the back of their car got hit. When they looked back they saw a Mercedes:
I went to check on the passenger of the Merc. Got them out luckily she was unharmed these mercs are definitely safe.

Under a minute after she's out of the car she starts screaming about how I wrecked HER car. I told her calmly that she was the one who rammed into me. I think she understood how my hitting her would b e impossible.

I offer to share our insurance details because I knew that Mercedes damage doesn't come cheap. But she said she didn't have insurance. She insisted that I pay her 10k cash, how she got this number? I don't know.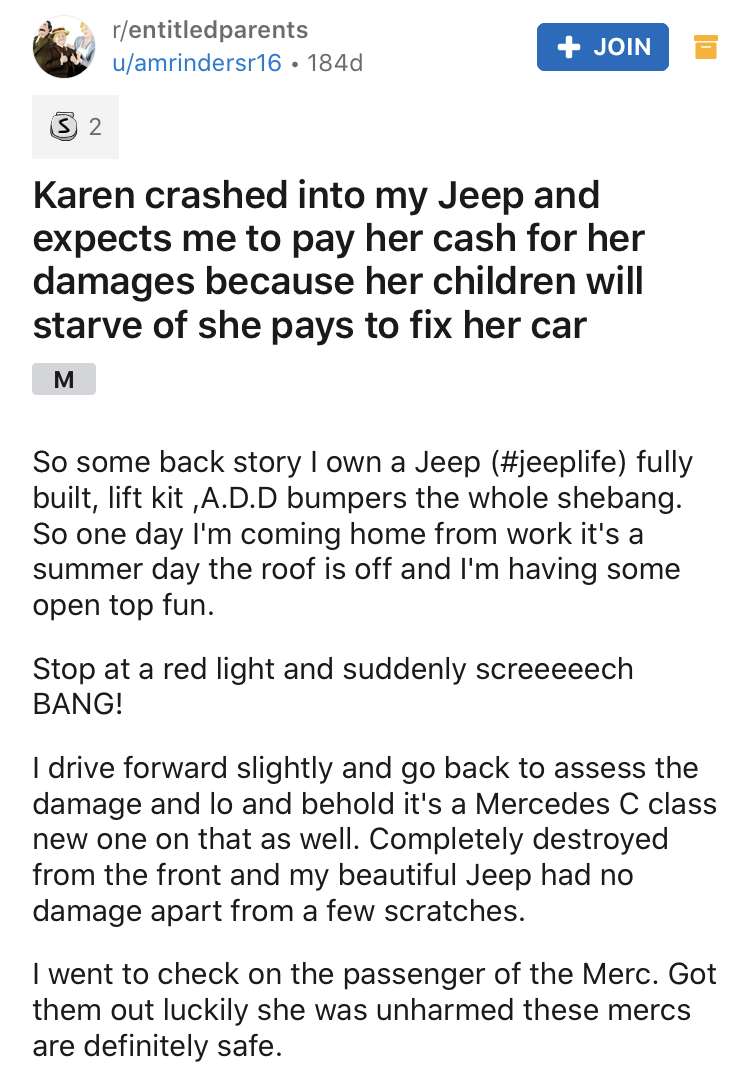 The OP tried to tell the woman, who they dubbed "Karen," that the situation was entirely her fault, but she apparently took a swing at them:
She then went on a ramble on how her kids needed the money and they had no money at the time and now her kids will have to starve because she will have to pay to fix her car and how it will all be my fault when they are on the street tommorow ,yeah on the street with a Mercedes my ass (that is why you should have insurance).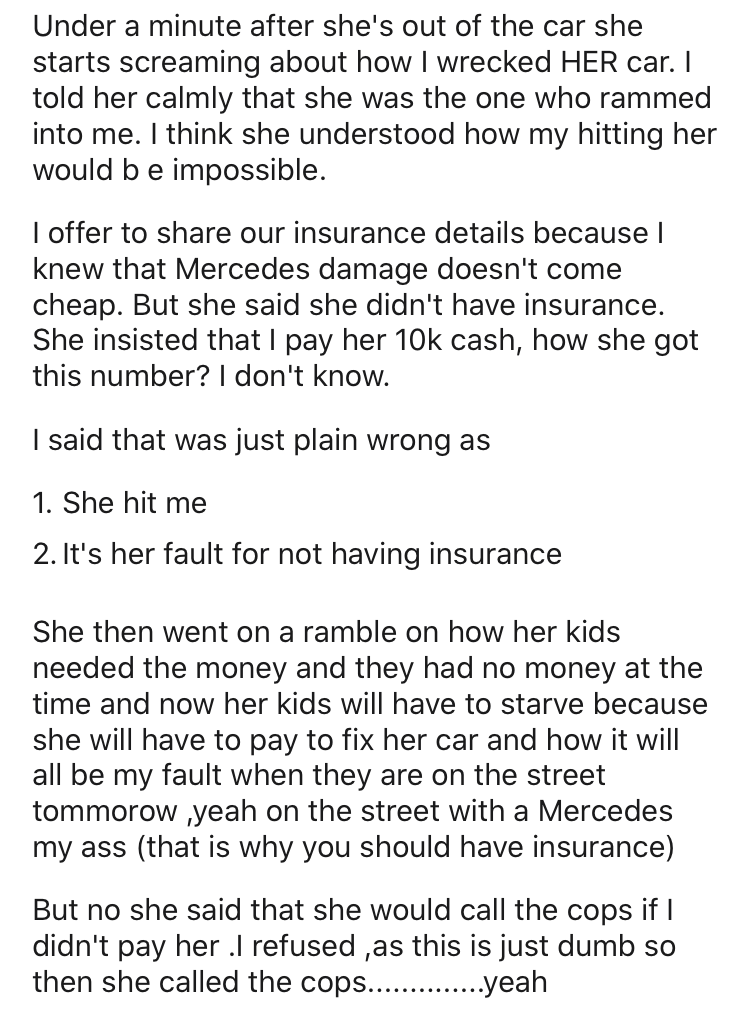 Karen then threatened to call the cops. They arrived, and Karen lied on the OP, but then got busted by surveillance footage:
Cops came assessed the damage and asked us what Happened and she said and I quote "he backed into me at full speed on a red light" SMH. Then they asked me what happened and I told them. And it became a he said she said situation.

Luckily a shop keeper was there and saw the whole thing and even captured it on a surveillance camera

Needless to say I came out on top. Cops got her for reckless driving& driving without insurance. She then started yelling at the cops about how they would just let a criminal get away .They explained that I did nothing wrong and that they now had video evidence .the partner of the cop came to me and told me if I could drive I can leave sooooooooo I got in my Jeep and left.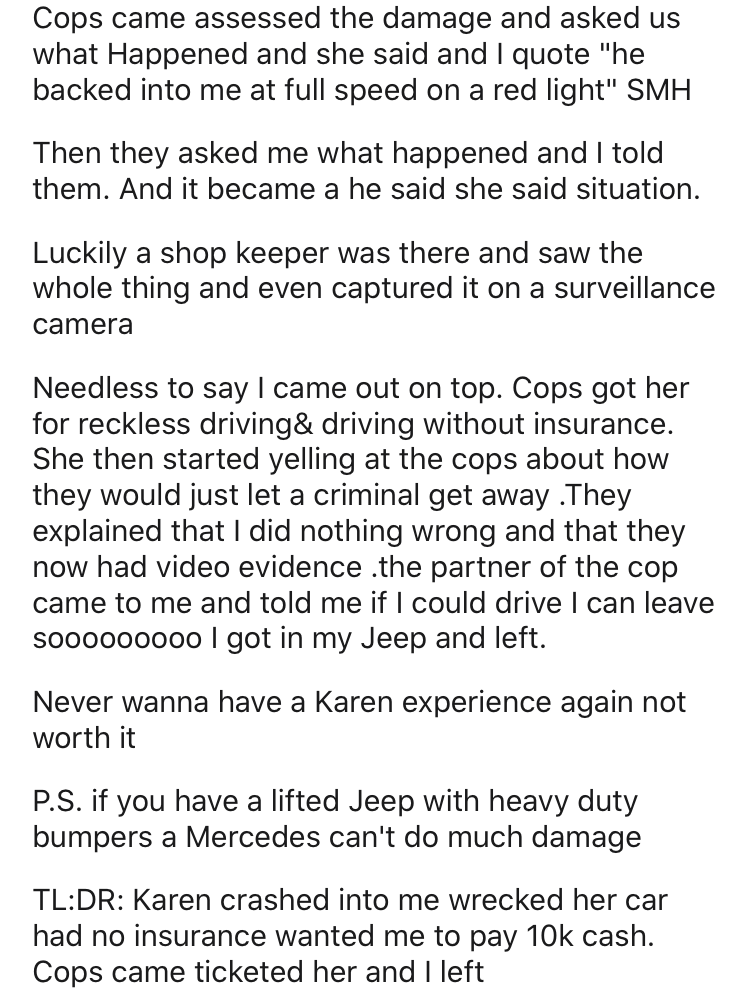 But Karen will not be defeated. The OP's post was so popular she actually saw it and recognized her own behavior. She DMed him with yet more threats, which they shared in an update: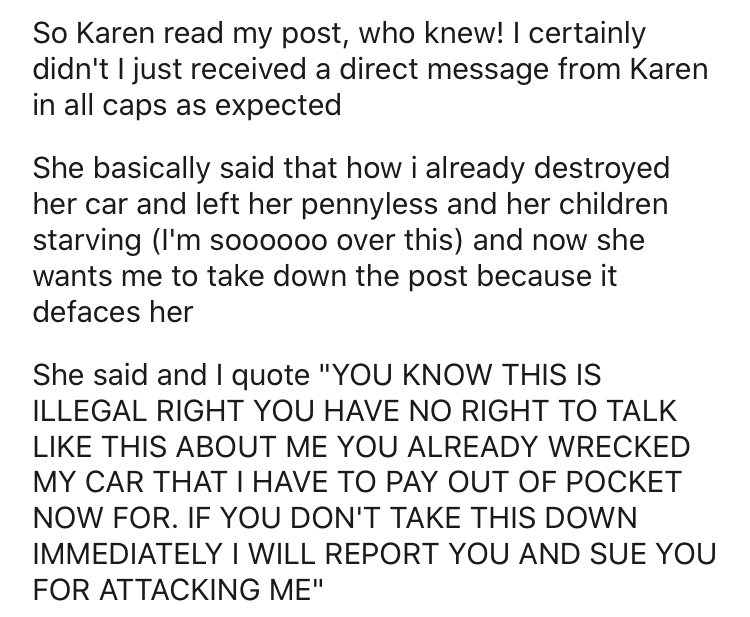 She said and I quote "YOU KNOW THIS IS ILLEGAL RIGHT YOU HAVE NO RIGHT TO TALK LIKE THIS ABOUT ME YOU ALREADY WRECKED MY CAR THAT I HAVE TO PAY OUT OF POCKET NOW FOR. IF YOU DON'T TAKE THIS DOWN IMMEDIATELY I WILL REPORT YOU AND SUE YOU FOR ATTACKING ME"

I explained to her that neither was her real name mentioned nor the place where this happened the only thing mentioned was her car and how she was being a big asshole

But no she uhhh threatened to sue me for defacing her beautiful reputation (HOW!!!!!!) So yeah that happened
A lot of folks are wondering how Karen has the money for a lawsuit, but not insurance. They also warned the OP that she could bring a lawsuit, even if she'd never win, so they shouldn't ignore it if they're served. Overall, the comments are almost entirely in the OP's favor:
Hey, what's important is that everyone is okay and able to absolutely lose their sh—t on the Internet.
More entitled jerks: