In what seems like the world's strangest (and possibly most disturbing) collaboration, Kentucky Fried Chicken teamed up with Crocs (yes, the shoe brand) to make…fried chicken-inspired footwear.
The footwear comes with chicken-scented drumstick charms. Yes, charms, which sit atop the shoe. And smell like fried chicken.
Business Insider reports that these absurd things were unveiled at Fashion Week in New York City, where Me Love Me a Lot (MLMA), the artist, wore them proudly.
View this post on Instagram
In what must surely be a joke (but isn't), Andrea Zahumensky, the chief marketing officer of KFC US, said, "Combining the unmistakable look of our world-famous fried chicken and signature KFC bucket with the unparalleled comfort and style of Crocs, these shoes are what fried chicken footwear dreams are made of."
Introducing the official Kentucky Fried Chicken licensed proprietary footwear made in collaboration with @crocs. Do not eat. Coming Spring 2020. (https://t.co/oYeRikX5lX) pic.twitter.com/bAlyBbwMOX

— KFC (@kfc) February 12, 2020
There are so many levels of WTF here, and Twitter's thankfully got that covered:
There are so many things wrong with this that they all cancel each other out and this is perfectly normal.

— Fake Dispatch (@Fake_Dispatch) February 12, 2020
No one:

Literally No One:

KFC and Croc's marketing dept: https://t.co/CN7G32tRbH

— The Frugal Banker (@TheFrugalBanker) February 13, 2020
So I heard on the radio KFC croc shoes are now a thing and I need to go lie down. My brain refuses to process this collab.

— Jeri Jeri Quite Contrary (@TheJerriest_Jer) February 13, 2020
This. This times 1 million:
— Ben Nicklin (@Benmnicklin) February 12, 2020
We didn't need this image…
sorry girls the kfc Crocs stay ON during sex

— (☞ ಠ_ಠ)☞ԅ( ͒ ۝ ͒ )ᕤ (@SGCheeseCake) February 12, 2020
For sixty dollars. SIXTY actual dollars.
#KFC and #Crocs have joined forces for a playful take on the Classic Clog that celebrates the signature Kentucky Fried Chicken. Expect it to arrive sometime this Spring for $60 USD.⁠
Photo: KFC/Crocs pic.twitter.com/8BmCbqnOu2

— HYPEBEAST (@HYPEBEAST) February 13, 2020
$60 seems decent for these

— Danny Williamson (@whitehill07) February 13, 2020
Most people felt this way:
I would want to punch someone wearing these. I wouldn't, but I'd want to.

— Brewdood 🍑 (@BrewdoodCMH) February 12, 2020
Hard same.
And here I thought that Crocs couldn't come up with a design that was uglier than what they currently have…

— Saree Ninja (@saree_ninja) February 13, 2020
But hey, you do you.
Oh you better believe im scooping these

— Logan Pozzi (@Pozzimus_prime) February 13, 2020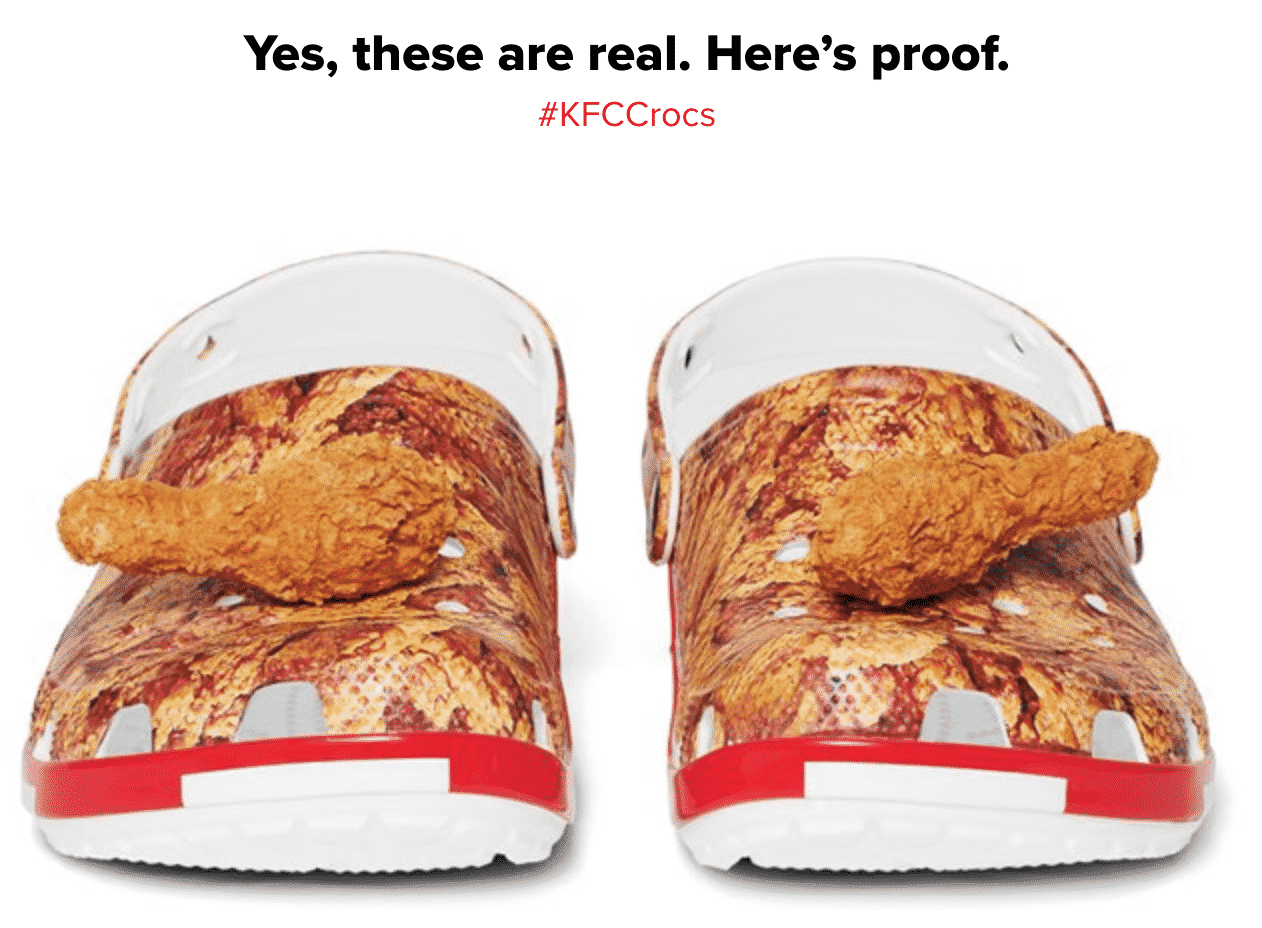 More Crocs: