We all know that people use Photoshop, Facetune, and a million other apps to change their bodies, faces, and boundaries of reality.
But knowing it isn't quite the same thing as actually seeing it. If you're constantly presented with only the "best" version of something, it starts to feel more real than real. It can be really confusing, especially for young people who are feeling pressure to conform to certain standards of beauty.
Thank goodness we have the subreddit r/Instagramreality to show that those standards are totally made up! Almost no one can meet them, even the people who are most famous for looking like the standard. On this Reddit page, you can find all the most horrendous examples of people faking a body or even an entire life with the use of photo manipulation.
From their waistlines to their white teeth to the very clouds in the sky—it's all an act.
Recently the moderators of this project shared some of their motivations for running the subreddit (beyond just having a good laugh.) As you scroll through these fails and think about how beauty standards affect your life, be sure to check out some of their comments.
---
1. "He Forgot To Photoshop The iPhone Box's Shadow"
2. I Literally Have No Words…
3. The Mirror Always Seems To Expose These People
4. I Thought People Had More Sense Than To Believe This Is Real, But She Popped Up On My Feed Because Friends Of Mine Shared Images Like This As "Goals"
5. "No Filter" But Instagram Says Otherwise At The Top
---
Moderator Cluelessnumber7 explained to one of our favorite sites, Bored Panda, that the two main negative effects of heavily photoshopping photos are, (1) "The unrealistic expectations influencers purport to their impressionable followers. The amazingly smooth skin, suddenly common almond shaped eyes, pouty lips, sharp jaw lines, slim hourglass shapes, and so on."
And (2) that "what's being lost by just posting that photo for the masses is the time it took to pick the outfit, hunt down the right lighting, pick which hand to take the selfies with (yes, seriously), and that's all before smoothing, refining, and resizing in Facetune. Without disclosing that, there is now a countless amount of people comparing themselves (and perhaps spending money to look like) a person who doesn't exist."
---
6. Skin? Never Heard Of It
7. I Didn't Know There Was A Wax Statue In Milan
8. Can't Believe How She Thinks That's Acceptable
9. She's 50 Years Old And Photoshops Herself To Look Like She's In Her Late 20s. Women, There Is Nothing Wrong With Looking Your Age. You're Not Expected To Look Like A 20 Year Old Forever
10. So Hot, The Car Melted
---
You may also like:
---
11. Shrunken Head
12. Not Even Craters Are Safe From Mad Filtering
13. Angles Change People
14. The Original Has Finally Seen The Light Of Day
In case you're not familiar, that's Khloe Kardashian, who was heavily mocked for this post on Twitter.
15. Found On A Thinspo Account. Send Help
---
But just in case you think this is at all mean spirited, you'll be happy to know the Subreddit maintains a high level of decorum, following rules that prevent users from using as a means of abusing celebrities and influencers. They encourage users to avoid "rude and unnecessary comments about natural features will not be tolerated, no one cares if you don't like them."
Further, to protect the feelings of influencers who perhaps didn't use photoshop, the Subreddit requires users to clearly point out how a photo has been altered, stating: "If you cannot point out the difference between the post and the reality, whether caused by Photoshop, focal length, angles, or lighting, please don't post it."
---
16. Can you imagine caring enough about the shape of your belly button to use multiple fake belly-buttons in a photo shoot?
17. And oh boy, the (Tiger) King of fake…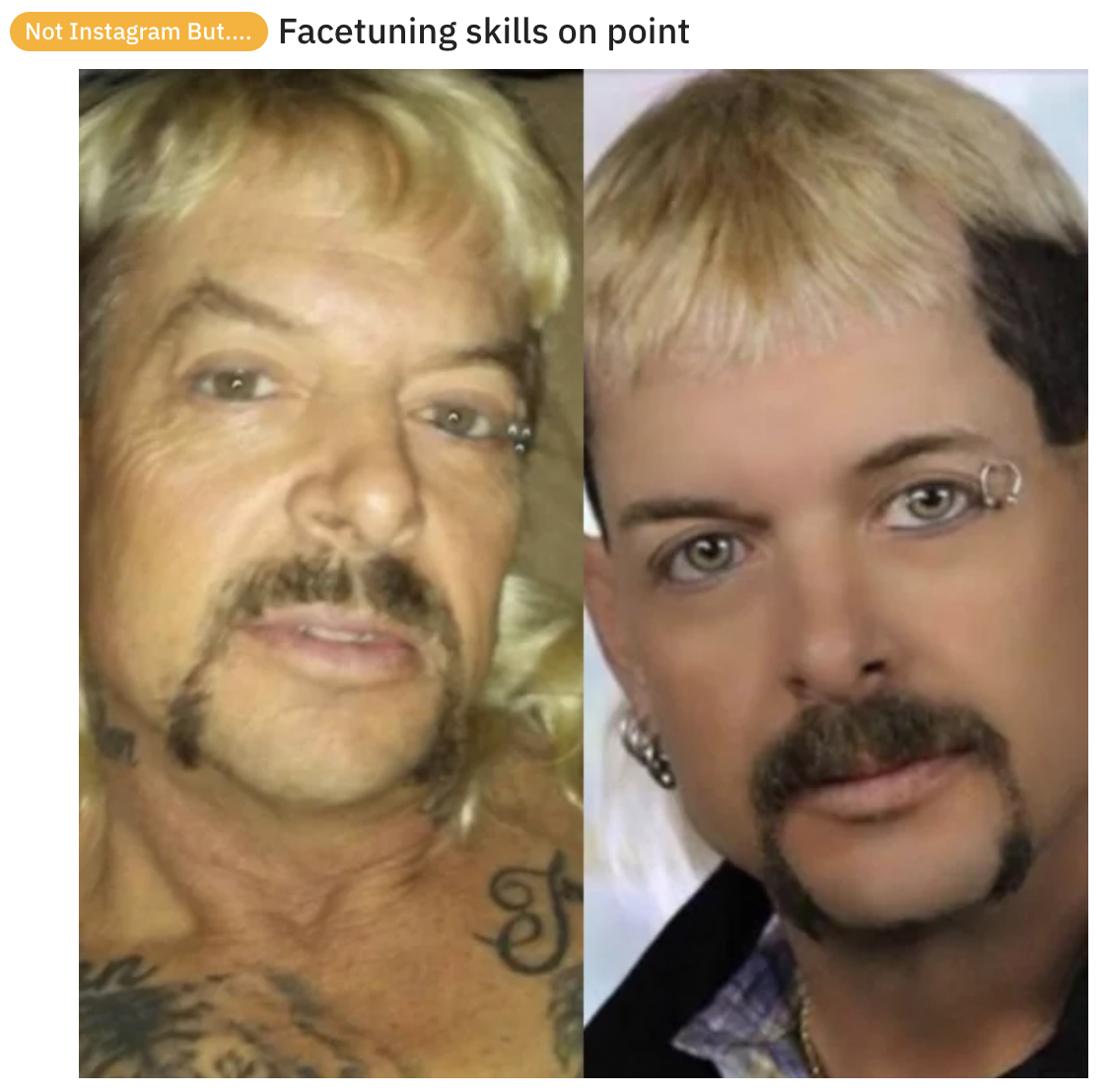 18. And to think she's so beautiful without the Facetune.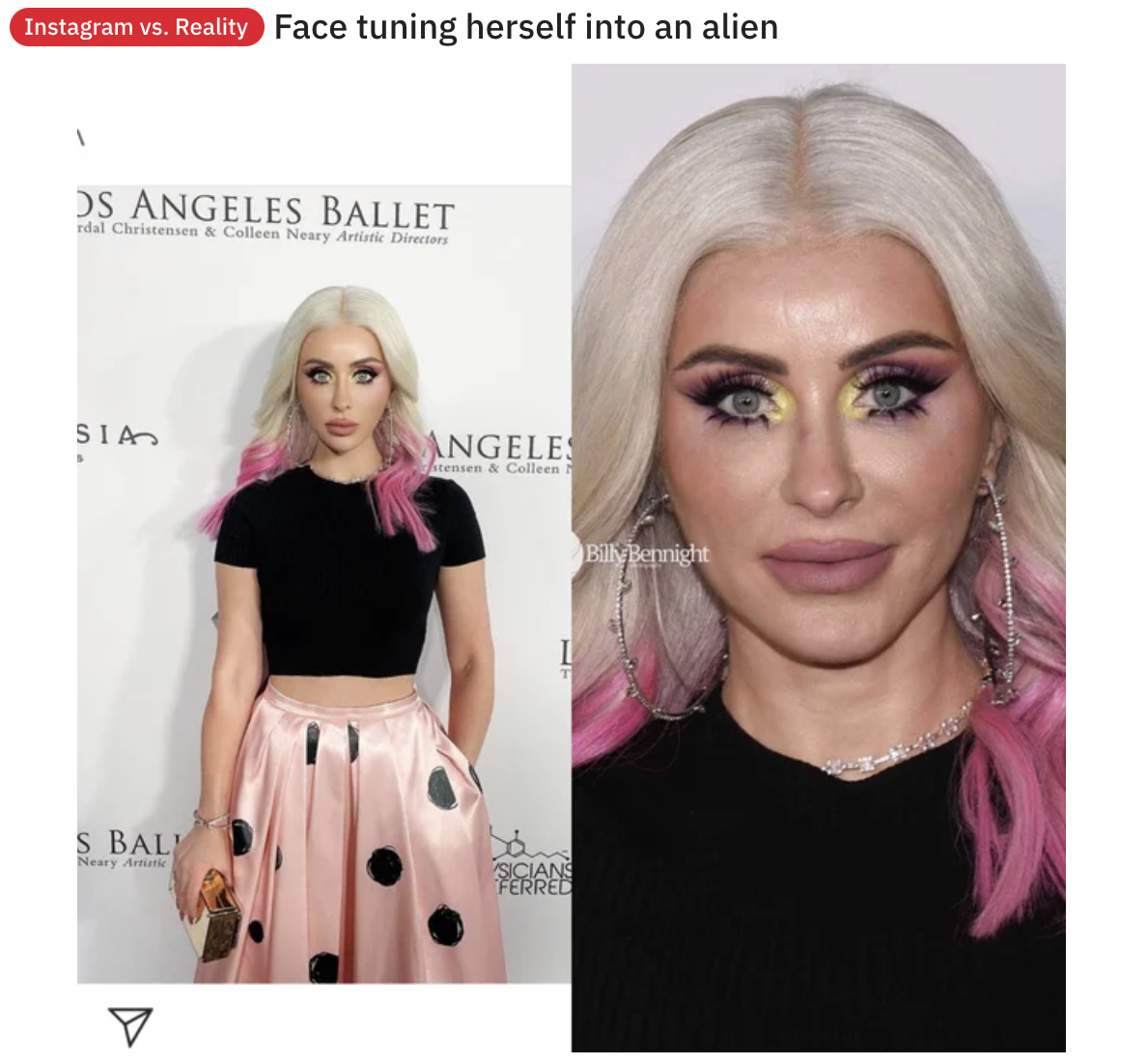 19. Oh man, some architect is about to get sued.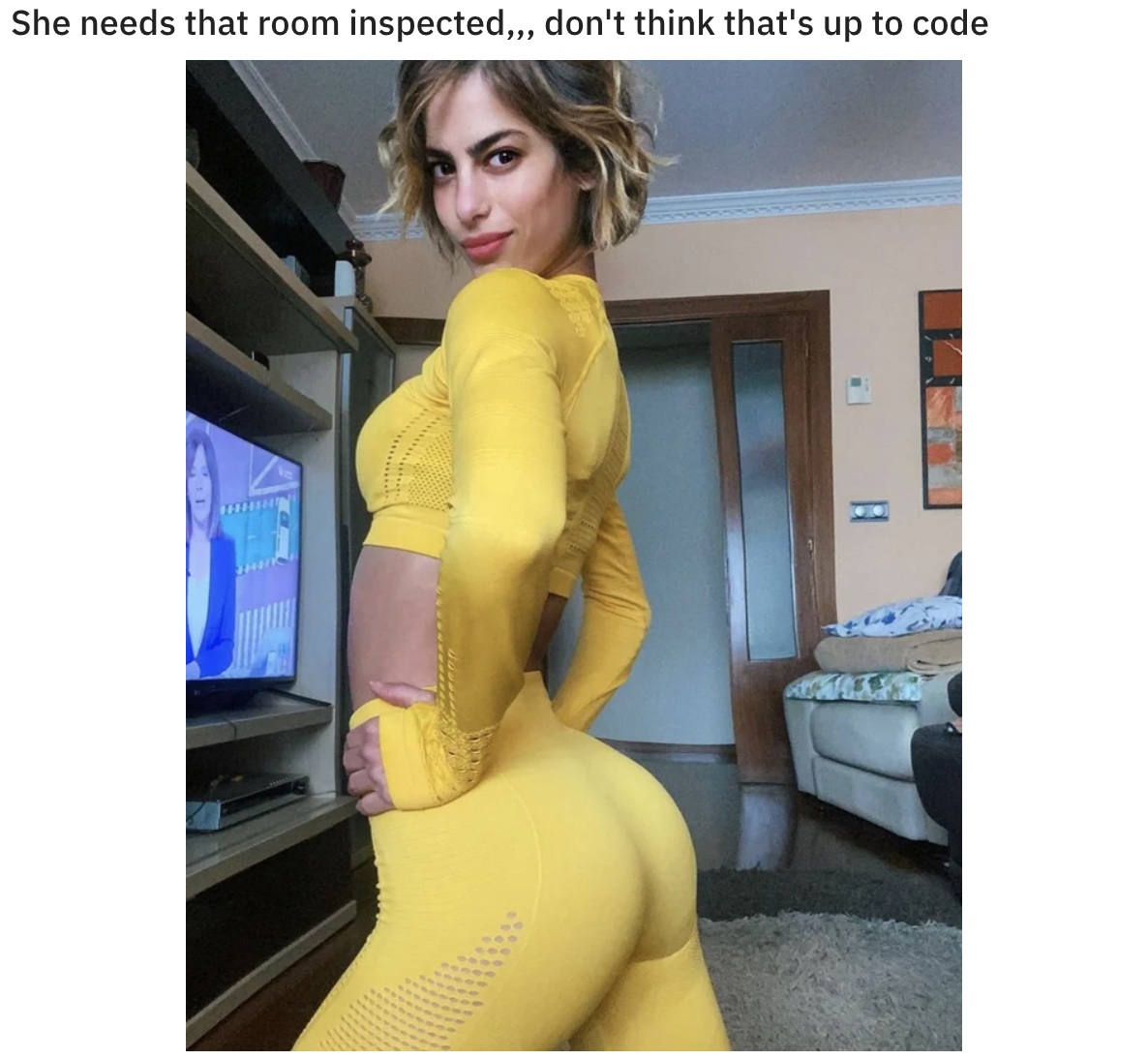 20. They really do always forget the shadows.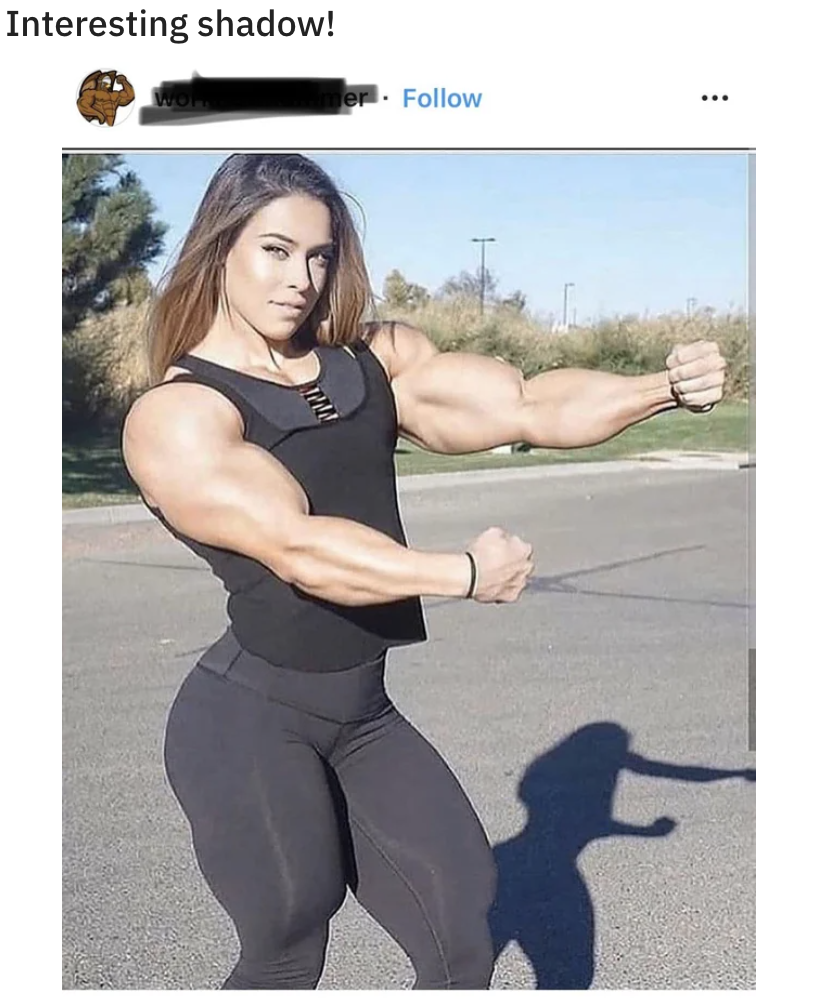 ---
You may also like:
---
21.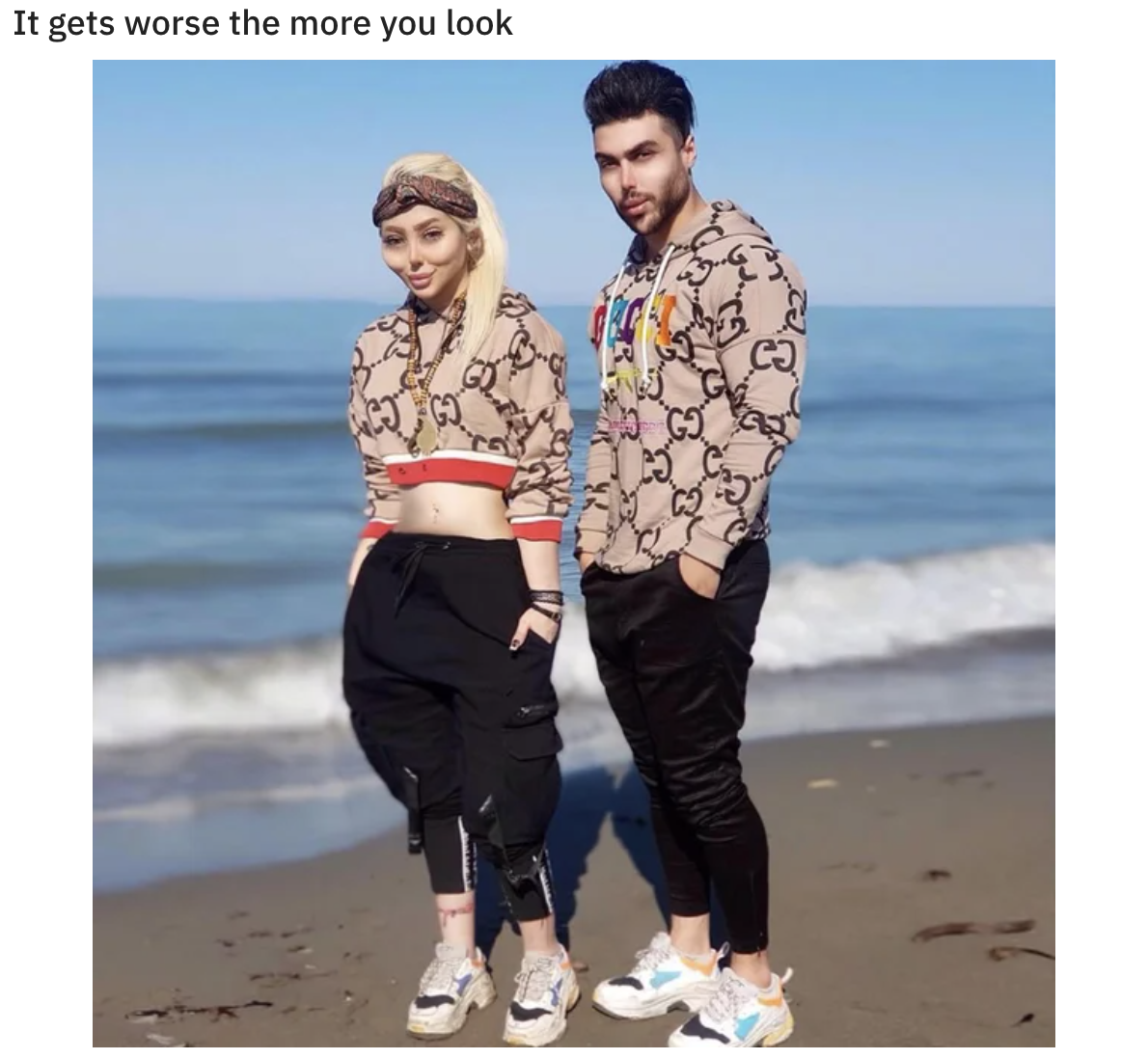 22.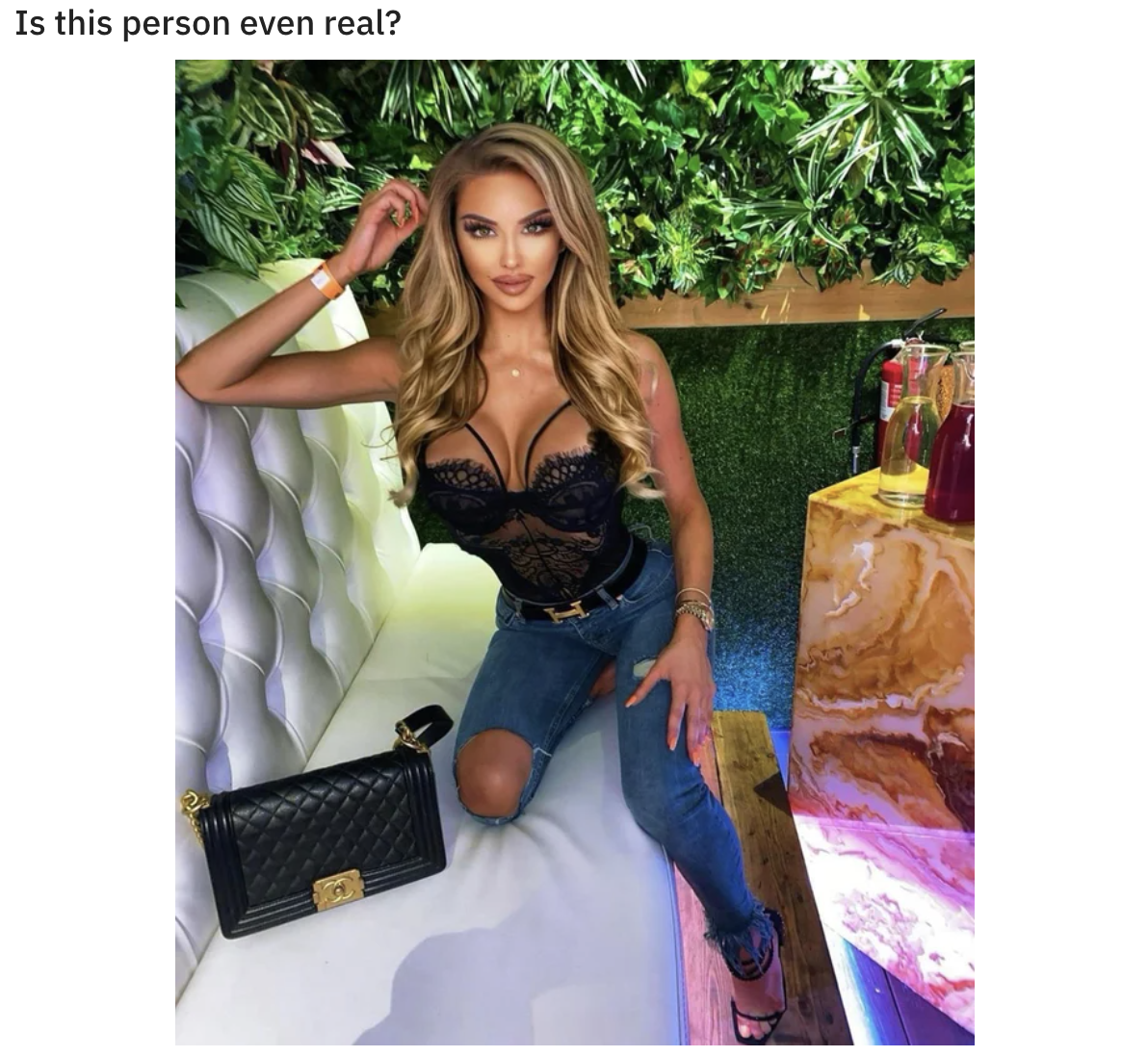 23.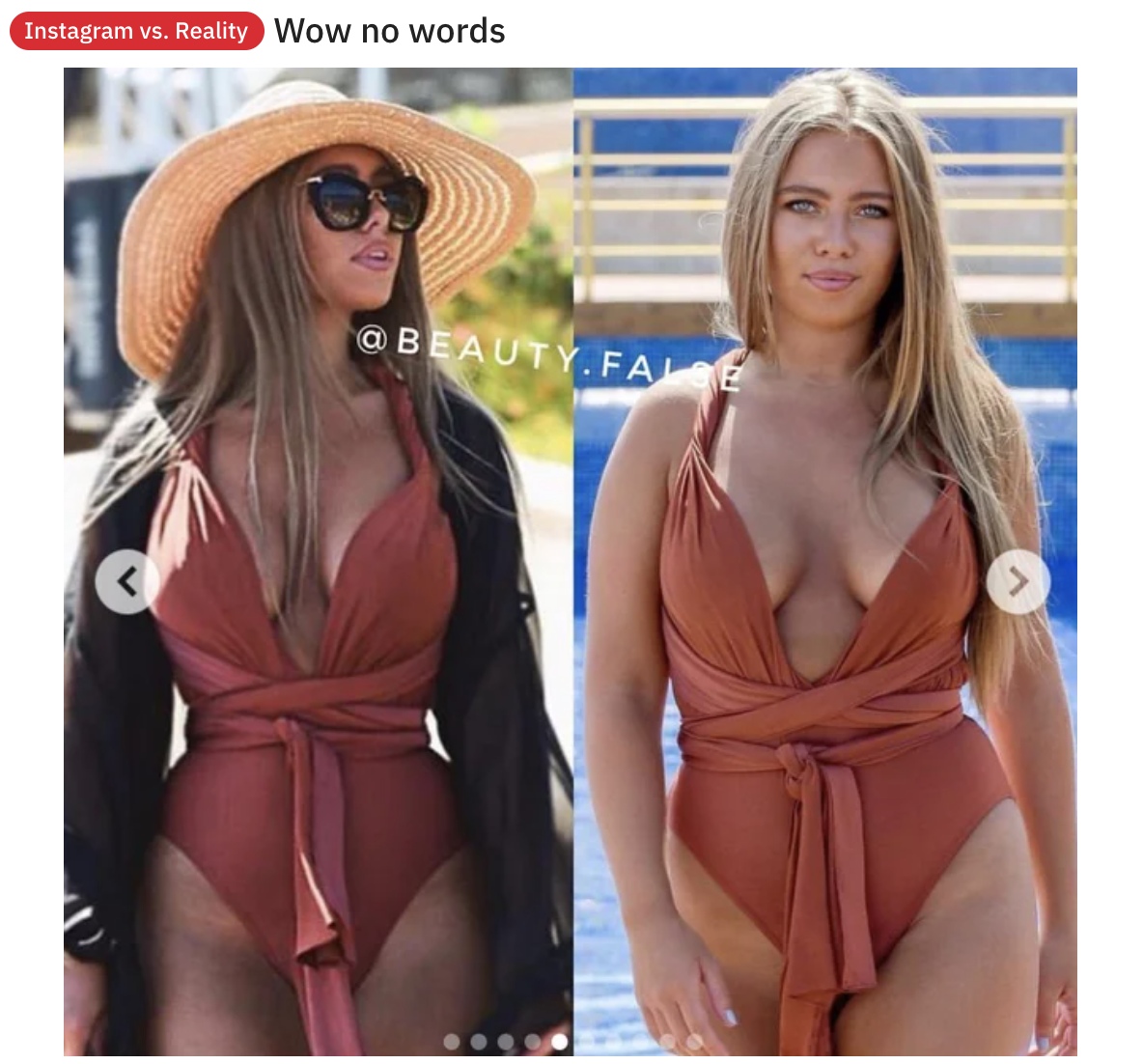 24.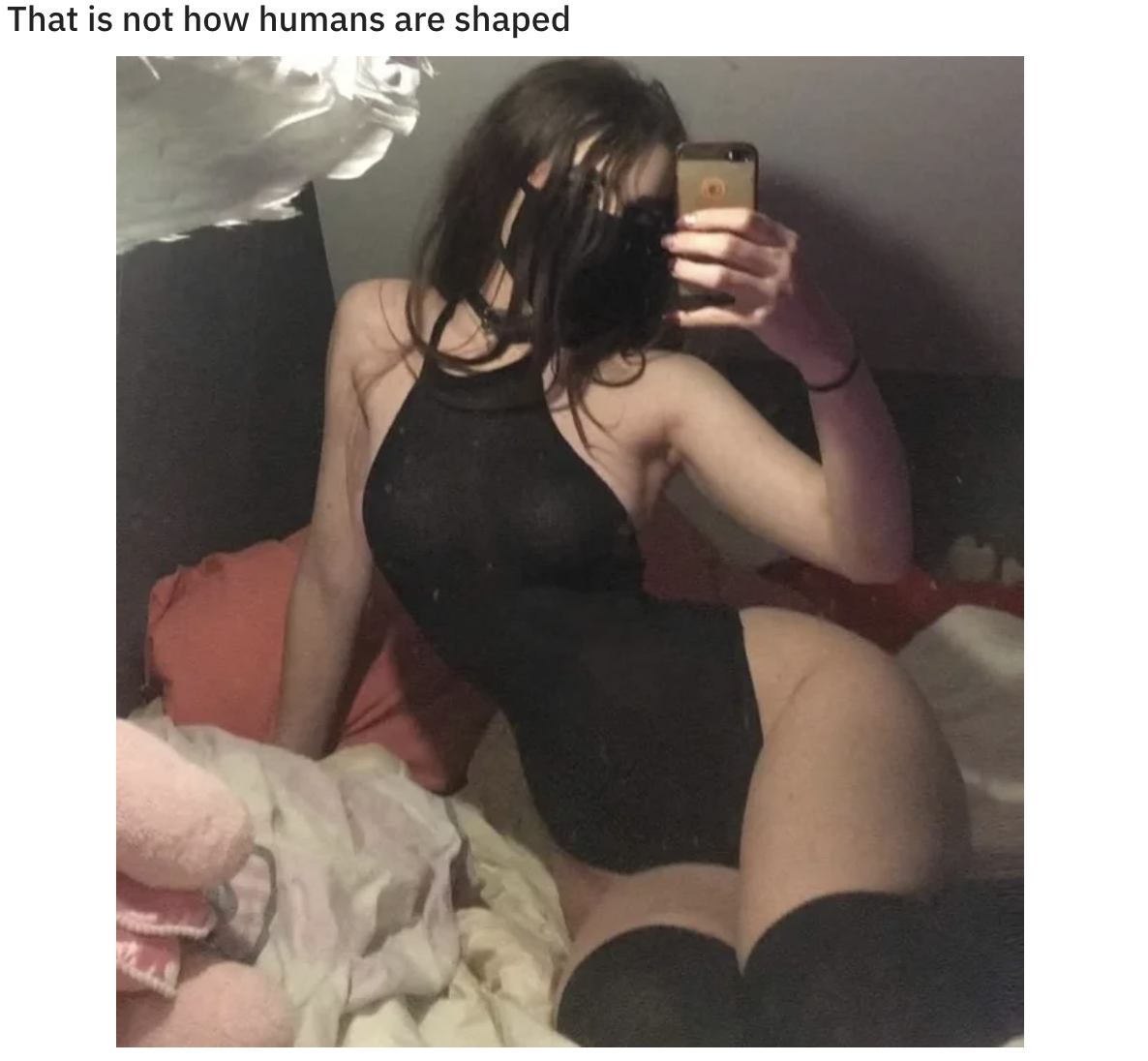 25.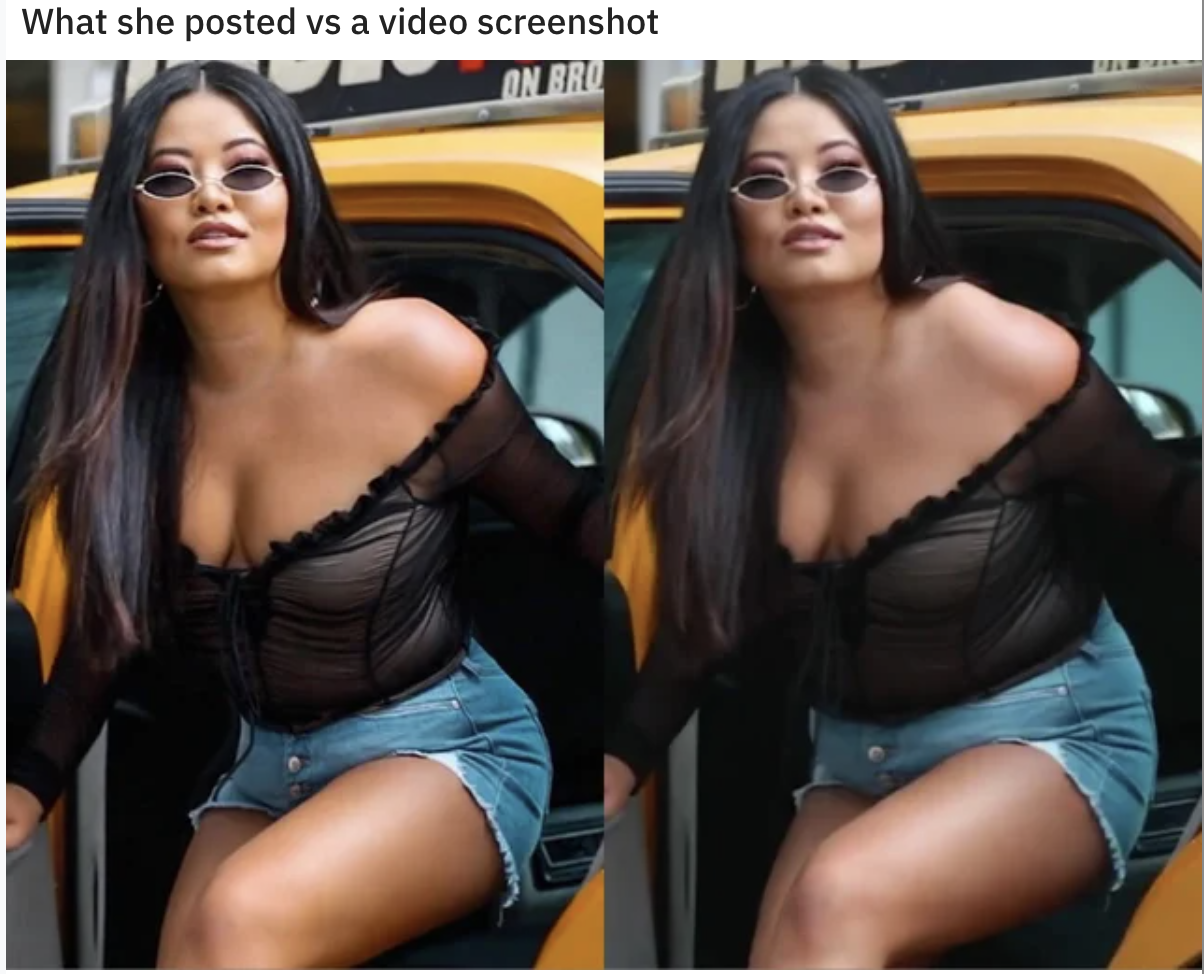 ---
Perhaps one of the most interesting and refreshing parts of this subreddit has been that the community now uses the forum to share unedited pictures of themselves.
"A beautiful unedited selfie" one user wrote this morning.
That post was one of the top posts of the day, receiving positive comments like: "She's gorgeous. Perfect"
---
26.
27.
28.
29. "The power of makeup and filters"
30. "Instagram "model" steals photo of Queen and photoshops herself in"
31. "The razor burn is real"
32. "Kylie's version (left) vs. the original"
33. "100% white Swedish influencer (blackfishing)"
34. "Don't believe what you see on Instagram folks"
35. "When you carry your personal cloud everywhere you go"
36.
37.
38. "Instagram vs. real life"
39. "Same day comparison"
40. "Teeth brighter than my future"
41.
42.
43.
44.
45. "Photo on left is from when she first joined Instagram. Photo on right is recent and after influencer fame. Might as well be a different person."
46. "Uncanny Valley"
47. "He has so much power that he can even melt glass"
48. "Con photos do not lie."
49. "Same jeans. Different results."
50. "She looked perfectly fine in the before image sheesh"
51.
52.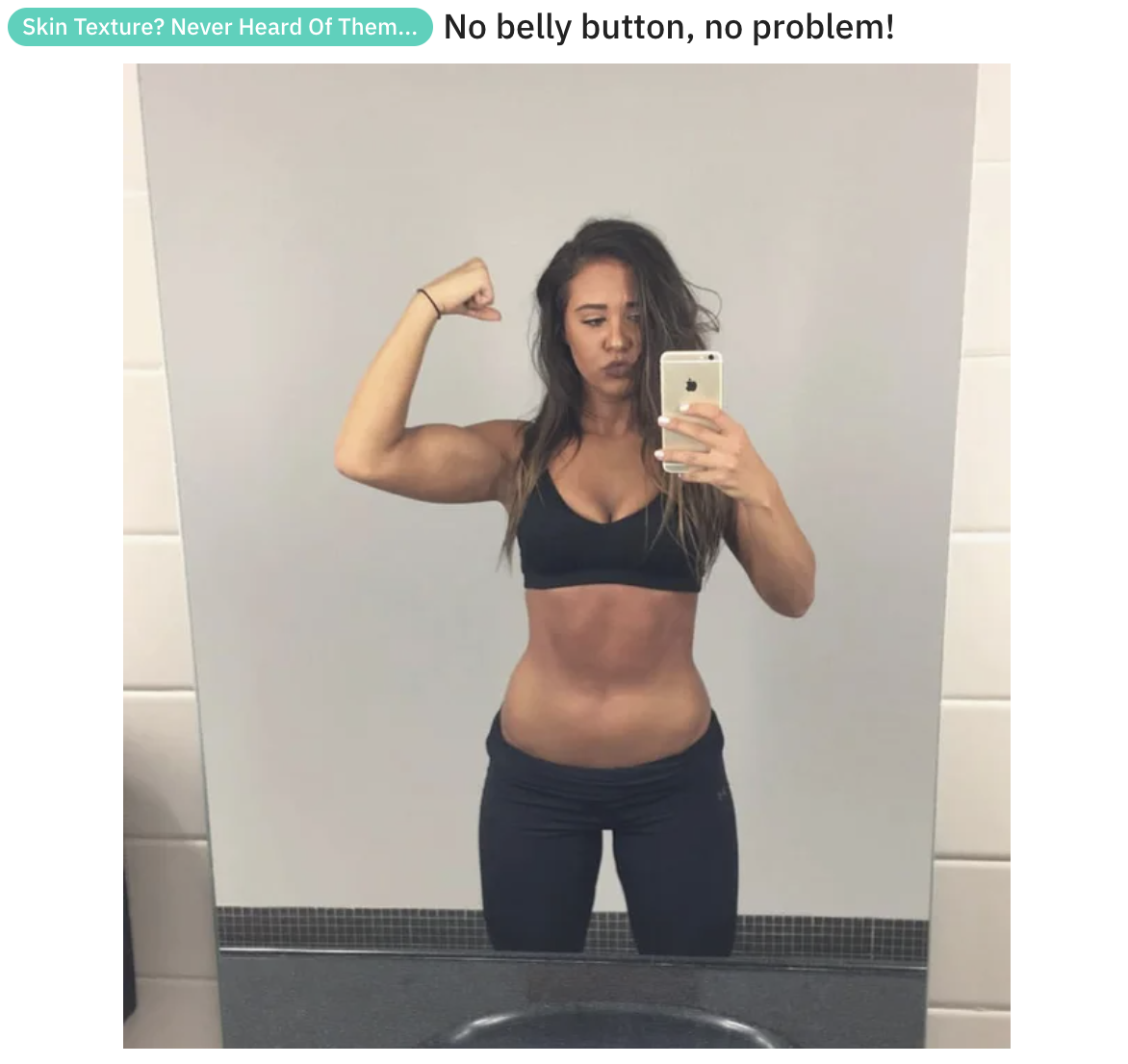 53.
More of the worst Photoshop edits: