This past year has arguably been the hardest year in recent history.
Between coronavirus, murder hornets (which took a quick back seat, amen), severe weather events, the possibility of a parallel universe where time moves backward, and the murders of multiple unarmed black men by law enforcement.
And somewhere in between, we suffered an enormous loss: the death of NBA legend Kobe and Gianna Bryant, as well as 7 others.
Maybe it is the unexpected loss of a superstar and his young daughter, or maybe it is the cloud of uncertainty and death hanging over America as a result of COVID-19 as well as the recent murders that resulted in the Black Lives Matter police brutality protests across the nation, but this question about sad celebrity deaths by Adina Howard on Twitter brought out tons of replies:
"What celebrity death, in your lifetime, hit you the hardest?" they recently asked.
Here are some of the most-missed and devastating celebrity deaths people shared:
What celebrity death, in your lifetime, hit you the hardest?

— Adina Howard 💋 (@B_oySix) June 9, 2020

1.
Michael Jackson, and Prince. And out of the blue, author Richard Adams (Watership Down) https://t.co/1uItEPmmAY

— Crystal '6 ft From You' Darche 🎤 (@crystaldarche) June 9, 2020
2.
Aaliyah.
Robin Williams. https://t.co/NATJlqqfeP

— your fave secular Saint (@_kelliieee) June 9, 2020
3.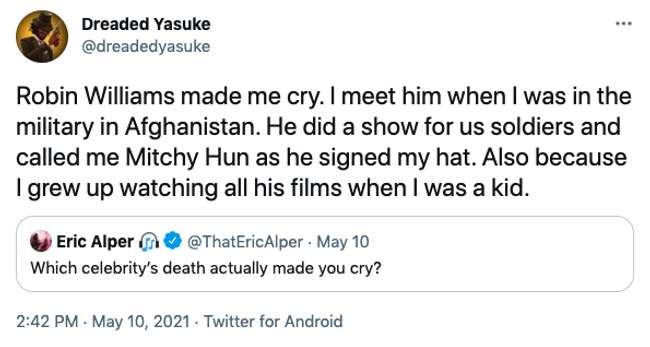 4.
Chris Farley

— Seth Rogen (@Sethrogen) June 9, 2020
5.
Leonard Cohen

— Mikel Jollett (@Mikel_Jollett) June 9, 2020
6.
Kobe and GiGi

before that, Ali

before that, Amy Winehouse https://t.co/IQ2j9xGEIZ

— Till Odinson (@thetillshow) June 9, 2020
7.
Kobe 💔❤️ pic.twitter.com/yFfCpVdmeI

— ✊🏿✊🏾✊🏽✊🏼✊🏻| BLM (@BeingTheEIite22) June 9, 2020
8.
Mac Miller was probably the one that hit me the hardest because I grew up listening to him, admiring who he was as a person, seeing him grow, his music develop, and more.

The second one I'd say was Prince because I was and am a Prince fan. I wish he were still here too. https://t.co/PdMR751bOs

— amber 🍋 (@yesliketreesap) June 9, 2020
9.
John Lennon pic.twitter.com/w527exgPm7

— 🌵Patti STAY HOME (@olivier_patti) June 9, 2020
10.
Chester Bennington 😔
During the darkest years of my life, LP's music was my therapy…
Helped me not feel alone. Helped me process. Helped me grow and become strong again.
Saved my life.
His death broke a piece of my soul. 💔

— Robyn 🥀🖤 (@rawbeancoal) June 9, 2020
11.
Elliott Smith https://t.co/1uqMge3fGM

— Shut Up Steve (@steveohrourke) June 9, 2020
12.
Anthony Bourdain. He was magnificent. https://t.co/kcbh3xp26U

— "STEMLORD" Blue Check Panjandrum (@upulie) June 9, 2020
13.
Michael Jackson and I'm convinced that he was falsely accused

— DNA Leguillou (@DnaLeguillou) June 9, 2020
14.
Robin Williams, I had the chance to meet him in Afghanistan. pic.twitter.com/XNb3uxhOwq

— David Weissman (@davidmweissman) June 9, 2020
15.
Jupp. Definetly Bowie. Sat up all the night before the news broke listening to his last album and then it all made sense the morning after

— Anders Lønning (@AndyLonn) June 9, 2020