Way back in the long-ago time of 2016, the Taylor Swift and Kanye West relationship escalated. The two had been connected by West taking the stage as Swift received a Best Music Video Award in 2009 he felt should have gone to Beyoncé for "Single Ladies," even longer ago. The incident put more of a spotlight on Swift, who was embarrassed in that moment. Other people thought West helped Swift's career because she got so much subsequent attention. No one thought that more than Kanye.
He released a song on Life of Pablo called "Famous," in which he raps, "I feel like me and Taylor might still have sex, why? I made that bitch famous. God damn, I made that bitch famous."
Since 2009, West and Swift seemed to have developed a kind of friendship, appearing at public events together, hugging and talking. After "Famous" came out, Swift's fans were furious at the lyrics and Swifts publicist told Buzzfeed:
Kanye did not call for approval, but to ask Taylor to release his single "Famous" on her Twitter account. She declined and cautioned him about releasing a song with such a strong misogynistic message. Taylor was never made aware of the actual lyric, "I made that bitch famous."
Kim Kardashian, West's wife, told GQ the opposite:
"[Taylor] totally approved that [lyric]…She totally knew that that was coming out. She wanted to all of a sudden act like she didn't. I swear, my husband gets so much shit for things [when] he really was doing proper protocol and even called to get it approved."
And Kanye tweeted that Swift had approved the lyric as well: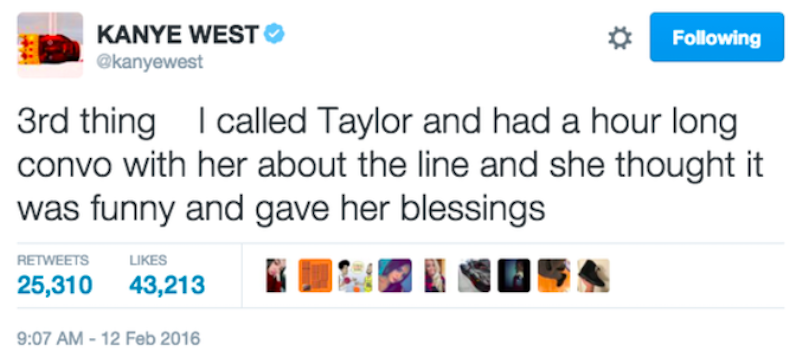 THEN Kim released audio in which it seemed that Swift approved the lyric! The couple was telling the truth! Swift was a lying snake!
And soon her Instagram was filled with snake emojis, at Kim's urging:
Wait it's legit National Snake Day?!?!?They have holidays for everybody, I mean everything these days!

— Kim Kardashian West (@KimKardashian) July 17, 2016

Taylor did respond, famously writing she wanted to be "excluded from the narrative," presumably meaning West's life: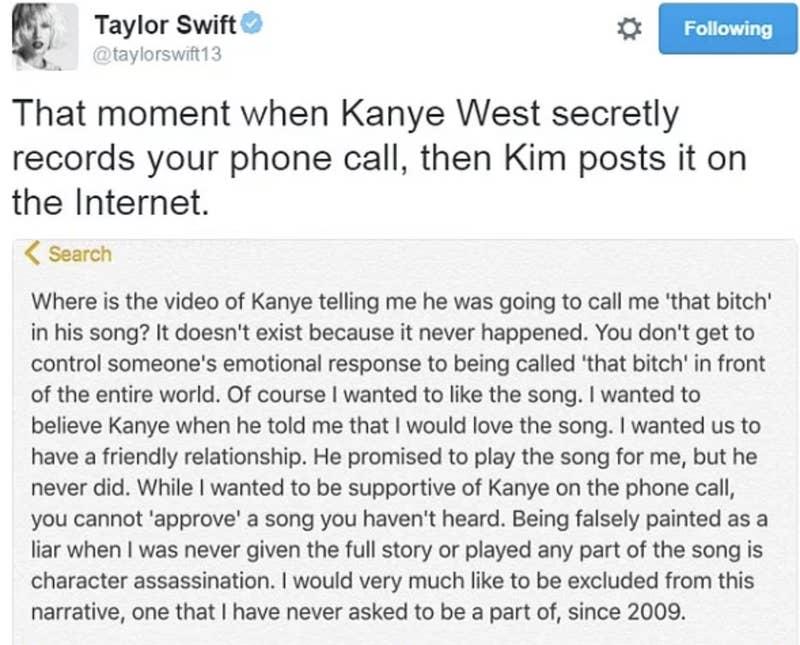 And now, when we need this kind of drama more than ever, the entire phone call has leaked:
KIM K AND KANYE AND THE MOST DESPICABLE, GROSS AND MANIPULATIVE PEOPLE IN THE INDUSTRY THEY LIED ABOUT TAYLOR SWIFT IN 2016 AND THIS THREAD OF THE LEAKED PHONE CONVERSATION WILL SHOW YOU THAT. pic.twitter.com/jCw07z8Vpf

— , (@redligion) March 21, 2020
In it, Taylor does approve the lyric, "I feel like Taylor might owe me sex." She doesn't agree to the following lyric: "I feel like me and Taylor might still have sex. Why? I made that bitch famous, I made that bitch famous," nor did he ever reveal the full lyric or play her the song. Swift also does not sound truly comfortable with him saying he made her famous, saying, "Did you say that? Oh God. Well, what am I gonna do about it? I mean, it's kind of whatever at this point. But, I mean, you gotta tell a story the way it happened to you and the way that you experienced it — you didn't know who I was at that point. It doesn't matter if I pulled 7 million records off [Fearless] before you did that [at the VMAs] — which is what happened."
To sum up: Swift did not consent to being called a "bitch," she did not consent to the lyric about making "that bitch" famous, and she most certainly did not consent to a model of her naked body being featured in the "Famous" video.
People are pissed on Taylor's behalf:
kim and kanye west after the full version of the phonecall with taylor was revealed and so was the truth #KanyeWestIsOverParty
pic.twitter.com/DaFHwlyqxH

— e v e n (@altarismyhips) March 21, 2020
Whew. The long version of that leaked Kanye West video is something else.

It tells the whole tale.

It shows that @taylorswift13 didn't deserve all the crap that came from that situation.

Not cool at all.

— yvette nicole brown (@YNB) March 21, 2020
Good morning to everyone except Kim Kardashian West & Kanye West and everyone else who flat out lied about Taylor Swift and bullied her to the point where she went into hiding over something she didn't even do.

— brittany (@mogirlprobs) March 21, 2020
Literally everyone but her fans sent Taylor Swift hate. The snake emojis, the death threats, the bodyshaming, the slut-shaming and more… Taylor didn't even lie. F*ck Kanye West and Kim Kardashian. #KanyeWestIsOverParty #TaylorToldTheTruth pic.twitter.com/SwGnnvUbEK

— chu (@lalisanae) March 21, 2020
Kanye West saying "I've thought about this line for 8 months" is so on brand for him. As soon as he made up with Taylor Swift his brain automatically went in the direction of "ok now how can I use her name to propel my fame". He never wanted to be friends. #KanyeWestIsOverParty

— Shivam (@dontwannashare) March 21, 2020
Watching the rollout of context/vindication for Taylor Swift makes me happy. Kim and Kanye… have some explaining to do… pic.twitter.com/rUqhTcfKU5

— Jameela Jamil (@jameelajamil) March 21, 2020
This is low on the list of priorities but I want to say that any of you who doubted Taylor Swift during the Kanye phone call debacle owe her an apology

— elan gale (@theyearofelan) March 21, 2020
Thanks for the drama guys. This news is coming at just the right time.
More celebrity drama: