COVID-19 is bringing out the best in some of us and the worst in others. The best? Ashley Tisdale doing High School Musical choreography on social media. The worst? Her High School Musical co-star Vanessa Hudgens going on Instagram Live to say people dying is "inevitable."
Both happened within hours of each other. Tisdale uploaded a video of her in sweats dancing to "We're All in This Together."
It's the wholesome content we need right now. But, in a video that clearly shows the harmful effects of isolation, Hudgens said she respected the virus (?) and that being in quarantine until July is a "bunch of bulls—t."
ashley tisdale posted a wholesome quarantine video doing the HSM choreography and vanessa hudgens said dying is inevitable I hope Ms. Darbus is recognizes her mistake

— Steadman™ (@AsteadWesley) March 17, 2020
Vanessa Hudgens' career will be dead after posting this. It's like inevitable. 💀 pic.twitter.com/qYX2DMFjJ2

— Chris Burke (@chrisburke) March 17, 2020
"Like, it's a virus, I get it, I respect it," she says in the video. "But at the same time, like, even if everybody gets it… like, yeah, people are gonna die, which is terrible. But like… inevitable. She pauses. Then says "I don't know, maybe I shouldn't be doing this right now."
NO! NO YOU SHOULD NOT!
Like Grandma is like totes old and like I respect the virus and all but like if she dies like whatevs. https://t.co/Il017M9PbO

— Cecil Says- Back Cash Grab Now! (@dickandcomix) March 17, 2020
The video went viral and Hudgens immediately drew criticism. Model Kathy Ireland defended her on Twitter.
twitter, please let's halt all attacks on #VanessaHudgens. This clearly is a young woman who is upset, frightened and clearly needs help. We all make mistakes at different times. This is clearly one of those moments in Vanessa's life. Hearts go out to her…

— kathy ireland (@kathyireland) March 17, 2020
Chrissy Teigen also came to Hudgens' defense: "Sometimes people, especially famous people, are gonna say really stupid s—t. & so are you," Teigen wrote on Tuesday evening. "And they, and u, will learn from it & hopefully their history says they're good. It's Ok. And at the same time, wow they really had a dumb f—kin moment. But u don't have [to] ruin their lives."
this isn't about me this time. but it will be one day, or it'll be you. but yeah today it's Vanessa lol

— christine teigen (@chrissyteigen) March 18, 2020
In response, the hashtag #Shes31 quickly went viral, referencing Hudgens' age to argue that she is old enough to know better.
1) Vanessa Hudgens is not a child; she's 31 years old.
2) She's "upset" about missing Coachella; others are dying and losing their jobs. Hearts out to them. https://t.co/AlWVMhAVsR

— Caitlin Flynn (@caitrose609) March 17, 2020
— Who is you, Chiron? (@NotLaja) March 17, 2020
Also regarding Vanessa Hudgens, she is not alone. There are literally MILLIONS of adults who are this stupid. Kind of why we're in all the shit we are now. She's 31. Well, age has no bearing on intelligence or knowledge.

— Amy (@spacepencilcase) March 17, 2020
She's 31, not 16. Stop giving room to behavior like this.

— Latanya M. Ivey Writes and Edits With Wicked Glee (@CraftyScribbles) March 17, 2020
Fuck Vanessa Hudgens but the fact that y'all got "she's 31" trending because of her is hilarious.

— B (@Breliloquy) March 17, 2020
After receiving the backlash, Hudgens released the standard celebrity apology: not taking much credit for her actions via screenshots of text on the Notes app.
— Vanessa Hudgens (@VanessaHudgens) March 17, 2020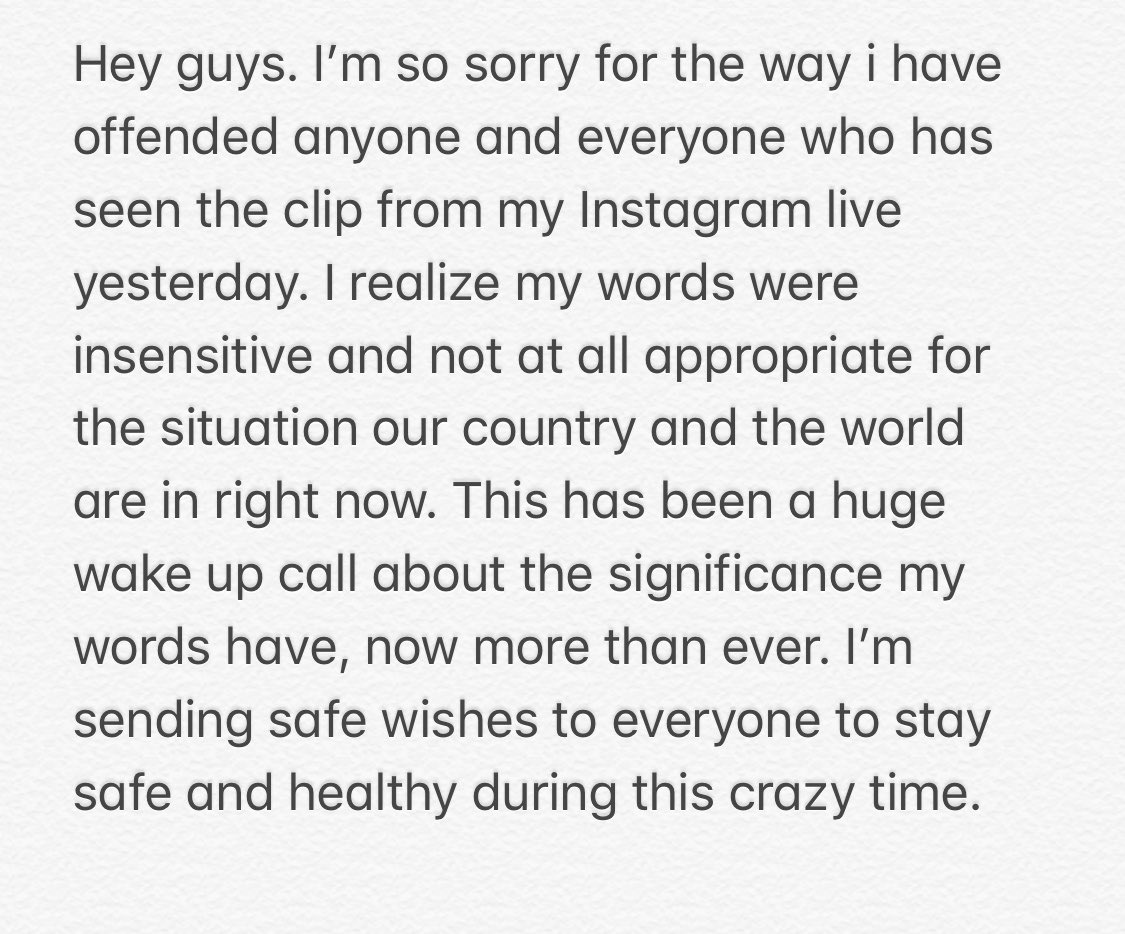 Her apology was not taken seriously.
How did you manage to get cancelled during a lockdown

— Garrett (@GarrettNeiss) March 17, 2020
Am I the only one that thinks Vanessa Hudgens can say all this insensitive garbage about the coronavirus and still get a test kit before us?

— Angela Belcamino (@AngelaBelcamino) March 17, 2020
Hey Vanessa, this is my son, Jace. AKA quite possibly one of the "inevitable deaths" were he to catch COVID-19 being as he has respiratory issues which have hospitalized him multiple times already. Anyway, we want to say sorry that you're stuck in your mansion! 🖕 pic.twitter.com/nk68cPiLhu

— Lauren™🏳️‍🌈 (@Happily_Larry_) March 17, 2020
This cannot be said enough: Please think of other people, please wash your hands and please stay inside.
More coronavirus jerks: