This is pretty much the worst time possible to have a large event scheduled, especially something as monumental and carefully planned as a wedding. But with the world in a state of confusion and people doing their best to stay home and avoid unnecessary contact, particularly in large groups, sacrifices are having to be made.
But one bridezilla wasn't having any of it.
In a post shared to reddit by u/mellifluouslimerence, a bride whose name has been thoughtfully blocked out lost her mind over the idea that coronavirus may cancel her wedding.
Rather than blame the disease itself, the government's mishandling, or even the universe, the future Mrs. popped off at her own friends and family for being "hysterical."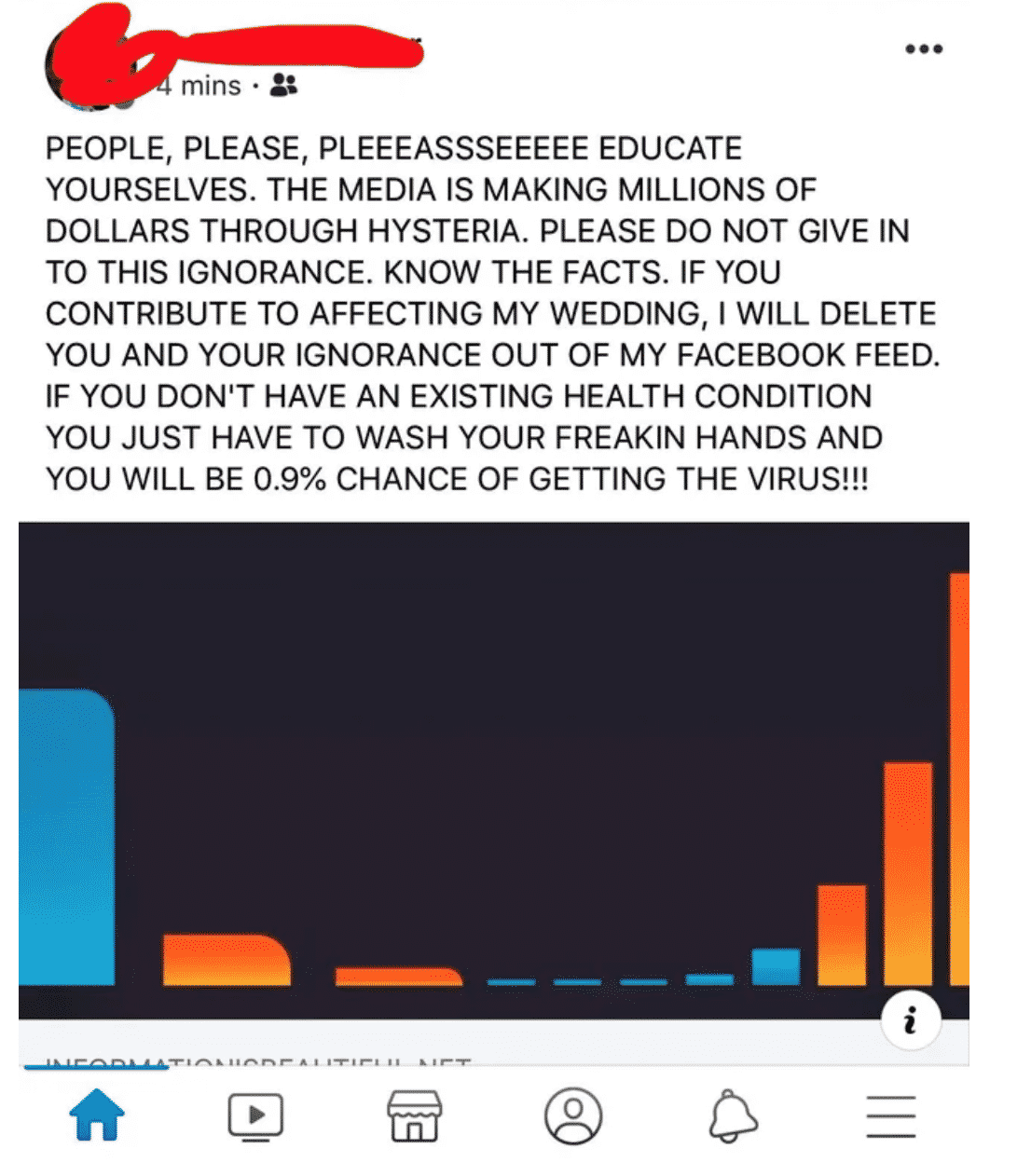 "PEOPLE, PLEASE, PLEEEASSSEEEEE EDUCATE YOURSELVES," she screamed. "THE MEDIA IS MAKING MILLIONS OF DOLLARS THROUGH HYSTERIA. PLEASE DO NOT GIVE INTO THIS IGNORANCE. KNOW THE FACTS."
Brb, gonna go wash my hands to the tune of "Here Comes the Bride" from r/bridezillas
It's unclear what "the facts" are in her mind, but they're definitely whatever spin supports her still being able to hold her wedding and forcing everyone to come.
"IF YOU CONTRIBUTE TO AFFECTING MY WEDDING, I WILL DELETE YOU AND YOUR IGNORANCE OUT OF MY FACEBOOK FEED," she continued.
"IF YOU DON'T HAVE AN EXISTING HEALTH CONDITION YOU JUST HAVE TO WASH YOUR FREAKIN HANDS AND YOU WILL BE 0.9% CHANCE OF GETTING THE VIRUS!!!"
While washing your hands absolutely is the best way to avoid catching COVID-19, there is nothing suggesting a 0.9% rate of getting it whether you're constantly soaping up or not, but the important thing to keep in mind is that NO ONE CAN MESS UP HER WEDDING!!!
Users on Reddit were blown away by the audacity of the post.
"Ridiculous how narcissistic these people are being," wrote whimsicalacumen.
"Hope Nana hasn't RSVP'd yet," the original sharer replied. "Statistically, the bride should be fine. She's not thinking of her most vulnerable guests."
"Hello rude people! Please get sick and potentially die without ruining my sPeShIuL dAy! I will dig you up and kick your butt if you do! :)" mocked Unolai.



And some got stuck on the fallacy that there's only a 0.9% chance of being infected by coronavirus if you wash your hands.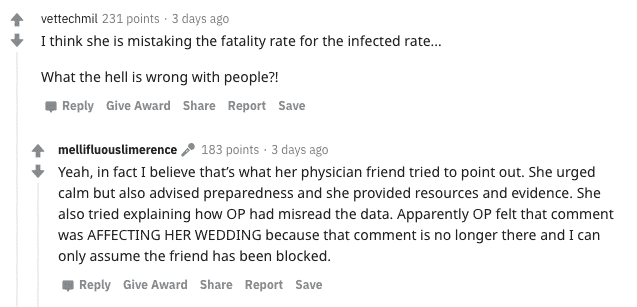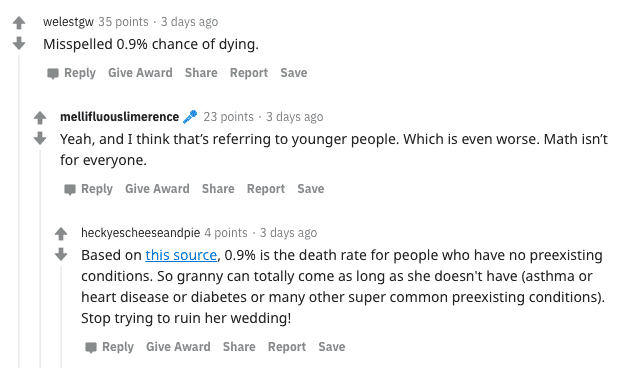 And it's not that people weren't empathetic—postponing a wedding is a big deal. But so is keeping your friends and family alive.
Fortunately, not all corona-brides are like this.
Several people on the thread shared that this will likely impact their wedding plans as well, but they're making the best of it. And that includes not getting angry at people who would rather play it safe and stay home.
Even if bridezilla over here calms down eventually, it sounds like the people in her life she's threatening to cut off because they won't put themselves or their loved ones in danger are the ones getting the real gift — freeing themselves from the dramatic whims of a potential sociopath.
More stories about bridezillas: