Whether or not you believe in astrology, it's probably easy to understand why people enjoy horoscopes: they're a way to feel for just a moment that the universe cares about you. Ridiculous? Maybe. Comforting? Yes!
Horoscopes are usually filled with vague, encouraging platitudes that tell you you're great, you're doing great, and things will soon be going great. That's the support we need.
But what if we read horoscopes just to get absolutely dragged instead? A Twitter user named @friends3000 shared a picture of an aged-looking piece of paper that appears to be typewritten with a horoscope for each sun sign written across it.
"1979 horoscope i am f*cking begging you to read this," they captioned it.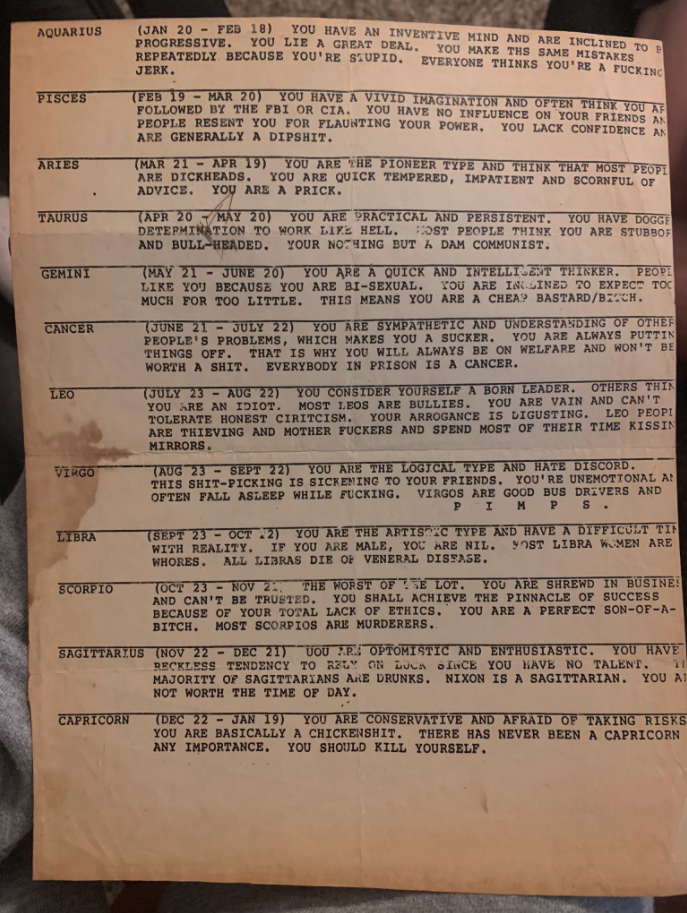 Each and every horoscope is the most insulting thing you could possibly read about yourself…and it's oddly satisfying.
Aquarius: "You lie a great deal."

Pisces: "Generally a dipsh*t."

Aries: "You are a pr*ck."
Taurus: "Nothing but a dam communist."
Gemini: "Cheap bastard/b*tch."
Cancer: "Won't be worth sh*t."

Leo: "You arrogance is disgusting."

Virgo: "Often fall asleep while f*cking."

Libra: "All Libras dies of veneral disease."
Scorpio: "Total lack of ethics."

Sagittarius: "Not worth the time of day."

Capricorn: "You should kill yourself."
Are these horoscopes really from the '70s? Who knows, but people find them entirely relatable in the year 2020, based on the response. It was almost like people were excited to embrace and believe these insults, the same way they would compliments:
you think that's bad, look at capricorn

— frog boy | ACAB (@frog_broth) June 30, 2020
Well I wasn't born yet but damn if they don't have me nailed pic.twitter.com/dyxE8t969P

— Sherriff of Thottingham (@RegressiveElf) June 30, 2020
Positive
Intellectual
Motivated
Person

— Maurice ‍ (@Poetxc_Blues) June 30, 2020
Bold of you to assume im only a little bi

— ♡ ♡ (@GentaroAnkles) June 30, 2020
im not worth the time of day too?? wow

— having another breakdown (@MissalinUwU) June 30, 2020
This isn't true though. I would be a terrible bus driver

— CRI (@corimcd) June 30, 2020
it can't be a taurus. tauruses work well with scorpios and they just totally trashed them

— jana|borrasca|och (@adorelilixcole) June 30, 2020
My face while and after reading mine pic.twitter.com/cH01psXlQJ

— ciani marie (@ciani__marie) June 30, 2020
just what a Scorpio would say

— Rob Wierzbowski (@robwierzbowski) July 1, 2020
i have accepted my fate as a libra woman

— kt (@kay___teee) June 30, 2020
MOST SCORPIOS ARE MURDERES AAAHH

— ♡kitty-cat (@soft_bby_) June 30, 2020
This is the first horoscope I've ever read that I feel is fully representative of who I am as a human

— Meg StayHome StaySafe (@cantkillheros) June 30, 2020
The gemini one is too accurate. Who TF made this? I just wanna talk. pic.twitter.com/uez5xsYJ6u

— ۗۗۗۗۗۗۗۗۗۗۗۗۗۗۗۗۗۗۗۗۗۗۗۗۗۗۗۗۗۗۗۗۗۗۗۗۗۗۗۗۗ그녀⁷ | (@koresflowerpath) June 30, 2020
"often think you are followed by the fbi or cia" pic.twitter.com/cg6E2LdWS8

— (@helovesmija) June 30, 2020
so, pisces… how is our anxiety and self esteem after this? JAJAAJSJSKSAJA pic.twitter.com/Q0HRr4G5tS

— ⁷ (@nislet_world) June 30, 2020
Astrology might not be real, but these are some real burns.
You may or may not also enjoy these high-quality links: