If you are a sexually active adult, you have likely had an embarrassing moment occur during sex.
There are embarrassing moments in all human interactions, so it's unlikely that you're ten out of ten on every encounter involving nudity.
But don't feel alone! The whole world is full of stories even worse than yours, and many of them are compiled in this thread responding to Twitter user @eerrriiicaa, who admitted to waving a someone going down on her, like a tourist on a boat: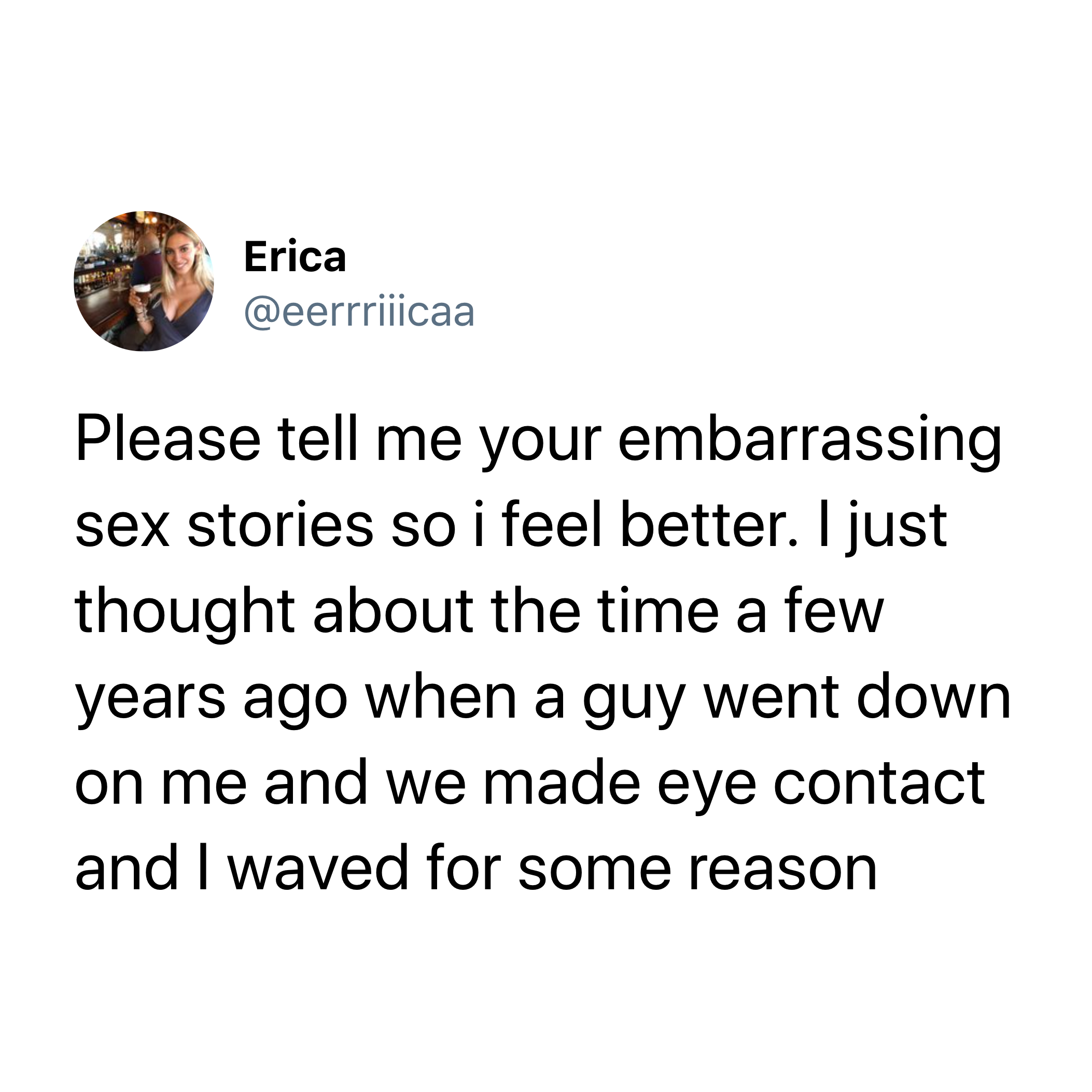 The responses are so full of humiliating tidbits that you might forget your own worst moments in bedroom awkwardness. And don't we all need to forget about something right now?
1.
I find this kinda hot?

— joanna schroeder (@iproposethis) March 11, 2020
2.
Coronavirus won't catch me slipping

— Kristine (@Krisssycakes3) March 11, 2020
3.
I'm dumbfounded that "ruined everything" Ppl can't control their orgasms. If a dudes fooling around with me all night for the first time, we sleep cuddling, and then immediately busts in the morning when we start to have sex, my ego is thinkin
– fantastic fool ✨ (@witcheryxx)
4.
So, you married her I'm hoping?

— Brandi Pellegrini (@brandi_1231) March 11, 2020
5.
So did she like it??

— SpackyHULK (@MTAKirk) March 11, 2020
6.
tbh this kind of sounds fun erika you should hit him up again

— KAT (@wickedkittty) March 11, 2020
7.
"Testies, Testies, 1,2"

— Stillmatick (@Stillmatick) March 11, 2020
8.
This same guy after sex once said "that'll do donkey… that'll do" and he's scottish so he didn't even have to put on an accent

— Josie Gibson (@josie_gibsons) March 11, 2020
9.
So you did it Kitty style instead of doggy pic.twitter.com/ex93RAGLyj

— love, (@EmilyCC94) March 11, 2020
10.
I once called a guy 'bro' during sex

— rebecca (@est94_r) March 10, 2020
11.
I hope he replied 'my wife!!!'

— Naive Hippy Sheep (@DeanSearleSpeak) March 11, 2020
12.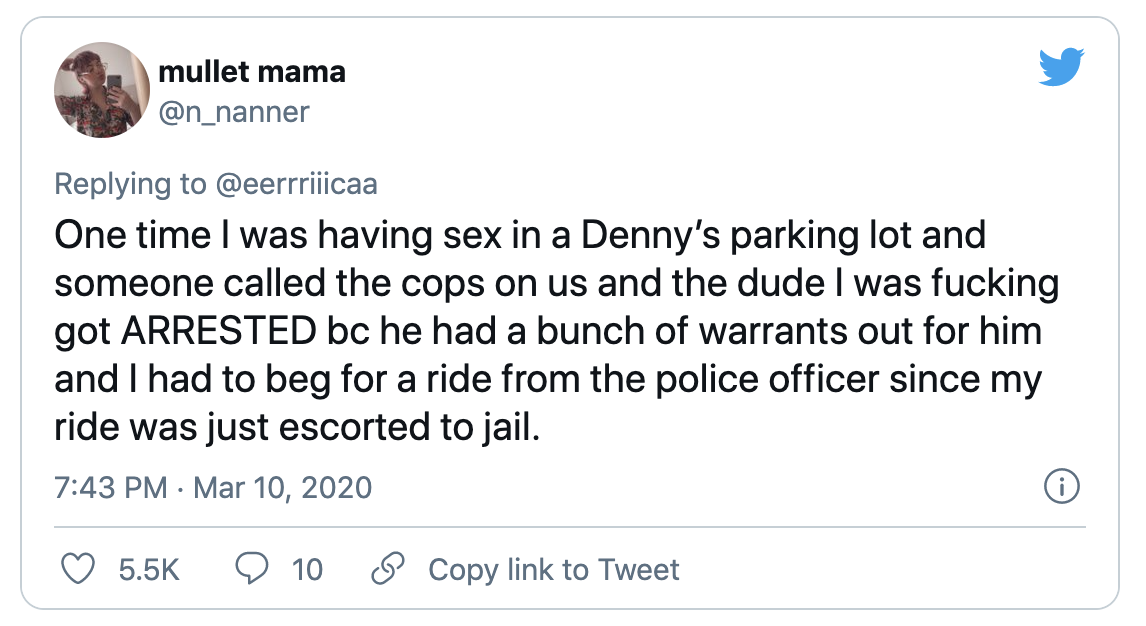 13.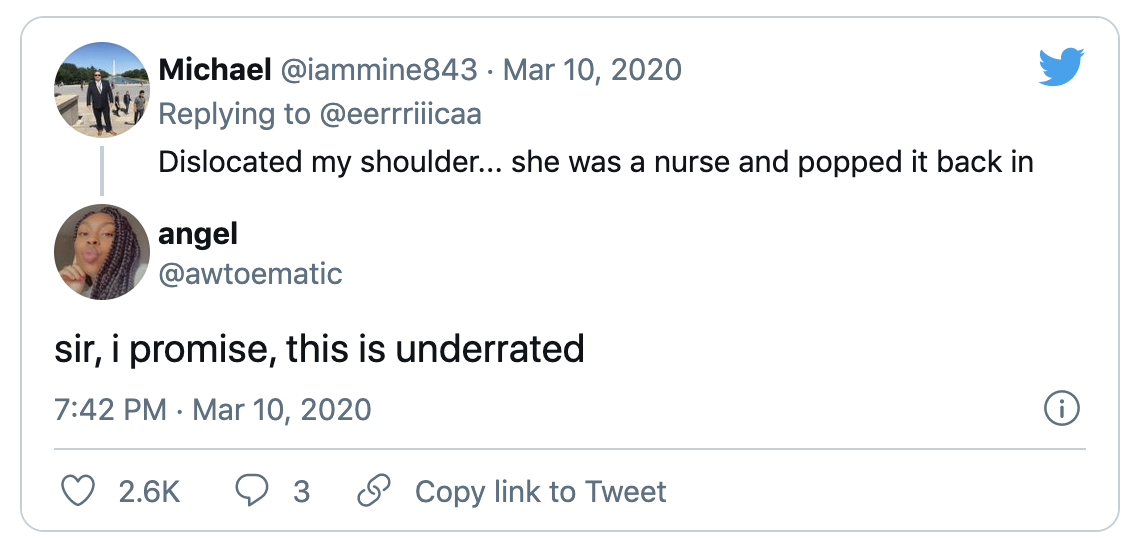 14.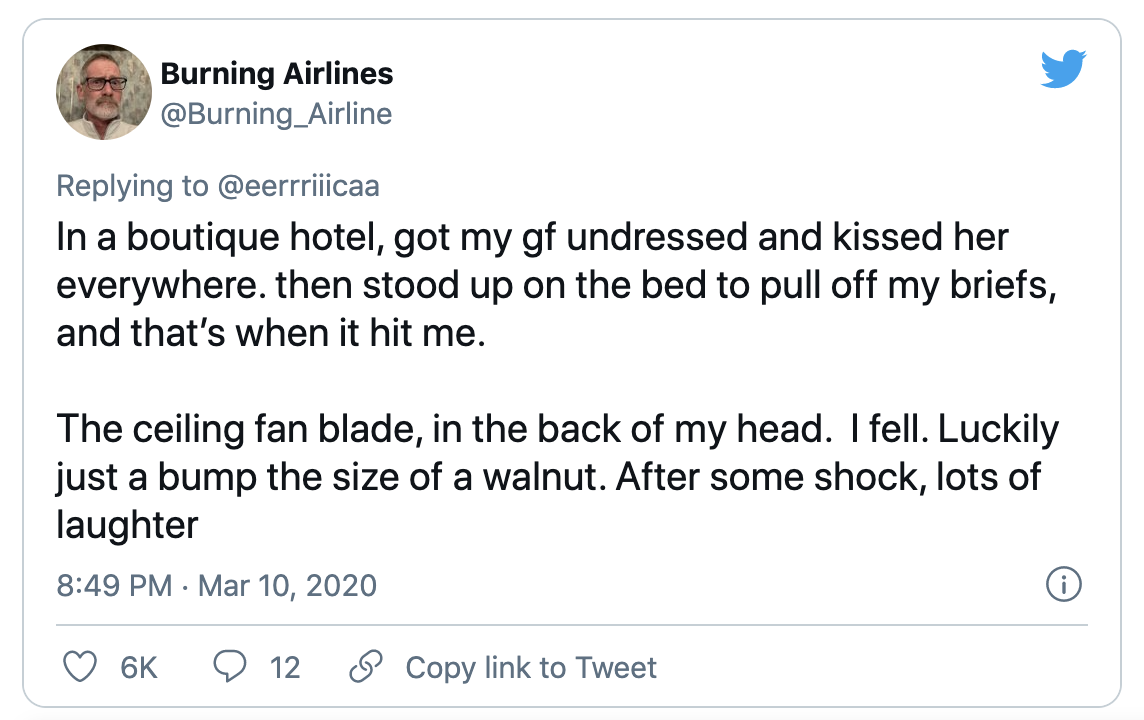 15.
ok yall saying i didn't lose my virginity then, you're right i was PLANNING on losing it that day, i should've said "the first time I had someone in my bed, planning on having sex"

— ••• (@maleahisabela) March 11, 2020
16.
Btw this started because as she climbed on I said, "well, well, well, look who's back"

— Matthew B Gillen (@gillen_matthew) March 11, 2020
17.
Clit-ler

— Mallory Eden (@mallurrrr) March 11, 2020
18.
one time I was getting head from a discreet guy and he told me not to touch him so I just clasped my hands together and held them to my chest pic.twitter.com/Zrig05Z60X

— limp wrist larry (@KevinTSimons) March 11, 2020
19.
A guy I had a one night stand with thought that blowing hard into my mouth was sexy. All it did was hurt my ears and make my eyes water. He also kept licking my front two teeth

— ludacris malfoy (@poormanskesha) March 11, 2020
20.
Finish him

— MitchTank (@MitchTank) March 11, 2020
21.
— megakabuterimon (@igotpwned) March 11, 2020
22.
It was her first time ever and my first in like 3 years having sex. After she came, it was awkward for us both. I still don't know why the hell I did this, but I pressed my index finger against her clit and said "ding dong"

— srw Ⴟ (@weandourwords) March 11, 2020
23.
A cop caught me riding my bf in the car butt naked at a church parking lot. Had to get out in shame and told him about the person he was looking for (robbery down the st) had ran past us. As he (FINALLY) drove away, he said in his speaker, "Jesus is watching" and laughed

— Lady Mormont is MY Queen!!! (@Ms_flickk) March 11, 2020
24.
this isnt a sex story but with my first bf tried to grab my boobs while watching tv. i moved away and i said i didnt want to do anything and then he told me to leave bc his mom didnt want me over. i passed her on my way out and she asked why i was leaving so soon

— a true idiot (@welltheteais) March 11, 2020
More cringy and embarrassing confessions: