It's almost Halloween, my good ghouls and goblins, so I hope you have your costume ready. If you're not sure yet what you'll be wearing to trick-or-treat or wear at an uncomfortably crowded party, might I suggest a nostalgic throwback?
Remember that classic eighties film about a group of kids hunting for treasure and getting into a bunch of hijinks? That's right, The Goonies! Well, there's one character from that movie that a lot of people probably haven't thought about in a while, so you'll be the only one who shows up as him: Sloth.
Good ole Sloth, who was dropped on his face as a baby, so he looks all messed up. Haha, they weren't very "PC" back then. Anyway, here's a mask you can get on Amazon:
"I don't know what you're talking about. I'm clearly Sloth from "The Goonies." Let go of me!" pic.twitter.com/zYUrH9kO5F

— Ted Travelstead (@trumpetcake) October 7, 2019
Unfortunately, as actor Ted Travelstead pointed on Twitter, it does look like a butt with eyes. But that's also a fun costume, in a way. The mask is sold by the company YYF and you can find it under the product name "YYF Latex Mask Rubber Creepy Ugly Hip Head The Goonies Sloth Mask Halloween Party Costume Decorations." Phew! that's a mouthful, but at only $20.89, it's also a steal!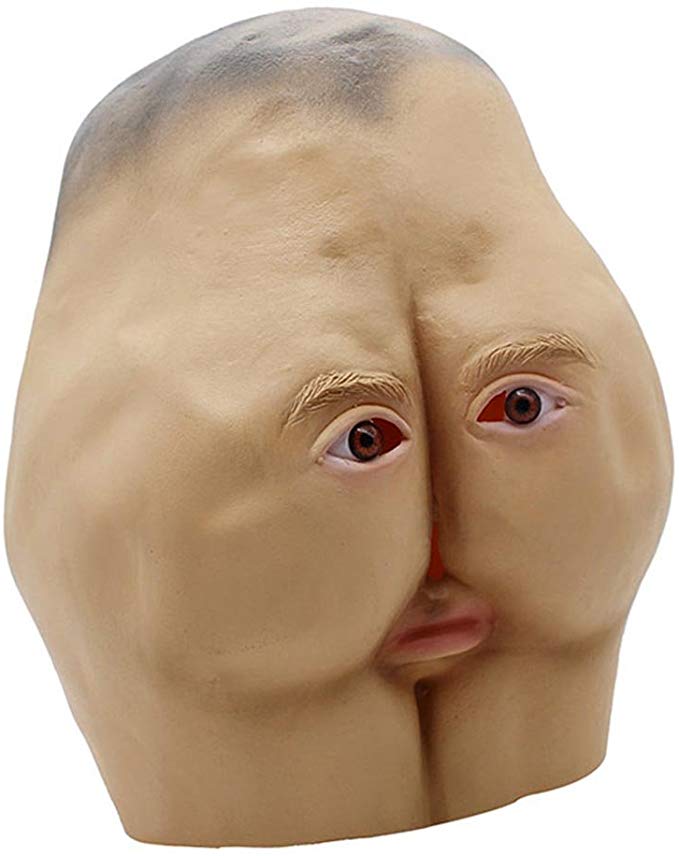 Travelstead's tweet has people wondering exactly what went wrong on the assembly line to create this abomination. As bizarre as Sloth looks in the movie, this butt-face looks far, far crazier. Did someone make too many butts at another factory and tried to salvage them? Did the designer have a thing for derrieres? Have we all been seeing Sloth wrong for decades?
— Ted Travelstead (@trumpetcake) October 7, 2019
Somebody clearly had some sort of production issue with a sex toy and tried to find a way to salvage the lot.

— Mike (@mousedroppings) October 7, 2019
Can't stop cracking up while thinking about this guy being hauled off by the cops. "Unhand me! I'm just a cpa who enjoys 80s cosplay!"

— shameonyoudule (@shameonyoudule) October 7, 2019
"Suitable for all kinds of theme party."

All.

Kinds.

— Robb Badlam (@BuckyUnderbelly) October 7, 2019
No one cared who I was until I put on the mask

— FUCC (@petrolstation88) October 7, 2019
Apparently, the other side of the mask is even more explicit:
I'm sorry but what is "appropriate" about the front of the mask

— Sophiopath Booze (@flamegurl2113) October 7, 2019
And it's not the only weirdly sexual mask being sold under false pretenses on Amazon!
😐😂

— Ted Travelstead (@trumpetcake) October 7, 2019
I guess this is a running theme. Whatever the reason for why this mask exists, it's changed a lot of people's Halloween plans this year:
My Halloween costume has changed https://t.co/iKR8vNMbym

— mireya (@xxdeadxxly) October 7, 2019
The costume you get when you literally want to talk out of your ass. https://t.co/hK4JxrW0sl

— Meredith Lee (@meralee727) October 7, 2019
Hey, it's a conversation starter. And when people try to talk behind your back, they'll actually be talking to your front.
More Fun Amazon Halloween Costumes: