75.
Me: I'm exhausted.
Husband: Didn't you take a 2 hour nap?
Me: What do you mean by that?

— Jackie Bouvier (@jackiembouvier) February 16, 2016
76.
Just put on fancy socks and a night shirt with no food stains so I can try to seduce my husband later.

— Ashley Austrew (@ashleyaustrew) January 23, 2016
77.
Me: I spent HALF as much as YOU usually do on groceries.

Wife: Congratulations.

[2 hours later]

Me: We have nothing to eat in this house.

— Rodney Lacroix (@moooooog35) January 9, 2016
78.
Relationship status: My wife asked me what I wanted for dinner and then told me I was wrong.

— James Breakwell (@XplodingUnicorn) February 22, 2016
79.
MARRIED SEXT

Her: Is it in?

Him: Not yet

Her: Put it In now!

Him: Ok it's in

Her: And set the timer! Im not eating burnt lasagna again!

— Will Rodgers (@WilliamRodgers) May 23, 2016
80.
I wondered if my wife was asleep so I held my phone a foot over her face and turned it on.
Then I dropped it onto her nose.
She's awake now.

— Вïҏѳѩг Вєѧг ✪ (@_b1p0larbear) October 27, 2016
81.
WIFE: Stop spending money on stupid stuff
ME: Okay
[later]
WIFE: What the hell?
[dog walks by in a tuxedo]
ME: He's getting married, Karen

— Floyd is woke (@dafloydsta) August 17, 2016
82.
Wife: Where are you
Me: The store
W: Don't lie to me
M: Wh-
W: I saw the internet history
M: *hangs up* pic.twitter.com/CbhMqKVGkq

— Hip Dad Online (@hardlyrelevant) May 25, 2016
83.
I bet my husband's favorite thing about me is how I don't order anything and then ask for sips of his drink and snatch his french fries.

— Mommy Christmases (@mommy_cusses) September 29, 2016
84.
Husband: I love you.
Me: *eating a potato chip really loudly* You should. I'm a goddamn miracle.

— Flannery (@imdaintyaf) September 12, 2016
85.
Before I got married I didn't realize "What do you want to watch?" was a rhetorical question

— Josh (@iwearaonesie) May 16, 2016
86.
[rolls over in bed and whispers to wife]
"I ate like 75 chicken nuggets today"

— rob elliott (@rockymomax) February 16, 2016
87.
Nothing in life can prepare you for how much of marriage is spent just listening to someone cough.

— beth hates Pai, so (@bourgeoisalien) May 3, 2016
88.
(Wedding)
Priest: They've written their vows

Wife: *recites beautiful vows*

Me: *takes out notecard* I love you and cheese the same amount

— Mostly AFK Bice (@Pro_Jones_) January 10, 2016
89. What do you want, a cookie? A pat on the back for doing your part around here?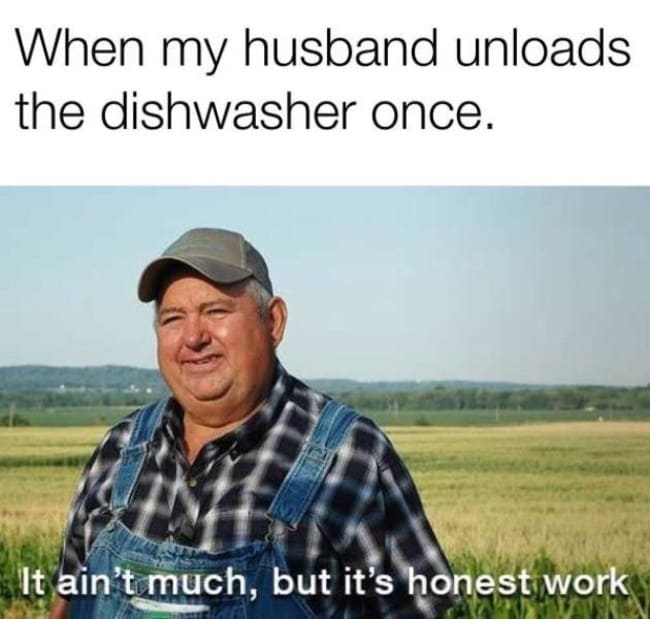 More funny tweets: