The first time my toddler sat in snow, he cried. Because it only snowed once last year where I live, he didn't get to experience snow anymore that year. But this year, after the first big snowfall, all he wanted to do was play in the snow.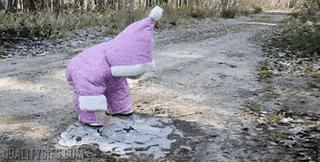 He threw himself on it, rolled around in it. Obviously not all kids are the same, but snow can be pretty exciting for a little one to play in at least until they inevitably lose their mittens somewhere.
When ski champion and podcast host Julia Mancuso, 36, plopped her toddler Sonny in a pile of snow, she was probably thinking it would be fun for him.
The little one sunk so deep into the snow, he disappeared—and some people were not thrilled at Mancuso's parenting skills. While others thought the scenario was funny, some were concerned—prompting Mancuso to explain the "behind the scenes" preparations.
Mancuso took to Instagram to explain that Sonny had been safe the whole time—and having a blast.
"Behind the scenes look at how we prepared. Just wanted to share because I've gotten some messages that just really don't understand this video."
"Sonny loved it – there was zero risk of something being buried in the snow since it happened over the course of a day on our patio – we literally watched the snow fall. We practiced – then we went for it! You really don't get these conditions often and can only enjoy the fluffy softness the very next day – so yeah," Mancuso wrote.
"I don't think it's a good idea to through [sic] your kid into any snow bank…but when it snows like this! It's game on."
Since the updated post, followers have come to Mancuso's defense, saying stuff like, "That kid loves adventure…so fun that you get to share that with him. He loved it!" and "All the negative comments are ridiculous – you certainly would NEVER put your sweet Sonny at risk, in snow, on snow, in or on water. Anywhere for that matter!"
In any case, tossing your toddler into a soft pile of snow for fun is way better than tying your six-month-old baby to a water ski in order to break a World Record, like the Humphrey family did back in September.
Lead image: Julia Mancuso/Instagram
More high-quality links you may or may not enjoy: