A proposal is a very personal thing, but it does involve at least two people. They are about to join their lives together forever, so you would hope they're on the same page about what that looks like, but it seems like they often aren't. This story posted by u/_gabbiness on r/ChoosingBeggars shows what happens when two people about to commit for eternity don't really know each other at all. It's a screenshot from a woman who is very unhappy with how she was asked to plight her troth.
"My bf proposed WRONG!!," she declared. Uh oh. She continued, "He is in the Air Force and proposed to me in front of an airplane. I was so embarrassed because that's pathetic. I asked him nicely if he can propose to me somewhere normal like on a beach."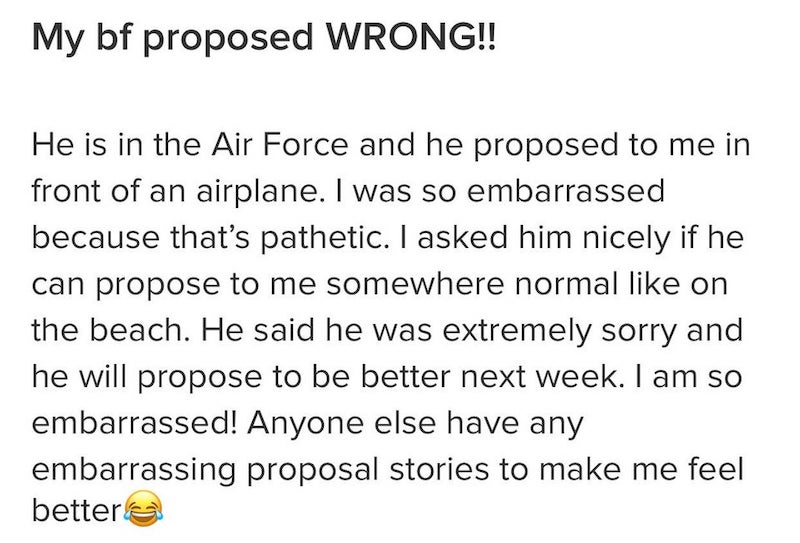 "He said he was extremely sorry and he will propose to be better next week. I am so embarrassed! Anyone else have any embarrassing proposal stories to make me feel better," she asked.
I don't think I really get this one. Was he keeping a plane from taking off? Why is the plane embarrassing? It seems to be connected to his job, probably has some significance. Maybe he was just about to head off to work and didn't make a production about it? We need more details.
There aren't many, but apparently, the original poster who actually knows the future bride posted this comment update:
Sorry to tell you, this picture cropped the update. He took her to dinner, and proposed on the beach.

She finished the update by saying she's super excited to get his benefits. Not even kidding, went full dependapotomus.
I would also be excited about getting benefits, especially if they involved healthcare, but absolutely none of the commenters are on this woman's side. They all think her unhappiness with her proposal proves she doesn't deserve to get married:
Ultimately, her fiancé decided she was worth the second proposal on a beach, so it doesn't really matter what everyone else thinks. Except I would still like to have my questions about the plane answered. Did they break into an airport?
More bridezilla horror stories: