The global pandemic is ruining a lot of people's plans. Plans to go to work, to pay their rent, to socialize, perhaps even to keep living. Many of us will freak out at one point or another over all the disappointments and losses that will come with illness and quarantine over the coming weeks and months. But will anyone freak out quite like this bridezilla on Facebook refusing to cancel her wedding?
A post from u/Dummythiquequeen on Reddit's r/weddingshaming titled, "If god wants me to die by the Coronavirus, then that is his will" is a real stark example of someone who hasn't yet accepted our new reality. The OP explained the screenshot of the bridezilla's Facebook post, writing:
This girl I went to high school with posted this yesterday. Everyone in the comments is pleading with her to be careful, and/or is telling her they will not be coming to the wedding because of their fear of getting sick. She refuses to listen to anyone's advice, and has said multiple times that she doesn't care if she gets the virus, as long as she can still get married. She even goes as far as to shame her own bridesmaid for not wanting to attend, due to the bridesmaid having a child who is susceptible to catching illnesses. I never expected something like this out of her.
This bridezilla's post is a mixture of angry lashing out and sad pleading, which I suspect won't be very effective.
"If anyone coming to my and my fiance's wedding think we are going to cancel our wedding because of this stupid f—king virus ur wrong," she starts. "We didn't pay thousands of dollars to cancel the wedding and the day we chose means something so everyone better come that said they were going to come but if u want to be like all the rest of the people freaking out and acting nuts then that's fine. "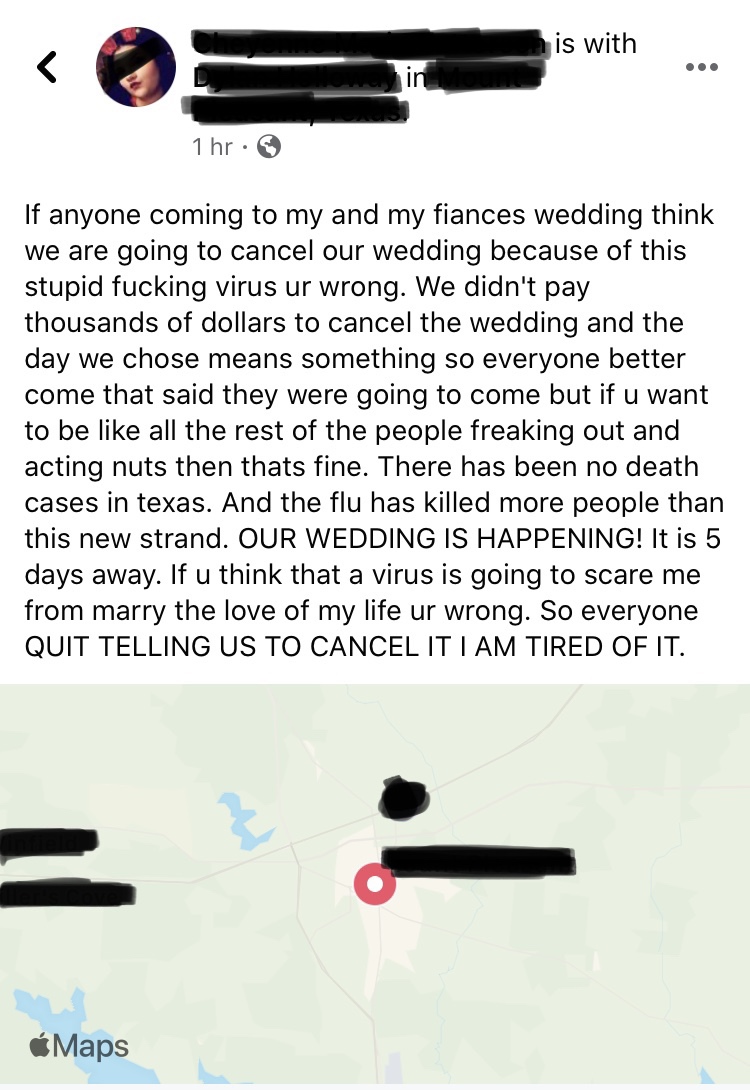 She continues: "There has been no death cases in Texas."And the flu has killed more people than this new strand. OUR WEDDING IS HAPPENING! It is 5 days away. If u think that a virus is going to scare me from marry the love of my life ur wrong. So everyone QUIT TELLING US TO CANCEL IT I AM TIRED OF IT."
She and her fiancé might get married on the day, but anyone who was planning to still come might be put off by this message. This doesn't sound like someone who will make a happy bride nor does it seem like it will be a joyful day. Commenters were blown away by the short-sighted selfishness of her message:
As a few people pointed out, this bride might not have a choice about doing the right thing and postponing her wedding by choice. The authorities could easily get involved at this point. And in five days, death reports could be rolling in, which might change her tune. Though people like this generally don't take something seriously until it's happening to them.
More crazy bridezillas: