Redditor krafty_katt is a pretty prolific crocheter, and they keep a very active Instagram going of all of their cool blankets, hats, toys, and more that they make by hand. Their skill level is extremely high, but even people who are great at crocheting have a cap on how fast they can make something. The point of crochet is that it's by hand, produced slowly and with care. Machine-knitted wears are simply not as nice most of the time, or at least have a very different consistency and look. People who understand how hand made items work understand that.
View this post on Instagram
But Krafty Katt sometimes gets messages from people who don't get it at all. She occasionally sells items, but it's not her main line of work. In a post on r/ChoosingBeggars, she shared an absolutely outrageous conversation she had with a guy who wanted her to make a giant blanket by hand.
They're obviously pretty entitled because they start off by telling Krafty Katt that they have bad business practices because they took a few days to respond. When she says that she was on a vacation, they're only slightly less rude.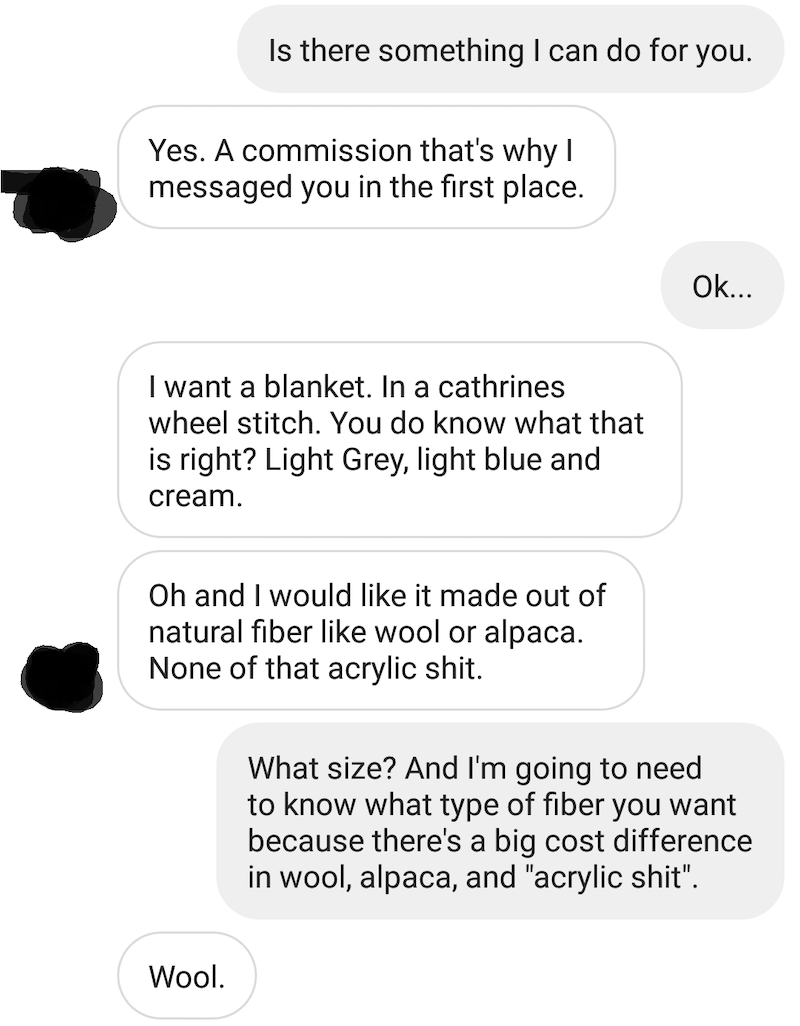 Their demands are even more intense from there. They want a very specific pattern, color, and material and a giant size, so it can cover two people on the couch. When she quotes him a price of $400, he freaks out.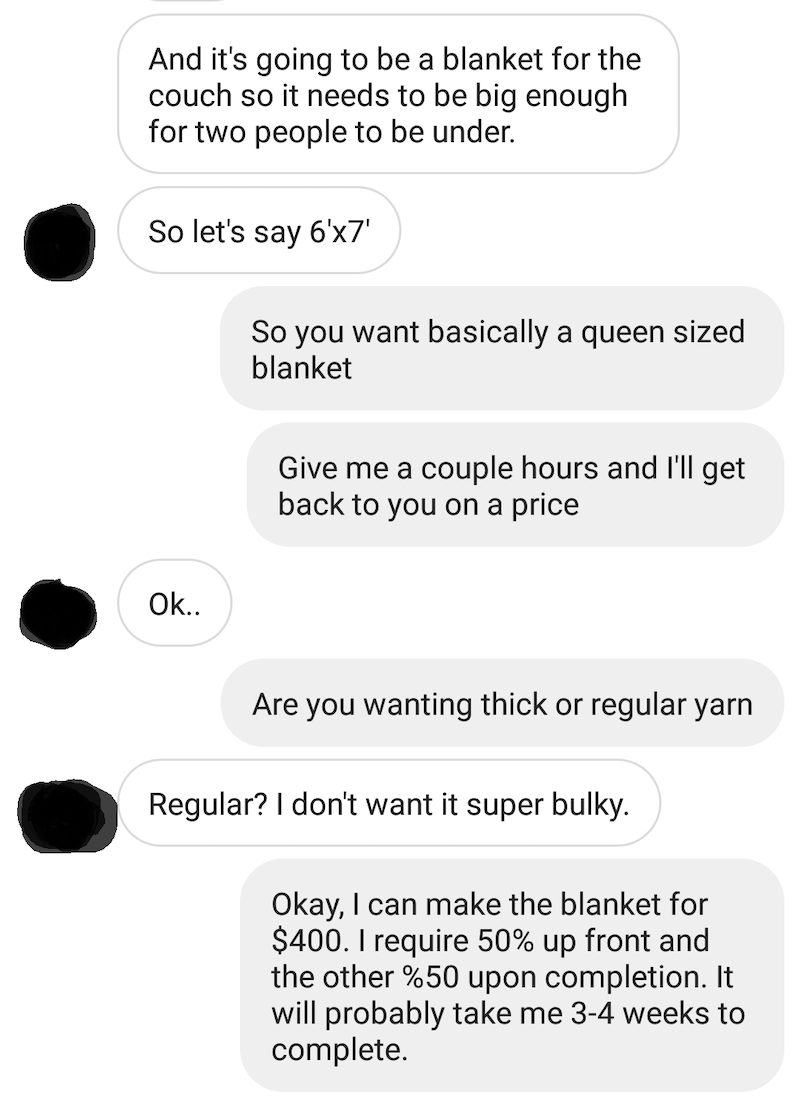 He asks, "Are you for real?"
When she confirms she is very for real, he calls her insane and says he could get a blanket for $15 at Walmart. She tells him to go to Walmart then. That should be the end of the conversation in my opinion, but this man really won't back down from the idea that he should get this incredibly laborious and valuable item for extremely cheap or free.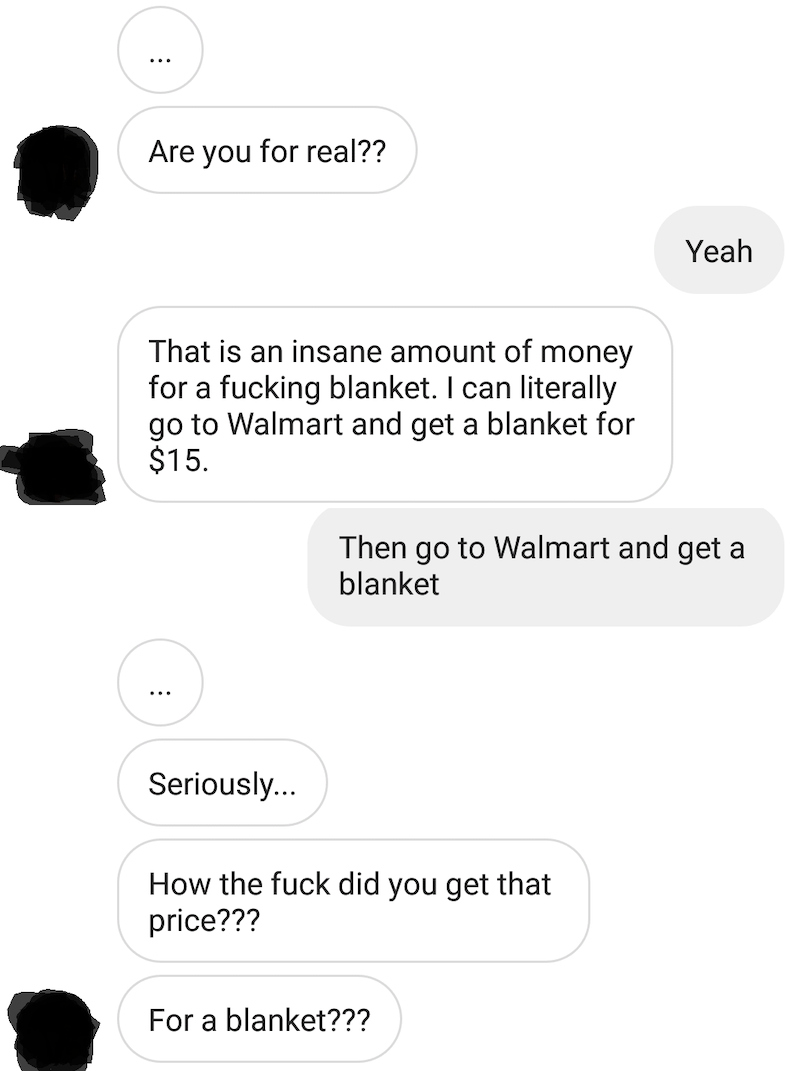 When she still refuses to bend, he brings up that his girlfriend is sick. A classic Choosing beggar move.
"She's super ill and I want her to have something nice," he says.
"That's unfortunate," she replies. "But it's still going to cost you $400."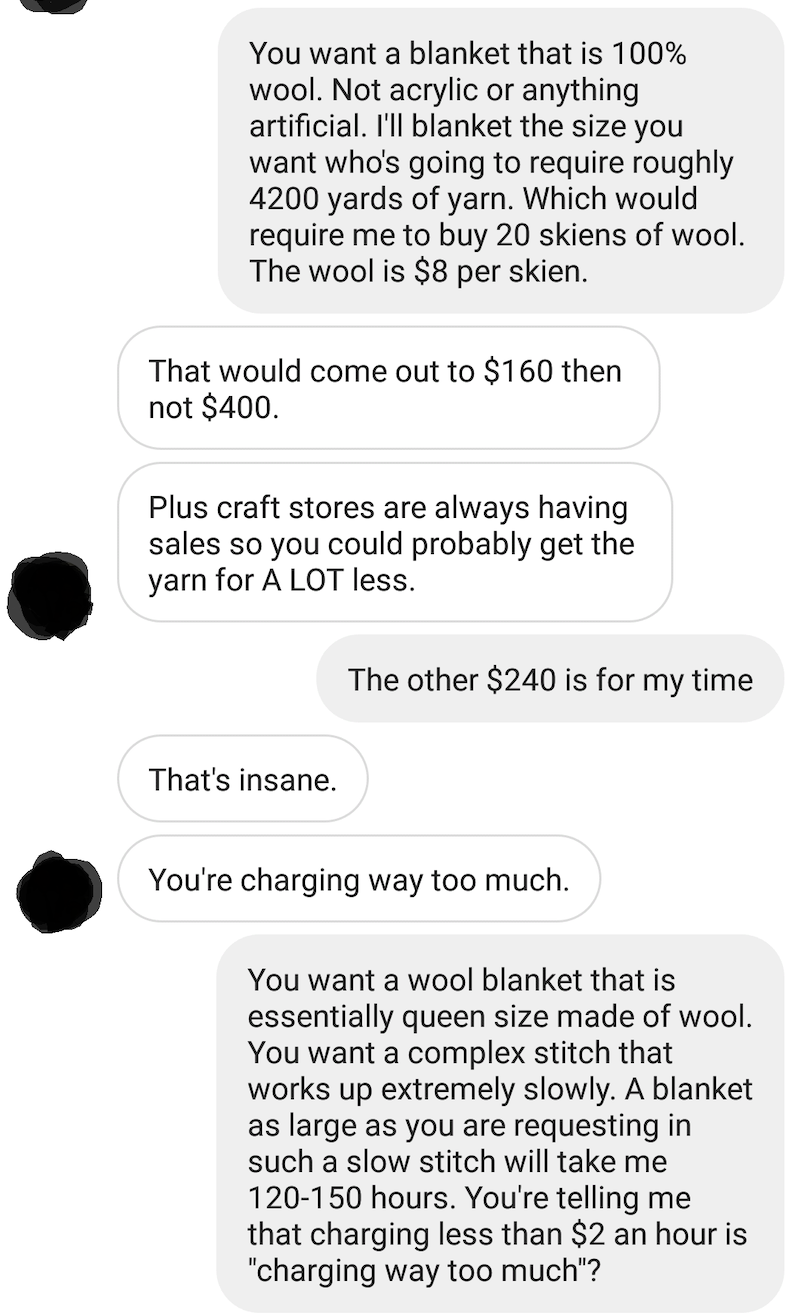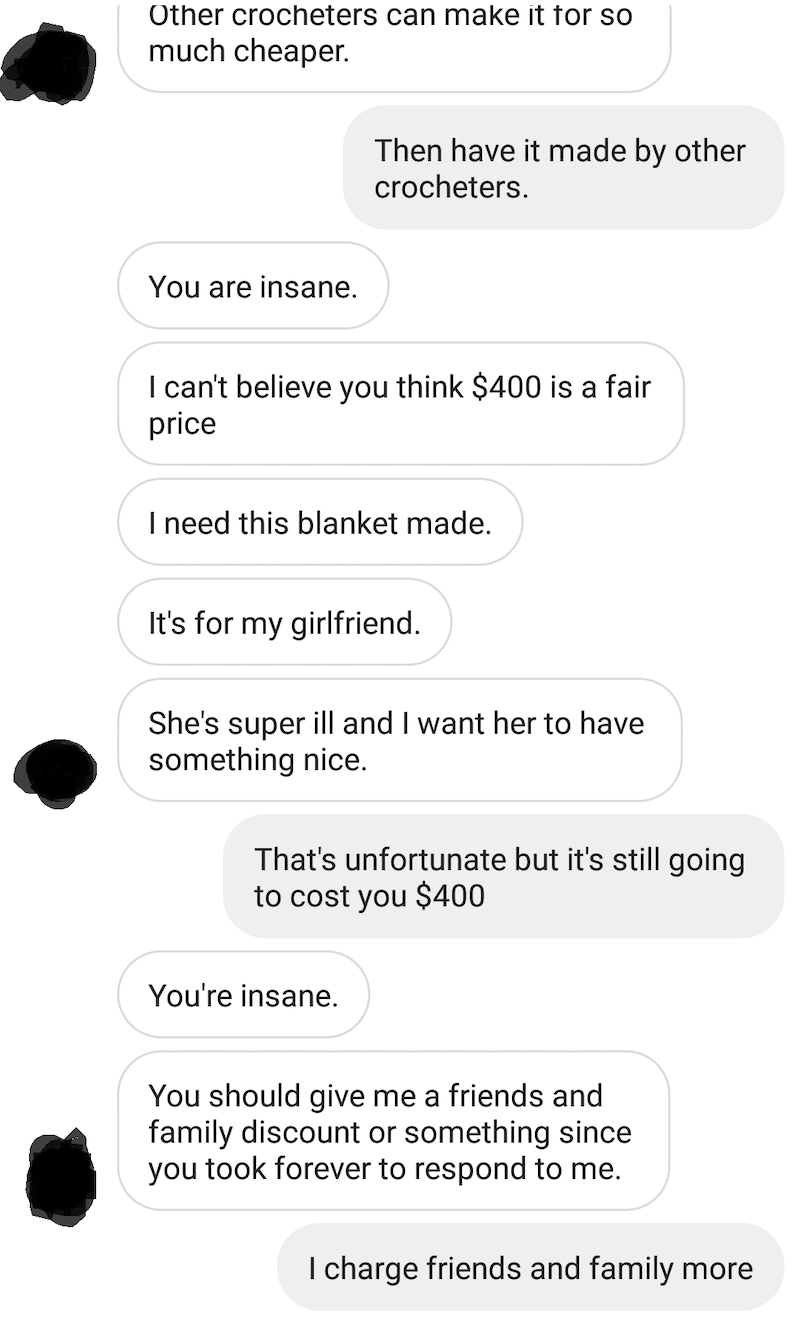 Finally, he gives his final, terrible offer, absolutely dripping with entitlement.
"I'll tell you what," he writes. "Here's what we are going to do. You make the blanket. Get the yarn on sale. ON SALE ONLY. When it's completed I will pay you. But only when it's completed I'll give you $70. Which is more than generous."
"No," she answers. To be honest, I don't know why she is still answering, I guess to see how far he'll go?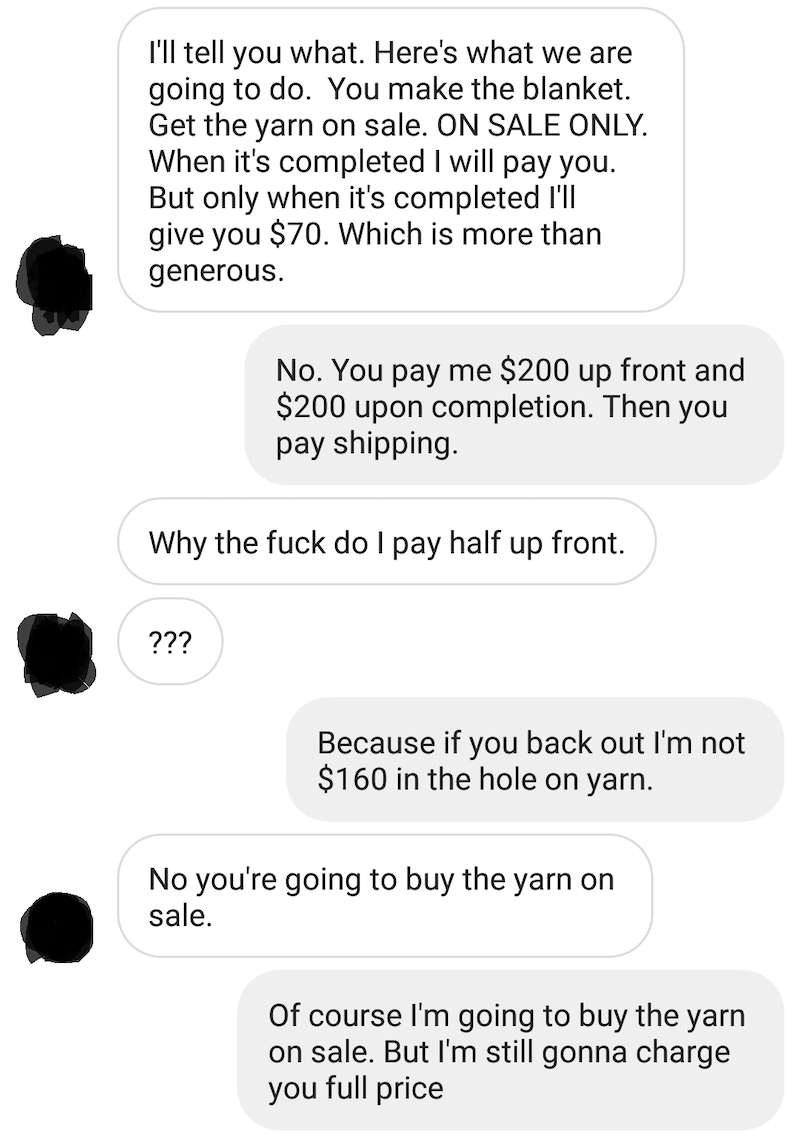 Inevitably, he's goes as far as threatening to ruin her livelihood if he doesn't get his free blanket.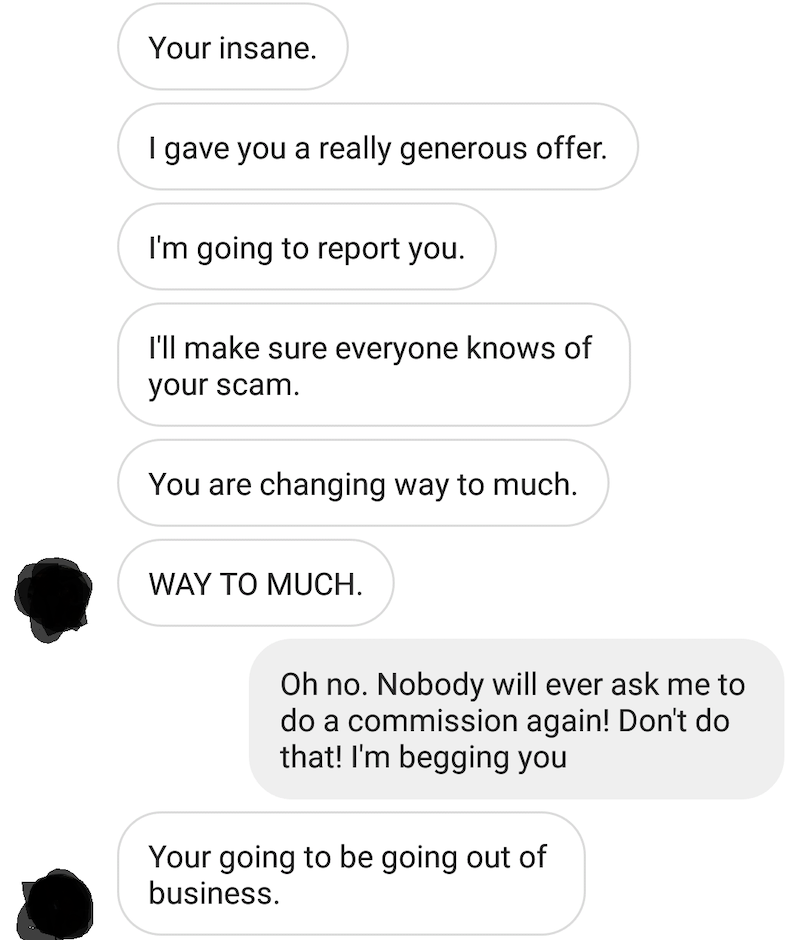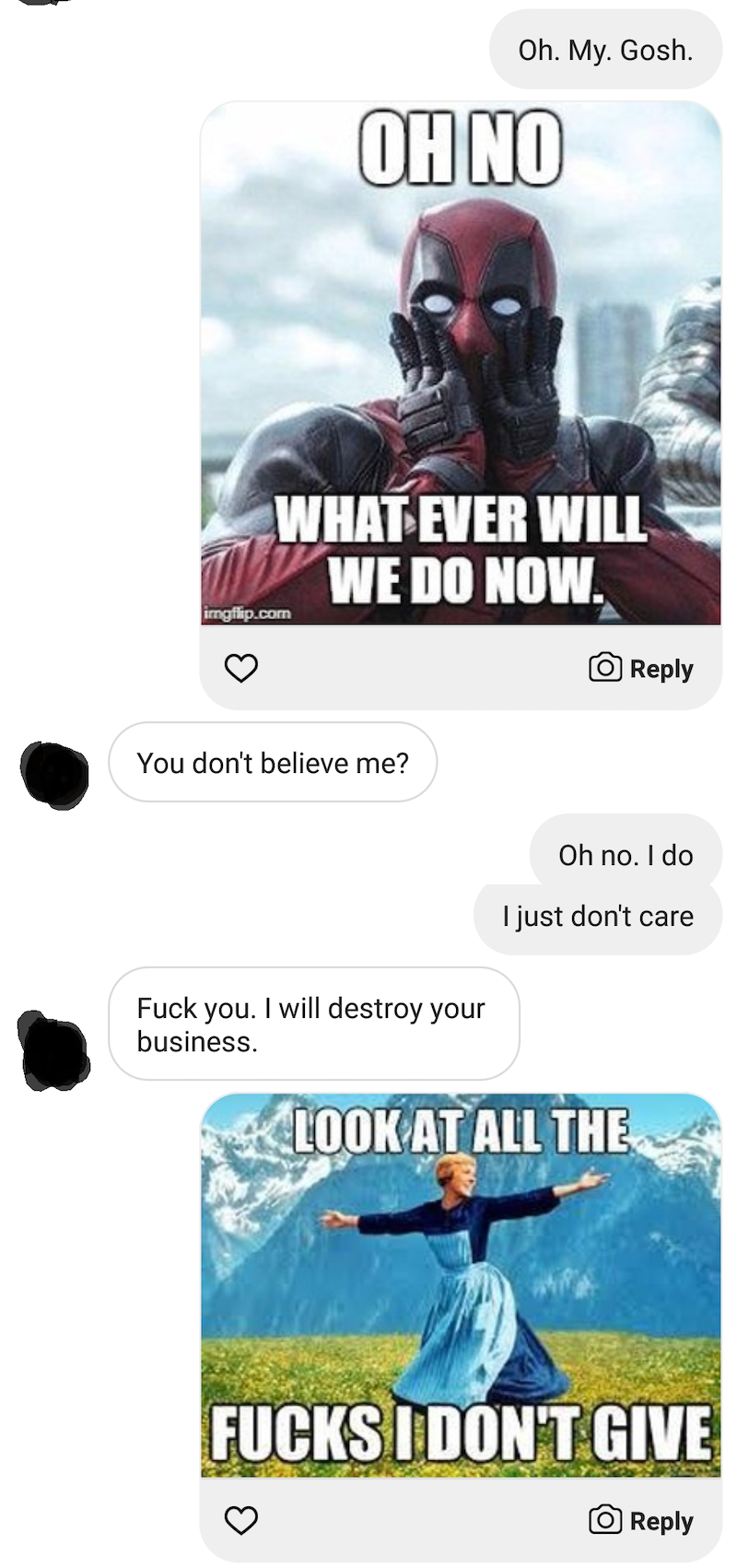 When she explains that this isn't even a business, it's a hobby and that she takes commissions on occasion, he then demands she do it FOR FREE.
Instead, she adjusts her price. To $800.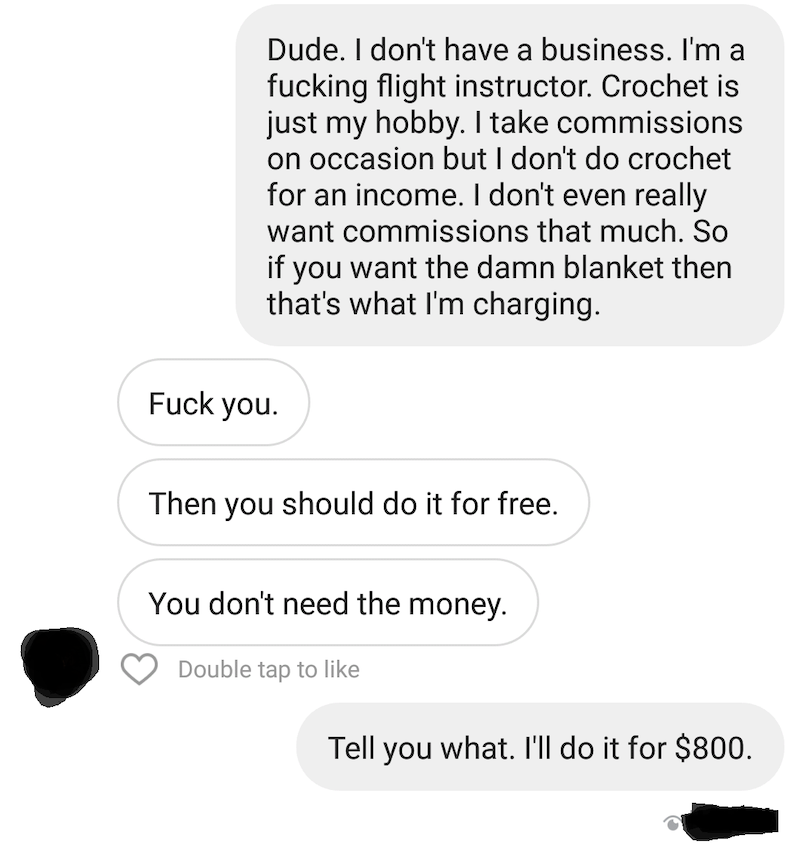 There's no amount of money that would get me to make a blanket for this jackass, but at least the conversation makes for a good story. Hope his girlfriend got better, if she even exists.
More of the most entitled Choosing Beggars: