Reddit's "AITA" thread usually has great "Bridezilla" content, and it appears that even when there isn't a physical wedding, brides everywhere are still freaking out on guests. One woman posted in AITA after a bride called her out for "dressing better" than the bride during a Zoom wedding.
OP said her boyfriend's best friend, "Samantha," had to postpone her wedding due to the coronavirus outbreak, but decided to still hold a virtual celebration via Zoom. Guests were encouraged to wear the clothes they had planned on wearing to the wedding, but "Samantha" wouldn't be wearing her wedding dress because she couldn't get it back from the seamstress.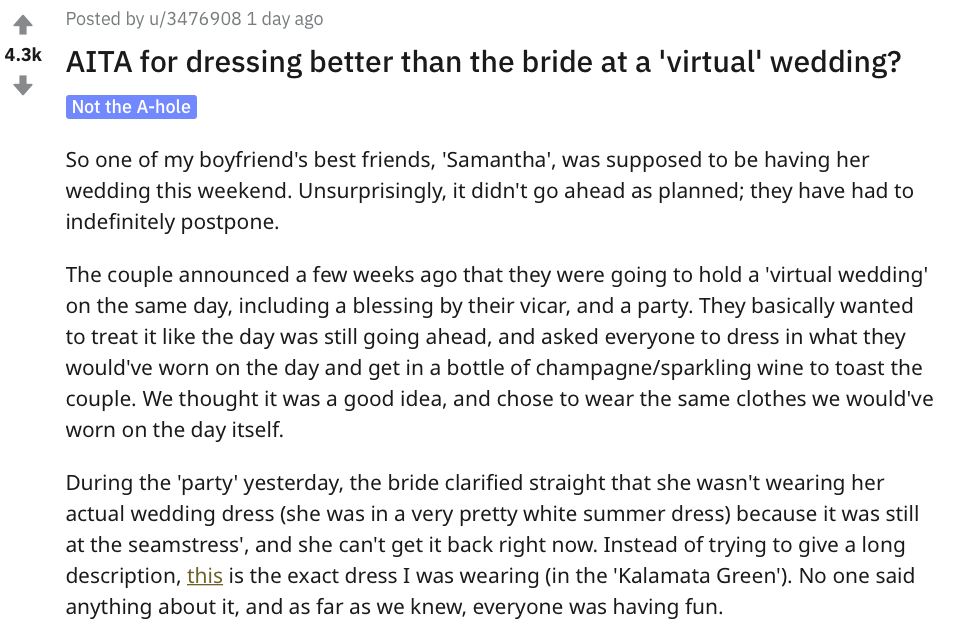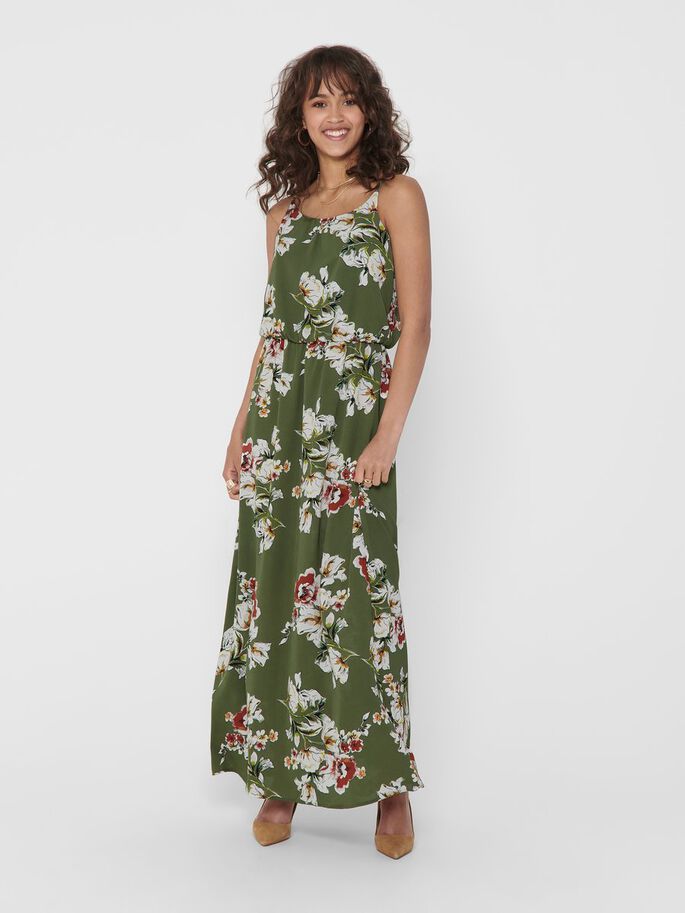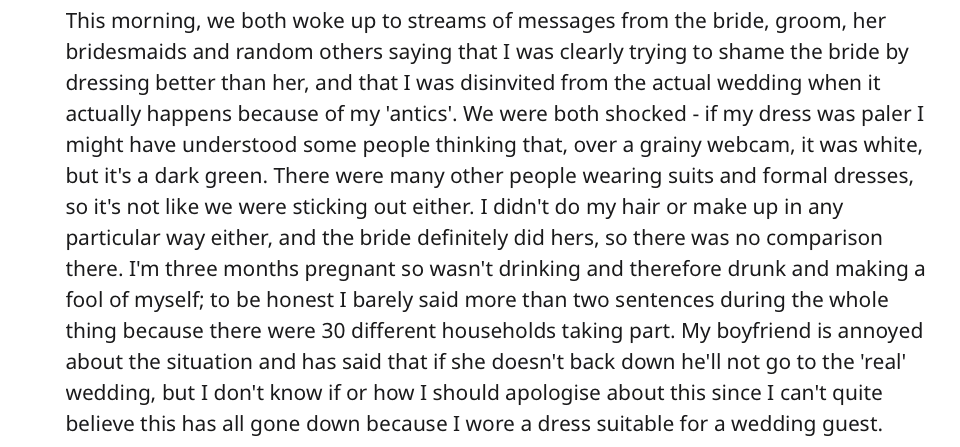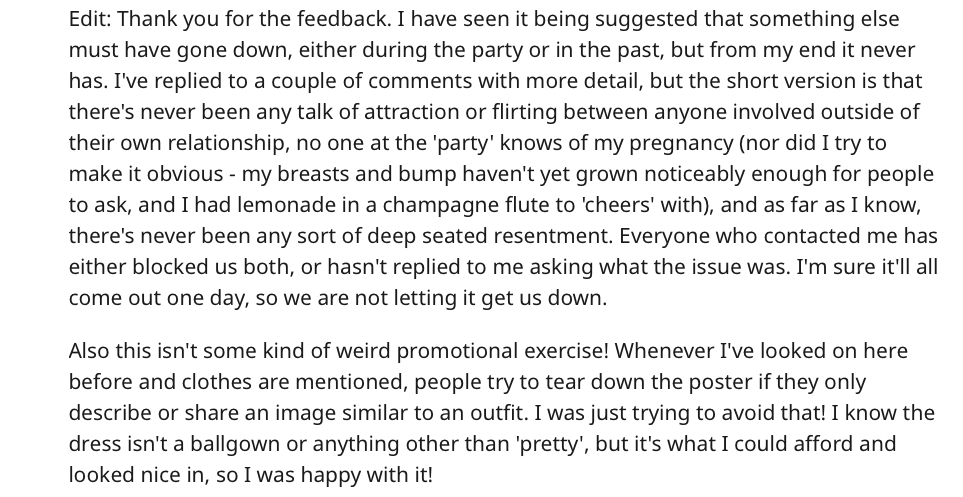 OP said she and her boyfriend both woke up in the morning to "streams of messages" from the bride, the groom, bridesmaids, and others, saying she was "clearly trying to shame the bride by dressing better than her." OP said she was disinvited from the rescheduled wedding, and some of her friends even blocked her.
OP clarified that her dress was green and on the casual side, and she didn't do her hair or makeup, so she was shocked when the bride felt "shamed" by OP's outfit. OP also clarified that she is pregnant, so she was sober and remembers the evening clearly.
Redditors clearly voted "NTA," or "not the assh*le," but felt there was more to the story.
"Unless you're leaving a lot out, NTA. That's just crazy," one user wrote.

Some speculated the bride just felt insecure without her wedding dress and hair and makeup, and took it out on OP.

OP responded to a few comments and clarified she was always "cordial" with "Samantha" and there is no history between "Samantha" and OP's boyfriend.

Many users suspected the pregnancy wasn't as secretive as OP thought.

Eventually, OP did find out what the bride's problem was, and it didn't have to do with their outfits.
"Of course, it was nothing to do with the dress. It turns out that Samantha already knew about the pregnancy…and was annoyed that we hadn't told her about it," OP shared.
OP said her original plan was to not tell any friends about the pregnancy until she made it through the first trimester without complications, but word got around.
"It seems like people knew and assumed we were keeping them out of the loop," OP wrote.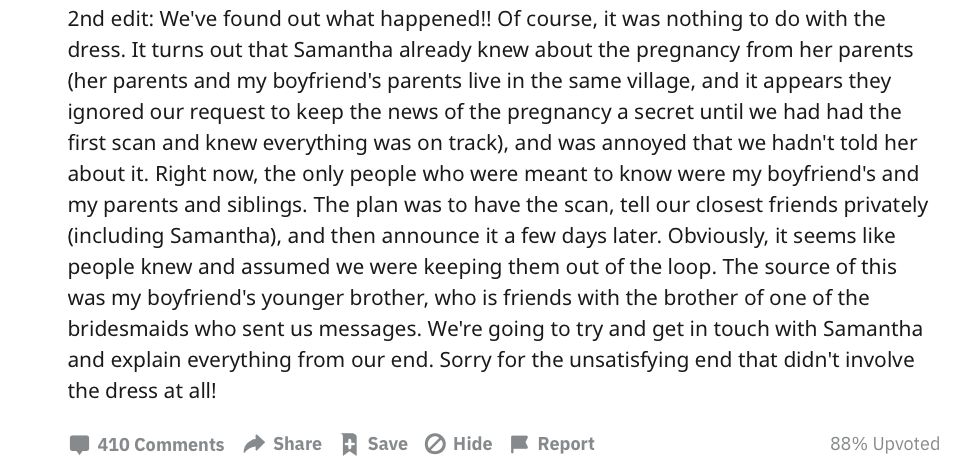 More wedding horror stories: