For a brief time this week, the words "Funko Pops" started trending on Twitter and no one was quite sure why. Did Funko Pops have the rona? Were they getting dragged for old offensive tweets? No, the plastic and vinyl collectibles are doing just fine. It is a man who is unwell, a guy posting to Reddit under the name u/throwaway5936496 on r/AmIthe A**hole because he wanted to know if he was the a**hole for choosing Funko Pops…over his wife.
If you don't know what Funko Pops even are, they're little figurines that reference characters from anywhere they can license the rights, so you can get buy a Harry Potter Funko Pop or a Baby Yoda Funko Pop or a Batman Funko Pop or a Freddy Krueger Funko Pop. Whatever floats your boat.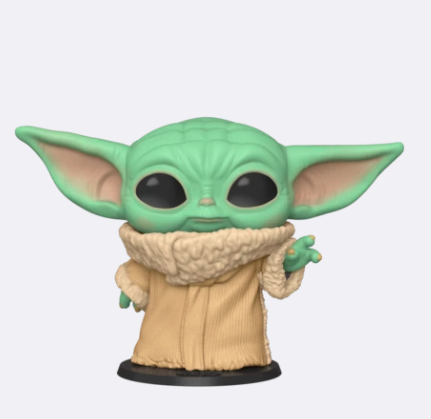 Personally, I hate clutter and cuteness so they're not for me. But this Redditor is absolutely bananas about them. He says that he has been collecting them for six years and has THOUSANDS of them. He met his wife two years ago and says she was aware of his collecting, and it wasn't a problem. Until now. They just had a huge fight about it, he writes:
I will admit these past few months I have been dropping about $500 monthly on Funko figures, but in my opinion it was not financially tanking considering me and my wife have pretty decent jobs. I don't want to state what those jobs are for privacy reasons. Anyways she was telling me I needed to stop the Funko Pop collecting for a long time or at least cut down my Funko spending to 3 Funko Pops per month. In my opinion that is so ridiculous considering how limited I would be in my choice of Funko Pops. I tried to explain to her how much I enjoy collecting these figures, and how much it means to me. She then started yelling that we were going to go in debt because of the amount of money I've been spending on Funko Pops. I stated to her how she was completely over-reacting and there is no way we could possibly go in debt from this.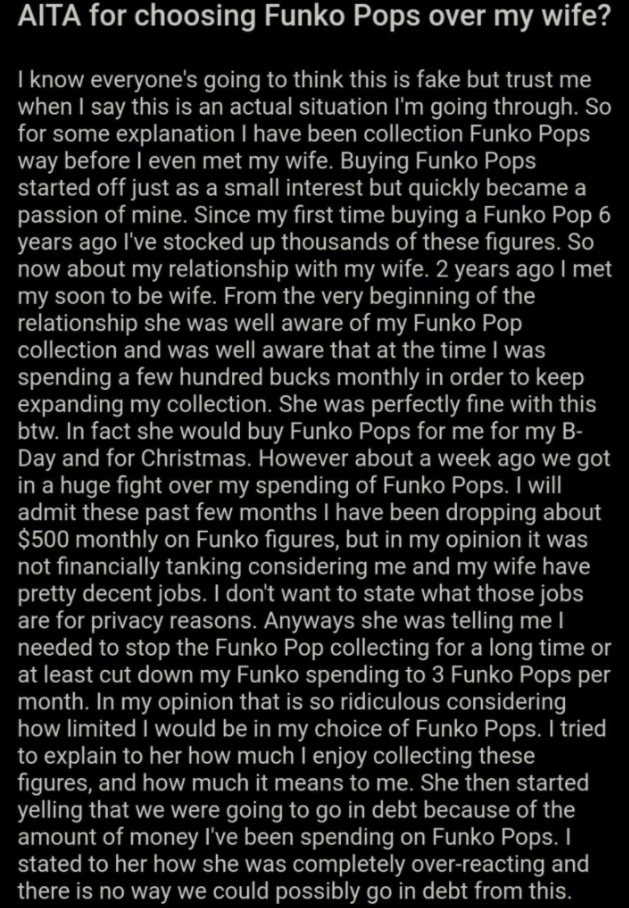 He says she ended up locking herself in the bedroom, and he slept on the couch, but he felt no remorse because he "knew she was over-reacting." The next morning, his wife told him she was going to stay at her sister's house:
I honestly just couldn't believe she was going so far with this. I tried my best to convince her to stay but again she kept stating that I needed to stop the Funko collecting for a long time. That isn't an option for me because again she is completely over-reacting and it is in no way affecting us financially.

A few days go by and I get a call from her. She tells me that I need to choose. Either I stop the Funko Pop collecting or we're getting a divorce. I started telling her how ridiculous she was being because she obviously is being ridiculous. After 2 years she was just willing to throw away our marriage over my passion. She was pretty much sobbing at this point and then I finally just told her I'm not going to let her get in the way of my passion. I still haven't gotten the divorce papers but I'm expecting them soon.

So AITA for choosing Funko Pops over my wife? Again I'm very passionate about them and I think it's ridiculous for someone to try and take that away from me when it is in no way shape or form hurting them.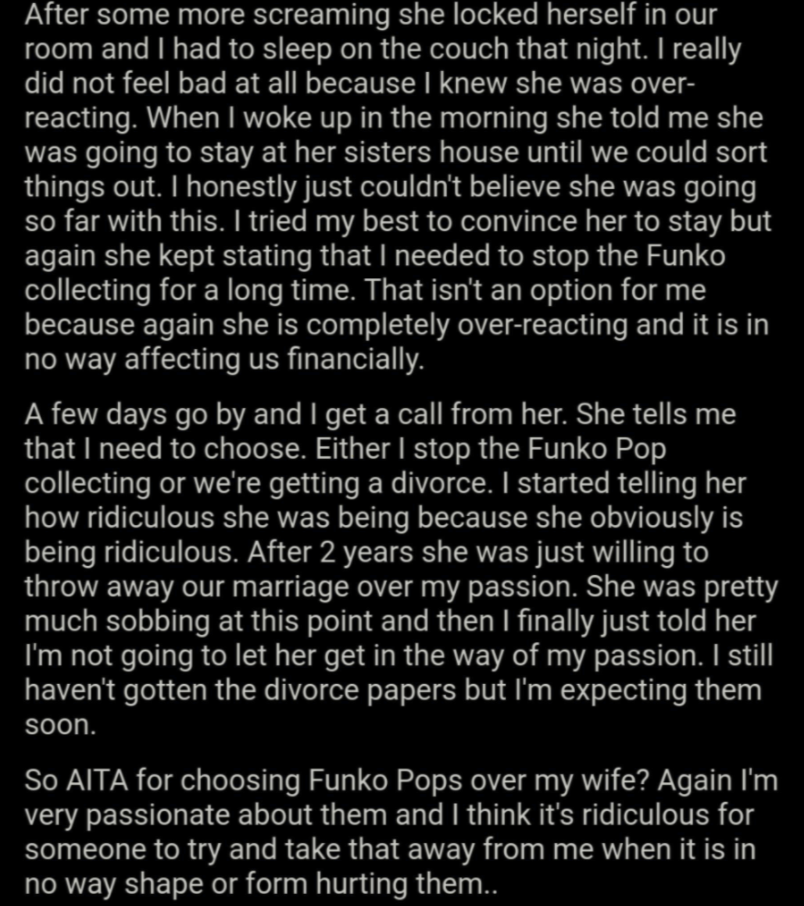 There are a lot of comments on Reddit calling this guy an a**hole, and pointing out that the way he keeps repeating that it's not a problem financially probably means it is. But because this was trending on Twitter, let's share what Twitter had to say:
Me redownloading reddit to yell at this man for buying funko pops instead of respecting his wife's wishes pic.twitter.com/pZhXmWsKry

— anime antagonist (@crashingpoet) June 20, 2020
A marriage is…

*pinches eyes*

…a marriage IS SUPPOSED TO BE a joining of two people's Funko Pops collections. How did we as a society lose our way?

— let's go Ayo (@letsgoayo) June 20, 2020
JERY: you chose Funko pops over a woman??

GERGE: what was i suposed to do?! you know its not like we couldnt afford the funko

JERY: i think youre a little funko yourself

— Seinfeld Current Day (@Seinfeld2000) June 20, 2020
sometimes a family is you, your thousands of funko pops, and all of your soon to be ex-wife's shit she hasn't packed up yet and moved to her sisters

— kcp soundsystem (@geeequinn) June 20, 2020
Don't forget: if they're telling you they're spending $500 a month on Funko pops, it's actually more.

— Sir Bayou William III (@TheDuckMane) June 20, 2020
The standard ones are about $10 each. Limited edition and other special variations will run to slightly more but not much. He's buying a LOT, or else paying way over the odds. Or both.

— Caz (@WillowsCaz) June 20, 2020
Context: they're divorcing and splitting their beanie babies in court. Prob goes without saying, but this was taken in the 90s.

— Sir Bayou William III (@TheDuckMane) June 20, 2020
— dr feelgood (@catboynewt) June 20, 2020
Me after I see why Funko Pops are trending and it's just some bum choosing on spending thousands of dollars on funkos over his marriage pic.twitter.com/FOoqKQZM5q

— ️ (@NejireeKun) June 20, 2020
we're DEFINITELY not getting the full story on this funko pops situation.

— wikipedia brown is behind the fireworks. surprise (@eveewing) June 20, 2020
I had to count it

OP mentioned "Funko" to some degree at least 16 times pic.twitter.com/l8KmcFpXSl

— I got 1/10 Virgils on it (@plastic_wings_) June 20, 2020
The wife needs to collect her thoughts and get the Funko out of there pic.twitter.com/AMwWqHX76V

— ¤ Pennie ¤ (@Lenniesaurus) June 20, 2020
Enjoy your Funko Pops, bud. You might realize your mistake when you try dating again and don't have room in your apartment to bring anyone over.
More of the best/worst AITA Reddit threads: