If you're not on dating apps, well, first of all, congratulations. One thing you may not know about them is that lots of people aren't looking for dates. They're looking for someone to text the words "send nudes" to. This can get frustrating if you are looking for dates and are not into having stranger look at your naked body.
One woman set a pretty clear boundary on this issue in her Tinder bio—then, she met her match.
Redditor u/squirtfingerzking posted screenshots of an exchange to the subreddit r/Tinder with a woman named Catherine. In her bio, Catherine explains why she won't share nudes.
Basically, if Rose from the Titanic could have a nude in a safe at the bottom of the ocean come to light, there's no way a digital boob shot is going to be kept under wraps. She might want to run for president someday!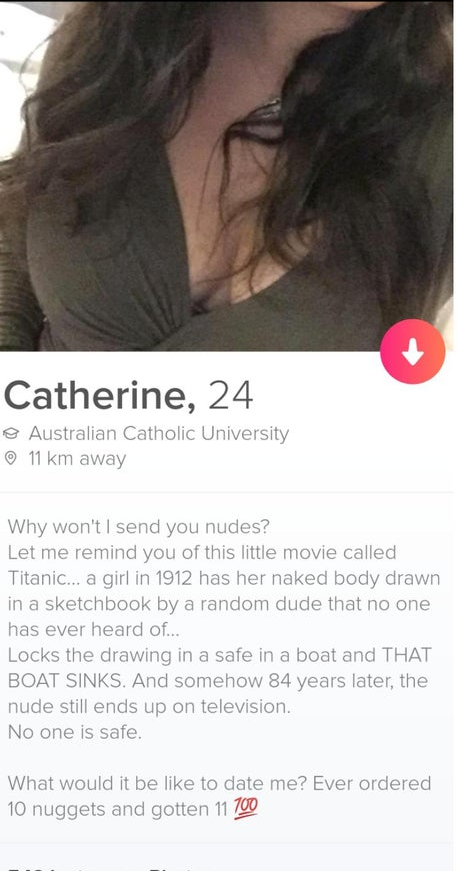 Mr. SquirtFingerzKing clearly has a way with the ladies. He laid out a very convincing argument for why the Titanic is actually a story about the power of nudes, not their inherent danger. He wrote:
"As you said 84 years later the movie titanic was made, it pulled an amazing $2.187 billion in the box office, won 11 Oscars and was the real birth of the great actor Leonardo DiCaprio. A movie like that is remembered not for the nudes but the love story that these nudes helped blossem into the romance of the century, envied by many."
"Not only could these nudes be the start of your own great romance but think about the royalties your own film could bring in another 84 years… Yes yes I hear you "but I wont be around in 84 years" but Catherine… Your children will reap the benefits for years, so Catherine don't do it for me, don't do it for you… but do it for our children!"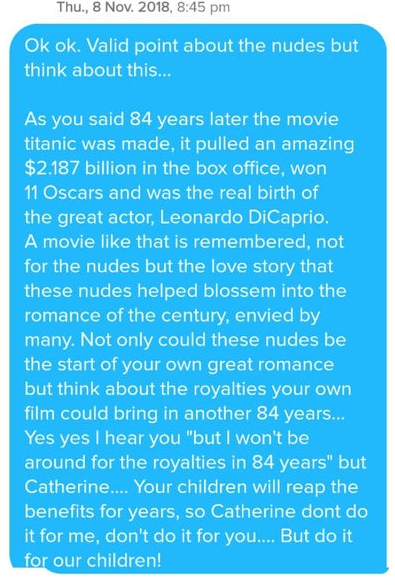 Won't some please think of the children!
Well, Catherine did. She thought long and hard about it. She says she even conferred with her mother on the matter and her mom's verdict was that she should send the nudes.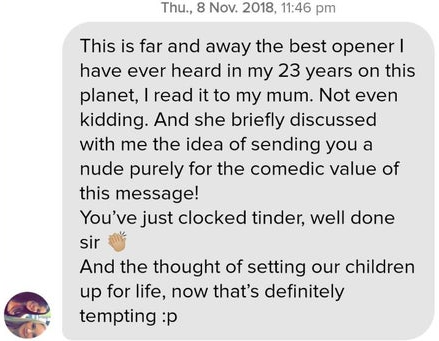 However, according to comments from the OP, Catherine never did send pics. He did get to see her in person:

A love story cut short by circumstances, just like Rose and Jack. Send nudes.