A dispute between a wedding videographer and would-be groom has gotten extremely nasty online, leaving the vendor's reputation in shambles.
Justin Montney, 24, had been planning the wedding of his dreams, until his 22-year-old fiancée, Alexis Wyatt, died in a car crash in February. With mounting bills, Montney reached out to the company the couple had hired to shoot their wedding video, the Texas-based Copper Stallion Media in hopes of a possible refund of his $1,800 deposit.
Though Copper Stallion Media had a strict nonrefundable deposit policy, Montney thought that, given the circumstances, they would perhaps make an exception.
The company refused to do so—which, while insensitive, was well within their rights—and that would have otherwise been the end of the story. However, when Montney left the company a negative review on the wedding website TheKnot, all hell broke loose.
Copper Station Media allegedly proceeded to sue Montney for defamation, who then turned to local news station KRDO to put them on blast.
Immediately after the story aired, hundreds of people began flooding review websites to leave Copper Stallion negative, one-star reviews, and then things really took a hard left turn.
In response, the company purchased the domain JustinMontney.com to tell their side of the story and even mocked the poor man in a Facebook post on what would have been his wedding day.
"Today would have been the day where we would have filmed Justin and Alexis' wedding. After what Justin pulled with the media stunt to try and shake us down for a refund we hope you sob and cry all day for what would have been your wedding day. Sorry not sorry."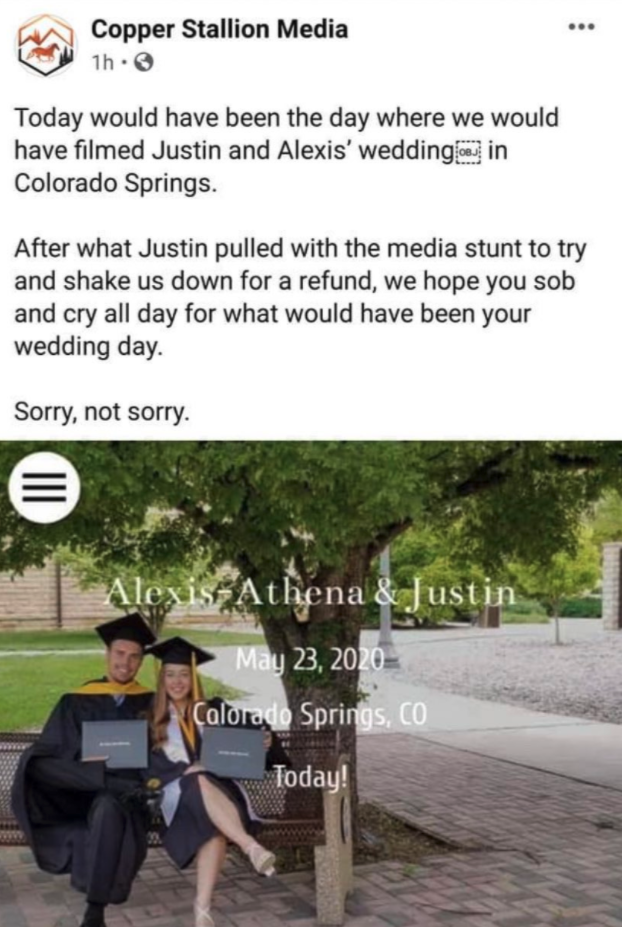 The post has since been removed, but not before screenshots made their way around the internet.
there's really people like this in the world. I hope no one hires them and they lose their business pic.twitter.com/OosZZcYaX6

— Tyler. (@Tyler_Macin17) May 24, 2020
On the website—which features a photo taken from Montney's college athletics team page which was Photoshopped to look like a mugshot (classy!)—the company made the following case for not refunding the deposit.
First, when you reserve the date with us, that date is yours. We block that date off in our calendar so no one else can book that specific date. If something should ever happen and the wedding is canceled, like in this scenario, we keep that money as liquidated damages as there is a likelihood that we will never re-book that date with someone else.

​Second, Justin and his fiancée booked two videographers with us. Now, we have two shooters who cannot film that day and lose out on that income.

Nonrefundable deposits are the industry standard."
Again, this was perfectly well within the company's rights, however, they kinda destroyed all credibility by adding: "If we knew he was going to shake us down, we would have charged a higher deposit."
In an even stranger twist, Buzzfeed News did some digging and learned that the Las Vegas address linked to Copper Stallion Media appears to be that of a man named Jesse J. Clark—an apparent Trump supporter (according to his private Twitter account) who had previously been sued by the Massachusetts Attorney General for failing to deliver wedding videos to 90 couples.
Wild history behind the guy at Copper Stallion Media.
1. He created fake nude modeling ads based on a prospective employer because he didn't get the job.
2. He made a fake Craigslist sex ad for another lawyer he had a spat with.
3. Convicted for scamming dozens of couples

— Andrew McMillan (@AndyMackReports) May 25, 2020
Google Copper Stallion Media. My wife and I are wedding and event planners. We issued a full refund once because the bride got pregnant (when she thought she was sterile) and it was a high-risk preg. They denied a refund after the bride to be died and now they're trashing groom

— McNabb Sucks! (@Snookbitenaples) May 23, 2020
I can't believe Copper Stallion Media is really this bold to talk about their clients like this…I hope the owner chokes and dies fuck this bullshit ass company lmao pic.twitter.com/ViTACovJri

— DEATH TO ALL PIGS 🔱 operating from another world (@SPIICYYDEVII) May 25, 2020
Wow. #CopperStallionMedia didn't bat an eye when immediately responding to my post. "It's not our fault she can't drive" pic.twitter.com/bYfmyxRZ1k

— Cate Carson (@catecarson) May 27, 2020
Attorney Nicholas Frye, who represented several couples who won civil judgments against Clark, says Clark still owes four clients $100,000.
"He essentially fled Massachusetts with a number of warrants," said Frye. "The state attorney general had an order against him and he was no longer able to do business in Massachusetts."
More trashy behavior: