Baby blankets, or other so-called comfort objects, are a perfectly normal part of childhood development as a way to provide psychological comfort for young children and toddlers. "Children" being the primary word, here, since most kids eventually abandon their baby blankets as they grow up and begin to navigate the rocky landscape of adolescence.
That said, we can probably cut some slack to members of Generation Z, who were born from the mid-to-late '90s through the early 2010s. These kids grew up with school shootings, climate change, and wage inequality, looming over them—not to mention the big orange abomination that currently resides in the White House.
Sh—t has been scary, you know? Perhaps, this is why many Gen Z'ers are still clinging to their baby blankets after all these years—as evidenced by a new trend on TikTok.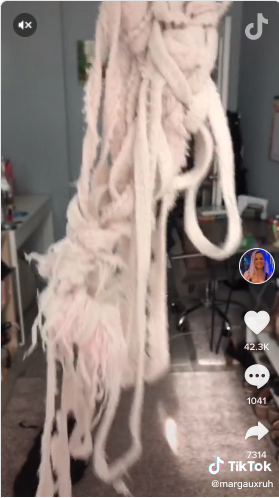 It all started with an upload from TikTok user Corey Nathaniel (@coreyxnathaniel) earlier this year. "Ayo, I'm 24 but I've slept with a baby blanket since I was little, check," said Nathaniel joked in the video, before proudly waving around his blankie.
Clearly, this resonated with a lot of young people, who began sharing their own baby blankets on the platform. Although "baby blankets" is maybe a loose term, since most have since been reduced to rags or strings by this point.
Some made the big reveal by cheekily pulling their baby blanket from over their shoulder:
One 22-year-old shared the "developmental toy" named "Friend" which served as her security blanket—now, likewise, in tatters.
Given the slate of current events—between the coronavirus pandemic and a long-overdue spotlight on police brutality and the senseless killing of Black people—it would not appear that these baby blankets will outlive their usefulness anytime soon.
More TikTok trends: