Ever since the great "Okay Boomer" wars of earlier this year, I've known the time was coming when Gen Z would lose interest in batting around those old hippies and would come for us. The Millennials. It's no less than we deserve. At this point, we're all old enough to have done something about the state of the world, and have we? No! We've only made things worse! And they're gonna have to deal with it, or burn things down. Gen Z hates millennials, and we deserve it.
The flaming of millennials has begun. And it has started on TikTok, of course, which is where Gen Z lives and where we have invaded more and more since quarantine. They were bound to rise up against us. This recent verbal punishment seems to have been kicked off my TikTok user @mayalepa's short clip in which she says, "I'm tired of boomers bunching millennials and Gen Z together, because I personally don't want to be associated with people who still think that Harry Potter movies are a personality trait."
Wow. Too true. And look where that's led us? J.K. Rowling is a TERF. I'd be madder if that wasn't criticism we deserved. The comment section is even worse, as Twitter user @local_celeb confirmed, screenshotting the absolute roasting that millennials are getting:
i'm awake at 3 am and i just want everyone to know what gen z says about millennials on tiktok….. pic.twitter.com/zduy5QmBCG

— commie cornhusker (@local__celeb) June 14, 2020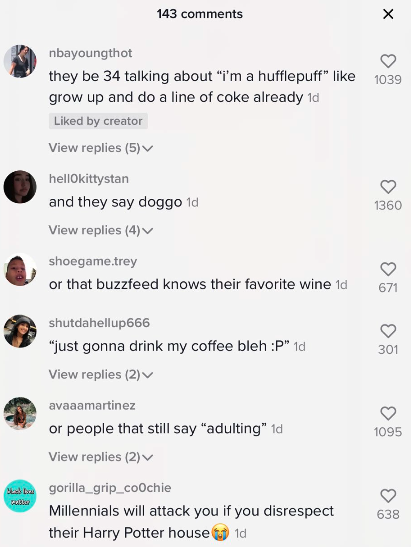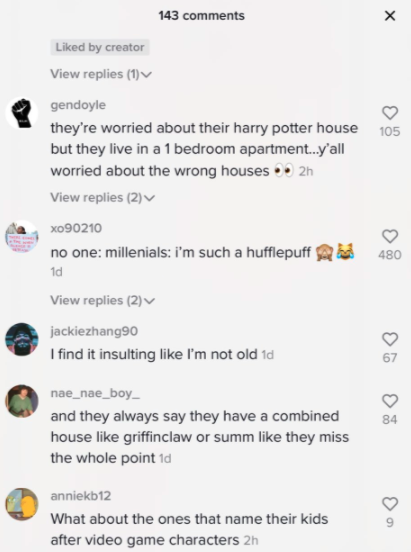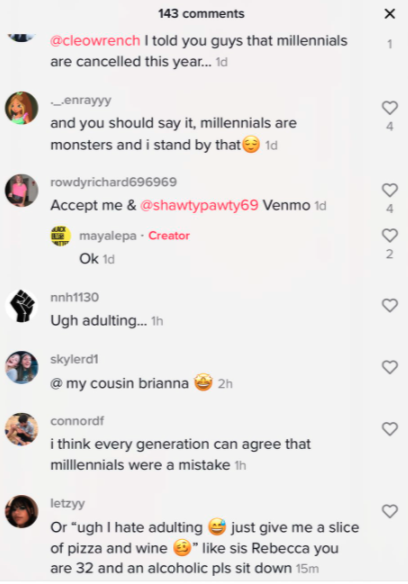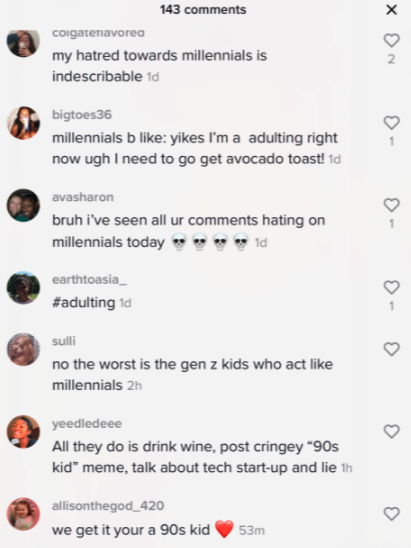 Some examples from the comment section:
"They be 34 talking about 'I'm a Hufflepuff' like grow up and do a line of coke already."

"They're worried about their Harry Potter house but they live in a one-bedroom apartment… y'all worried about the wrong houses."

"Or 'ugh I hate adulting, just give me a slice of pizza and wine' like sis, Rebecca you are 32 and an alcoholic pls sit down."

"All they do is drink wine, post cringy '90s kid' meme, talk about tech start-up and lie."
I would laugh if it didn't hurt so bad.
So, what can you do about Gen Z making fun of you, millennials? Learn from your Boomer predecessors, and just take it. You can't win. Teenagers are unstoppable. Older people started sharing the times they were personally deceived, hurt, and surprised by the meanness of Gen Z, and I would never want to go up against any of these kids:
Don't fight with Gen Z you can't win. Once when I was teaching an SAT prep class, I told everyone to "quiet down" and one girl just said "hahah ok sweater!" (because I was wearing a sweater.) Every single one laughed at me….

— Paul McCallion (@OrangePaulp) June 14, 2020
I'm literally so glad I'm not a millennial I'd way rather be associated with Tik Tok dances than whatever the hell this is pic.twitter.com/EioYIsrRtd

— Abby Govindan (@abbygov) June 14, 2020
Gen Z is literally changing the world meanwhile, at our age, milennials were sharing the "rawr means I love you in dinosaur" meme

— Abby Govindan (@abbygov) June 14, 2020
maybe millennials shouldn't have invented cyber bullying if they didn't want gen z to perfect it

— Anya Volz (@AnyaVolz) June 14, 2020
millennials: gen z on tik tok is so cringe

millennials on myspace in 2007: pic.twitter.com/mC3dm2ga8v

— Black Lives Matter (@dexathol) June 12, 2020
Gen Z is being raised by Gen X, whereas Millennials were raised by Boomers and it shows.

— Paradoxology (@Paradoxology13) June 14, 2020
millennials: we stan gen z theyre all gay and depressed and powerful
gen z: millennials are trash, stop saying "adulting" and talking about harry potter houses
millennials: …
millennials: in conclusion we must stan harder than ever before

— DJ ACCIDENT REPORT (@eric_shorey) June 14, 2020

It's what we deserve.
More Gen Z, millennial, and Boomer beef: