There's a new song sweeping TikTok called "Oki Doki Boomer" and Boomers are going to be mighty steamed about it once a grandchild helps them download the app and patiently explains it to them. The song has launched a new breakout TikTok star—"Ok Boomer Girl."
Though still a relatively new player in social media, the video-sharing platform TikTok is all about remixing short pieces of video content, often by adding an original video to a piece of preexisting audio. In other words, lip-syncing is king, with TikTok users uploading their own versions of a viral song or audio clip.
The viral Oki Doki Boomer song originated from a catchy YouTube video with the chorus "Ok Boomer, whatever you say Boomer" and has since spread to TikTok where it's been covered by countless Zoomers eager to stick it to their clueless elders.
Recently the Boomer-triggering trend took on a political context when TikTok user @neekolul (AKA "Ok Boomer Girl") performed the lip-sync in a Bernie Sanders t-shirt.
It seems like a pretty harmless meme in which influencers dance to a cute and sarcastic song, so of course it immediately triggered angry responses including from one respondent who histrionically equated the term "boomer" with the N-word.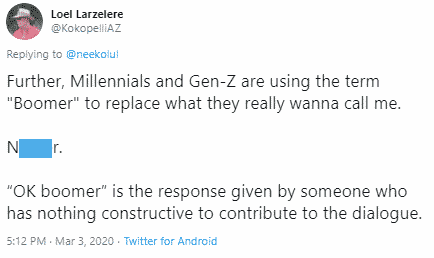 And with that, the never-ending cycle of boomers and zoomers/millennials arguing over who's the biggest snowflake kept twirling, twirling, twirling towards freedom. (Which is a reference only a certain generation will understand.)
https://www.youtube.com/watch?v=0Udvtf77hb0
Best of OK Boomer Girl:
https://www.youtube.com/watch?v=5C3FYUw3w-I
More from TikTok: