The Brief: One of TikTok's most popular stars, Bella Poarch, is being accused of being in the Illuminati and worshipping the devil.
If you haven't been on TikTok, you might still have seen the face of Bella Poarch who has acquired nearly 40 million followers in just six months of posting. Her biggest hit is a lip-synch to Millie B's "M to the B," in which she mouths the lyrics and bounces to the beat. It's the most-liked TikTok of all time and has 500 million views, according to the Daily Dot.
Poarch's rise to fame is not without controversy. For one, she claims to be 19 years old but also said she joined the Navy in 2017. Recruits have to be at least 17, so she is likely older than that. Others are suspicious of her popularity because her videos aren't particularly high-production quality or anything, leading to accusations of being an "industry plant."
https://www.tiktok.com/@bellapoarch/video/6866177723358792966
To be honest, as a TikTok user, I completely understand Poarch's popularity. She plays into the common trope of a woman acting like a little girl, does "anime" faces a lot, and generally acts like an adorable, sexy baby. This either attracts or repels people and all of them are interacting with her content, making it spread far and wide.
It also makes sense that now other clout chasers are latching onto Poarch to make a name for herself. TikToker @larissadenisee started pushing a theory about Poarch in early October in a two-part series in which she accuses Bella Poarch of being in the Illuminati.
It's called "Bella Poarch Truth Exposed Part 1," and has been viewed over 5 million times. The focus is largely on Poarch in devil makeup:
In Part 2, @larissadenisee goes deep on why this picture is important.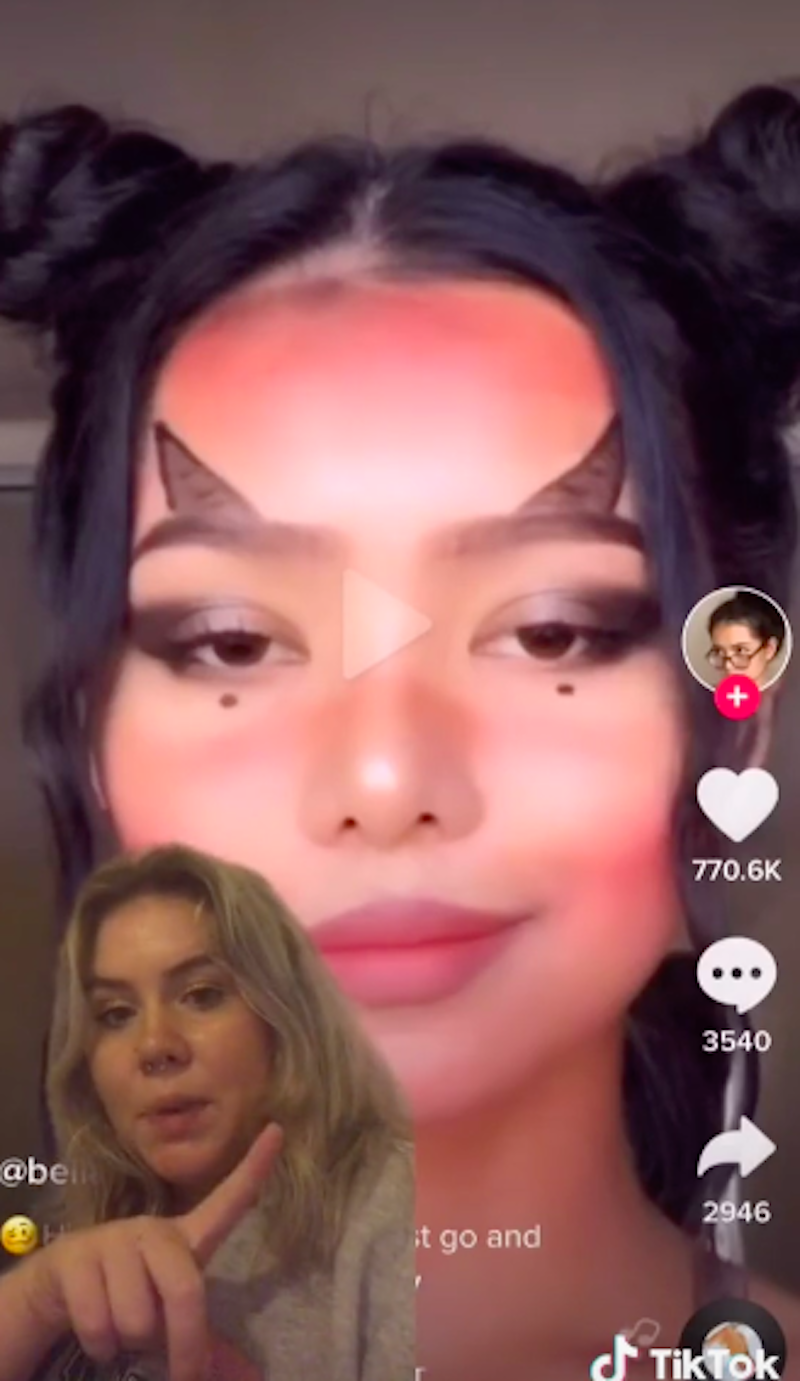 "First word that comes to mind when I see this picture is 'Illuminati,'" she says. "When you become like a member or anything of the Illuminati or you sell your soul to the devil, basically in exchange for like money, power, fame, all that, you give up your soul and you're supposed to burn in hell," whatever that means.
https://www.tiktok.com/@larissadenisee/video/6881456110532889862
"And there's a lot of other conspiracies around this saying that they, like, eat f–king kids, I don't know…But what I do know is that this right here was literally taken a month before [Poarch] blew up, right after she made her TikTok. So, like, you put the pieces together. Do you see the horns on her head?"
Wow. It's all becoming so clear. Circles within circles, people.
https://twitter.com/SHROOMTAYLOR/status/1320776612225449984?s=20
Most of @larissadenisee's content is about conspiracy theories, which unfortunately is an extremely marketable niche. She seems to be doing well with the making up lies for clout track, which seems like its own hell.
More conspiracy theories: