COVID-19 has now been in our lives for more than a year and this McDonald's location is asking people to give their exhausted employees a break.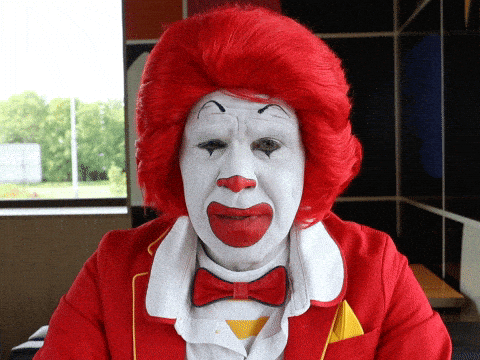 TikTok user Brittany Logan (@brittanyjade903) captured some honest communication from a local McDonald's.
Logan was in line at the drive-thru and noticed a bright yellow sign. A sign that needed TikTok to know of its existence.
Stuck to the box where you order was The Sign. Beautifully laminated, the sign reads (in all caps):
WE ARE SHORT STAFFED.

PLEASE BE PATIENT WITH THE STAFF THAT DID SHOW UP.

NO ONE WANTS TO WORK ANYMORE.
Just how we like our Big Macs: served with a heaping pile of existential dread.
But you know what? Who can blame those employees!? Kudos to the McDonald's employees that did show up, but no hard feelings toward those that did not.
Logan's video went viral, receiving 1.1 million views and 74.3K likes. Probably due to the restaurant's brutal honesty and the situation's sheer relatability. Everyone is tired! We are in the middle of a deadly pandemic and are still expected to show up to work with a smile.
It. Is. A. LOT.
TikTok users agreed, pointing out that the problem isn't the employees, but how McDonald's treats its employees.
Truly, you cannot blame these employees.
One TikTok user shared their experience working at Starbucks. Their local franchise has been so busy that one person walked out on the job.
Whatever these corporations are paying their employees, it's not enough to go to work during a pandemic while also dealing with other humans in a pandemic.