A woman went viral on TikTok after claiming her job rejected her two weeks' notice because she was
still needed." Since the start of the Covid-19 pandemic, America has seen a phenomenal "labor shortage." Originally, folks concluded that this was the direct result of citizens realizing they didn't want to work anymore. However, recent studies show that the truth is a bit more sinister. Jobs just aren't paying a living wage like they used to, you know, before inflation.
Now, workers everywhere have no fear of leaving their job when it doesn't suit them anymore. When you can job-hop blue-collar positions with ease, due to the labor shortage, it's no wonder that people aren't as loyal to companies as they used to be. On the flip side, some people are having to work multiple jobs at once to make ends meet.
When TikToker and now-former employee Courtney (courtneyyy_lynn_) was denied her two weeks request, she took to the platform to share her story. In the caption of her video, she wrote, "I now have 3 jobs and still trying to make ends meet."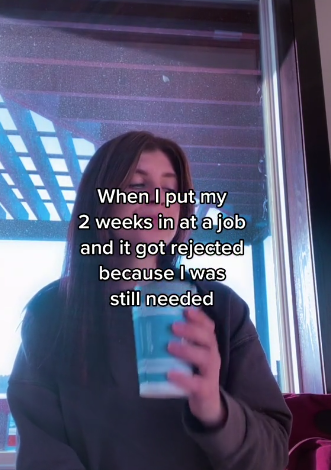 The story of Courtney's job rejecting her two-week notice went viral on TikTok, bringing in over 116k views.
Courtney wrote in the text overlay of her viral video, "When I put my 2 weeks in at a job and it got rejected because I was still needed." Though a two-week notice is what it is, her job somehow thought it was up for discussion. Courtney could just follow through and disregard their request for her to stay, but actions such as these generally cause some tension down the road when it comes to references.
Viewers brought up some solid advice for the TikToker to utilize in the future. The primary consensus encouraged her to "just say 'no'." There comes a time and place when you have to put your foot down and stand up for yourself. Unless you are under contract with a company, there should be no obligation to extend your employment once you decide it's time to move forward.
TikTokers shared their advice and similar stories regarding two-week notices:




What are your thoughts on employers desperately demanding employees to stay? Have you ever been in a similar position and had your job reject your two-week notice? According to the comments on Courtney's video, it's not completely unheard of. Let us know!