Even in the year 2020, there are certain professions where people are surprised to find a woman in charge. Ship captain Kate McCue has obviously been dealing with that gender bias for a long time, but that hasn't stopped her from taking her seat in the Captain's Chair.
And on the side, McCue runs a TikTok account with over 300,000 followers, in which she posts about her job, her hairless cat, and what life on a cruise ship is like. Most people seem to follow her because they find one or all of these topics interesting, but apparently, McCue has some haters following, too. In a now-viral TikTok, McCue finally responded to one of them.
"How can you be a captain?" the troll commenter wrote. "Your only a woman."
(Full Video Below)
McCue began by saying, "Normally as I'm scrolling through comments and I see something like this, I totally ignore and move on with my life. But I think it's about high time I address this because it's 2021."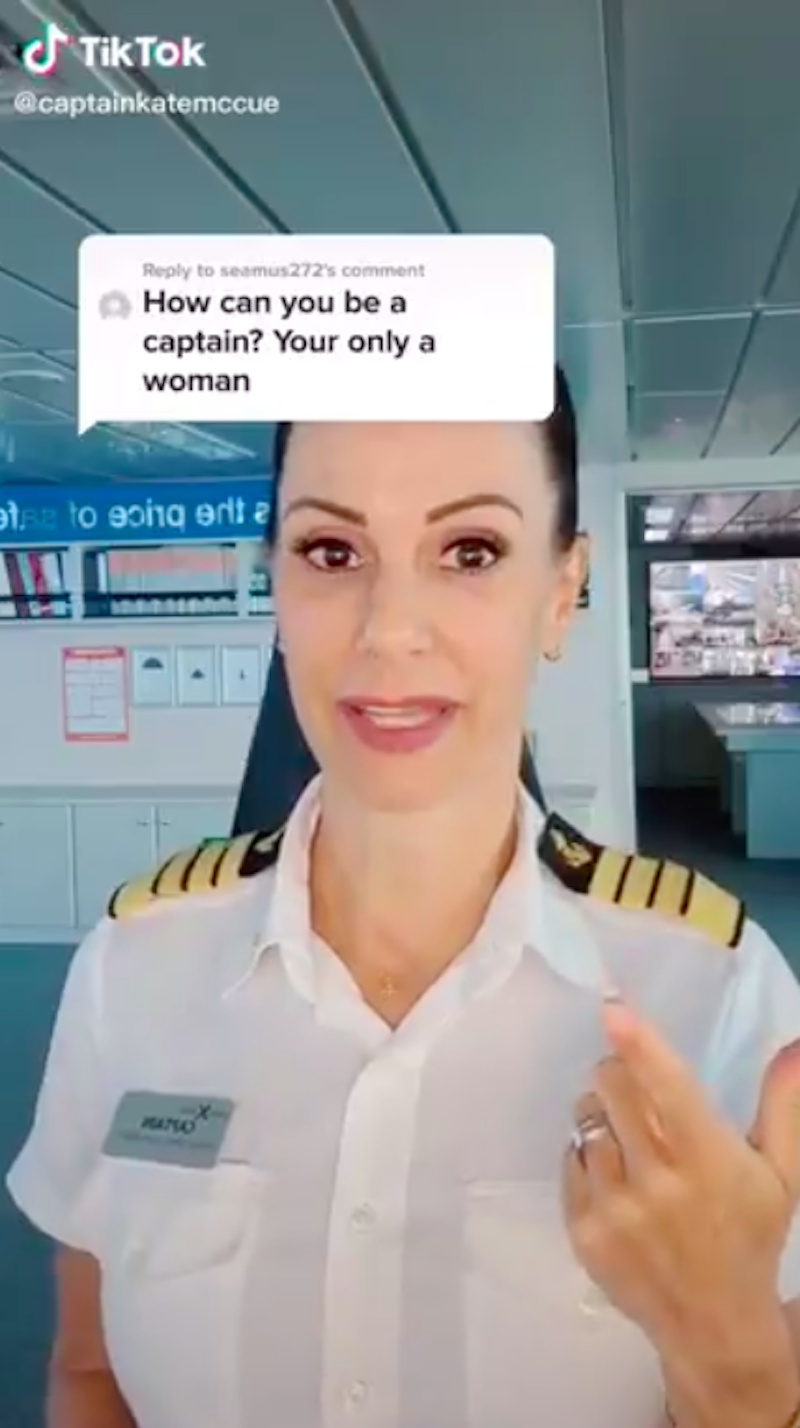 She continued, "And in this day and age I am shocked that someone still doesn't know the difference between 'your' and 'you're.'"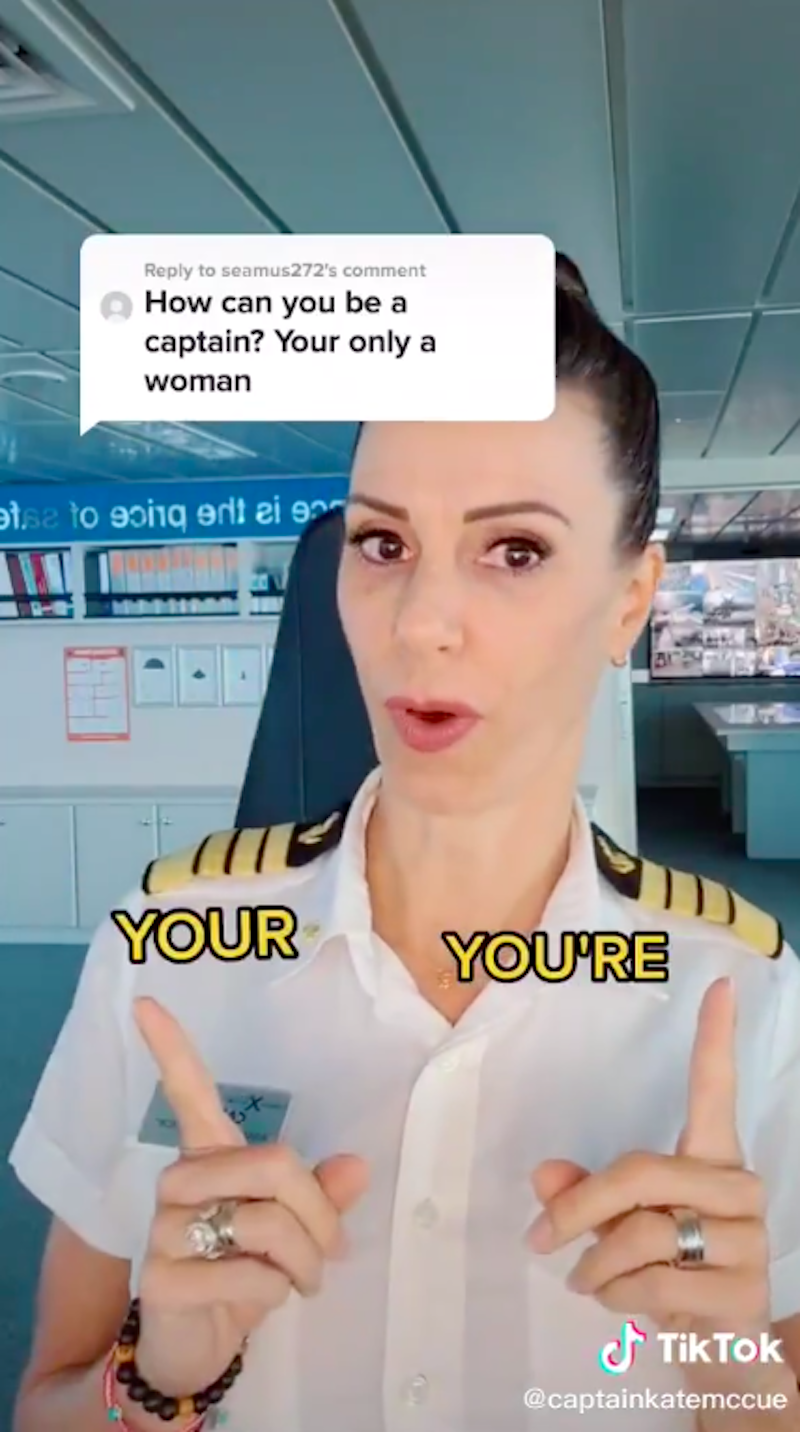 "A quick reference: 'you're' as in 'you are,' like 'you are sexist,'" she says. "'Your' is something possessive, because it belongs to you, like 'your ignorance.' But don't worry, I'm here for you. If you need any more clarification, you can find me here. In my captain's chair."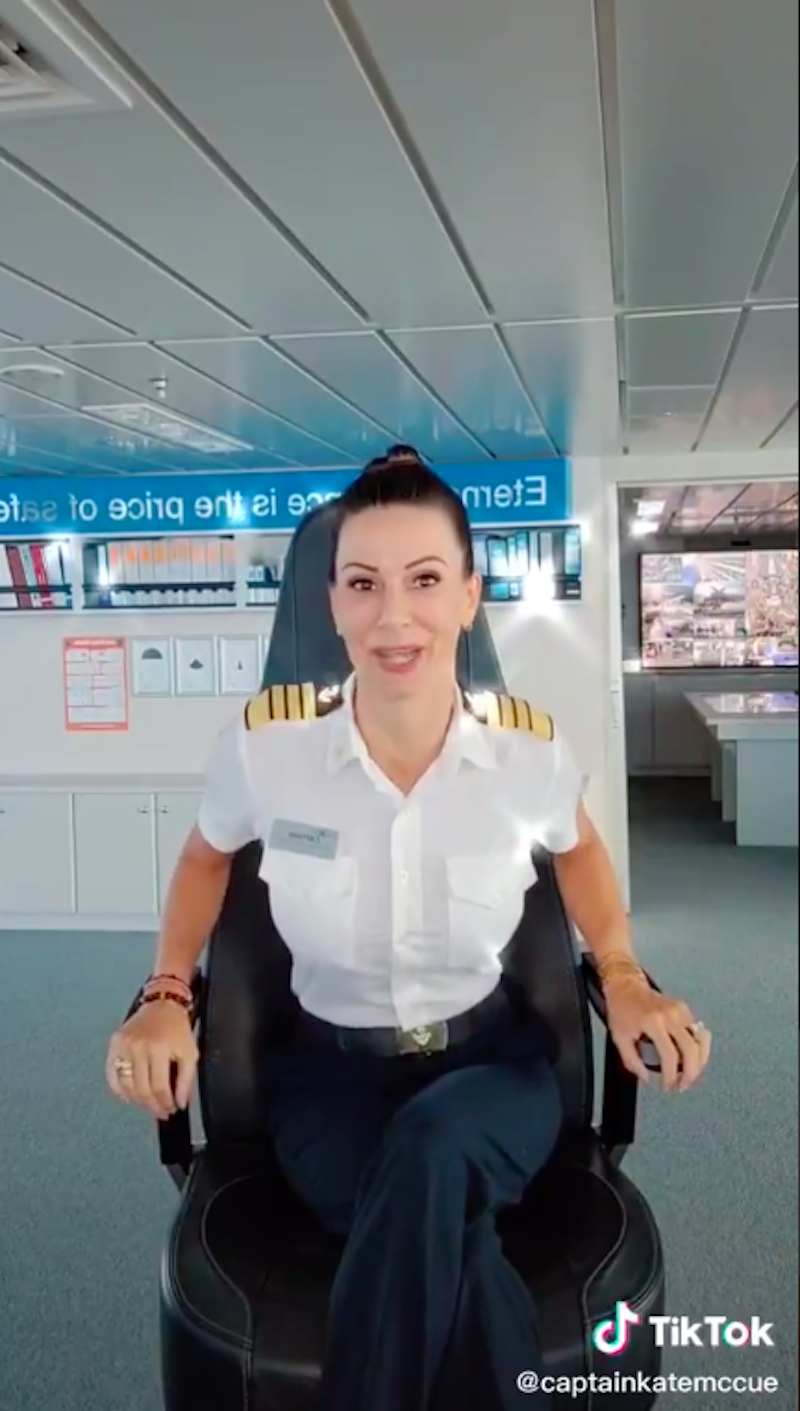 People liked McCue's call out and grammar lesson so much, it eventually got to Twitter, where people praised her for her perfect response:
Just witnessed a justifiable homicide. 🙂 https://t.co/786R23PaoS

— Peter Shankman (@petershankman) October 5, 2020
Listen to the Captain! She is doing an exemplary job.💫 https://t.co/hEM6frwGdu

— Kate Mulgrew (@TheKateMulgrew) October 6, 2020
The teacher in me loves a nicely placed grammatical burn. If you can knock a sexist down a peg or two, well then that's just the icing on top 😆👏🏿 https://t.co/dmA8shHUv7

— Lanira Murphy (@lmurphycd6) October 6, 2020
Riding a cruise in corona-time sounds like hell on water to me, but if I ever have a complete personality change I'll be looking up McCue's route. Anyone who can so competently shut down a sexist can probably navigate a few icebergs.
More viral TikToks: