Ah, tipping culture. It's becoming a pretty big part of our daily lives.
Especially in the U.S., tipping has transformed from a gratitude-filled gesture into an expectation, making it a highly debated topic online.
Enter a recent viral TikTok video adding more fuel to the fire of the tipping debate.
Picture this: a pizza delivery driver extends a piping-hot pizza toward a customer and promptly asks, "Tip?" The customer, a tad taken aback, retorts with a casual "Thank you."
Not one to be put off, the driver digs deeper, wondering aloud if the customer owns a car, implying the pizza could have been picked up.
The customer replies, emphasizing the convenience factor of delivery, and tries to end the conversation with a pleasant "Have a good day." But our driver gets the last word, suggesting the customer pick it up next time, right as the door starts to shut.
Despite the original video's removal, the power of the internet ensured its proliferation, with users stitching and sharing it with commentary included.
The digital universe buzzed with opinions, one of which was @AmyJackson9213, who didn't mince words. "If you're having pizza delivered to your house, where someone's using their gas to get it to you…you seem awfully entitled, not them asking for a tip," she passionately pointed out.
She further pressed that if someone brings food to your doorstep, a tip is the least one could do.
A lot of users sided with Amy on this one:



However, not everyone sided with Amy:


The incident isn't the first involving a Domino's driver though.
Recently a Domino's driver went viral on TikTok for posting how much she makes in tips for a typical night of work. User Allison (allison_green0), posted her clip describing her earnings which ranged from house to house between a decent amount, to nothing. The video racked up 754k views and a lot of discussion on the importance of tipping.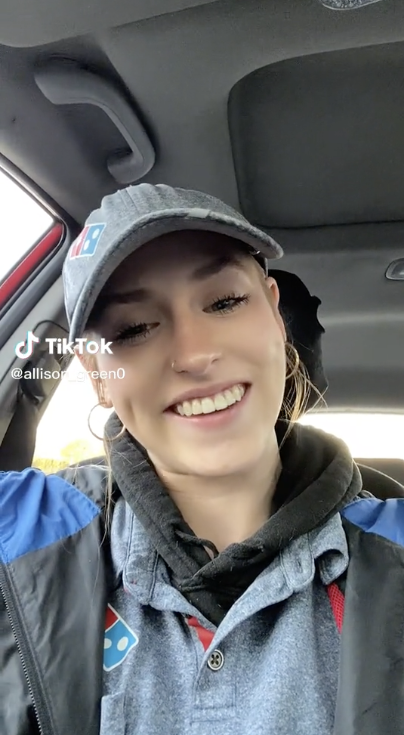 Read more on that story here: