There was a rumor this week that Hooters was closing some of its locations due to millennials not being interested in boobs, which was spread by a viral tweet from the account Daily Loud.

The tweet claimed that a "new study" showed that millennials were 19% less likely to search for breasts on the adult video site PornHub.
However, the "new study" was actually from a 2017 Complex article that used data from PornHub. Despite the rumor, Hooters has not announced any plans to close or rebrand its locations.
Complex used data from PornHub to suggest that Hooters' updated aesthetics and the creation of its spinoff restaurant, Hoots, were an attempt to appeal to millennials.
The article also suggested that the closure of some Hooters locations between 2012 and 2016 was due to a shift in the preferences of younger audiences.
Known for its revealing uniforms and '80s-inspired aesthetics, Hooters had to deny rumors that it was closing some of its locations due to a lack of interest from millennials in breasts. Stephen Brown, a spokesperson for the company, told the Associated Press that the rumors were false and that the restaurant, with its signature scantily-clad servers, will continue to operate.
One of Hooters' Twitter accounts addressed the Complex article, saying that it was "the fakest news that has ever newsed" and adding an eye roll emoji.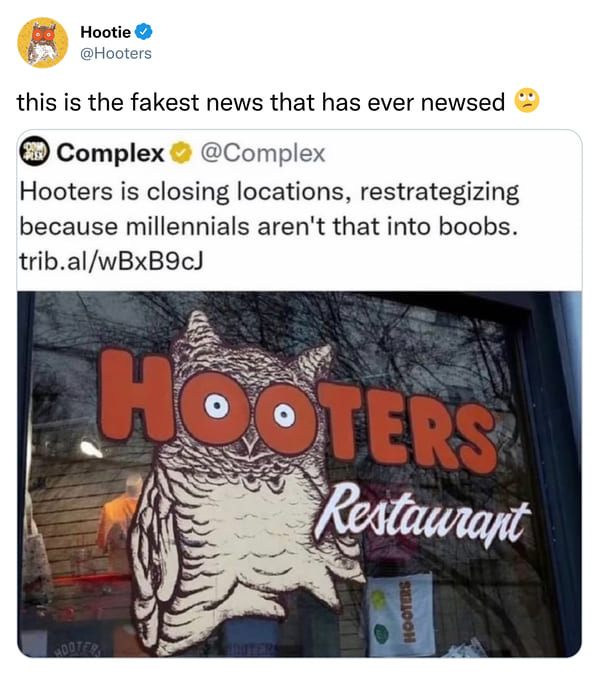 Fans of the restaurant were relieved to hear that it would continue to operate, with one user expressing their gratitude.
One user commented that "boobs are universal," to which the Hootie account responded, "That's beautiful." Another person wrote, "Millennials may not like boobs but I sure do."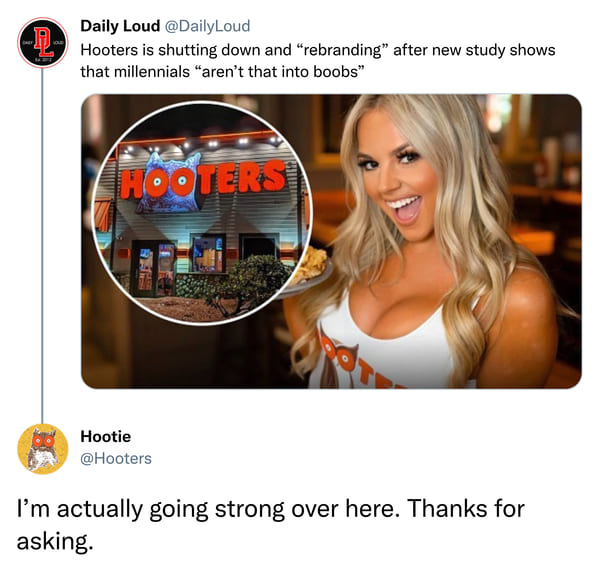 A Hooters employee, Sloan Miavitz, posted on Instagram in her uniform with the caption, "New study shows that millennials are 100% still into boobs and hooters is thriving."
Despite these reassurances, Hooters has closed a number of locations in recent years, shrinking from 430 US locations to 312 as of 2022, as the chain approaches its 40th anniversary. It is unclear whether these closures are related to generational preferences.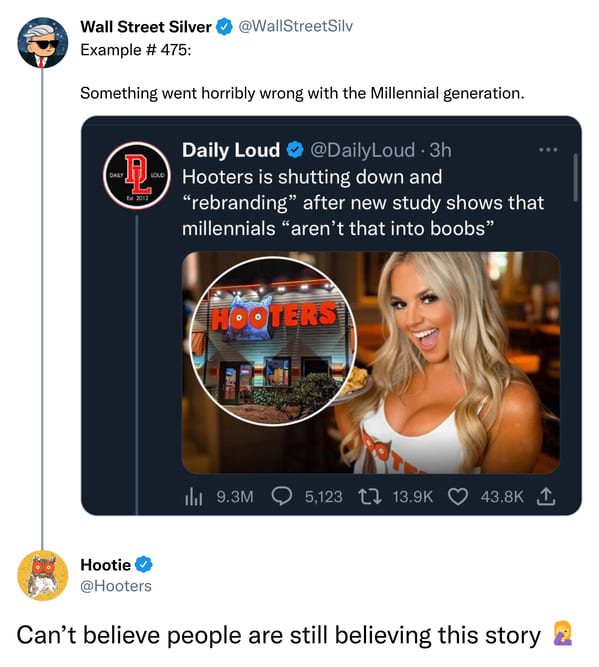 Despite criticism of its revealing uniforms, Hooters' loyal customers continue to visit the restaurant for its chicken wings, beer, and suggestive atmosphere.

Stephen Brown, a spokesperson for the company, told the Associated Press that customers are visiting Hooters restaurants in large numbers to watch sports events and enjoy the food and drink on offer, adding that the concept "is here to stay."