Air travel can be incredibly stressful. All the waiting, confusion, anxiety, racing from one terminal to the other when your gate is inexplicably changed at the last minute—and now, knowing that TSA employees are cruelly mocking you on a private TSA Facebook group.
The TSA Facebook group, called TSA Breakdown, has over 18,000 current or former employees of the U.S. Transportation Security Administration as members. And they're not just good-naturedly letting off steam about their jobs.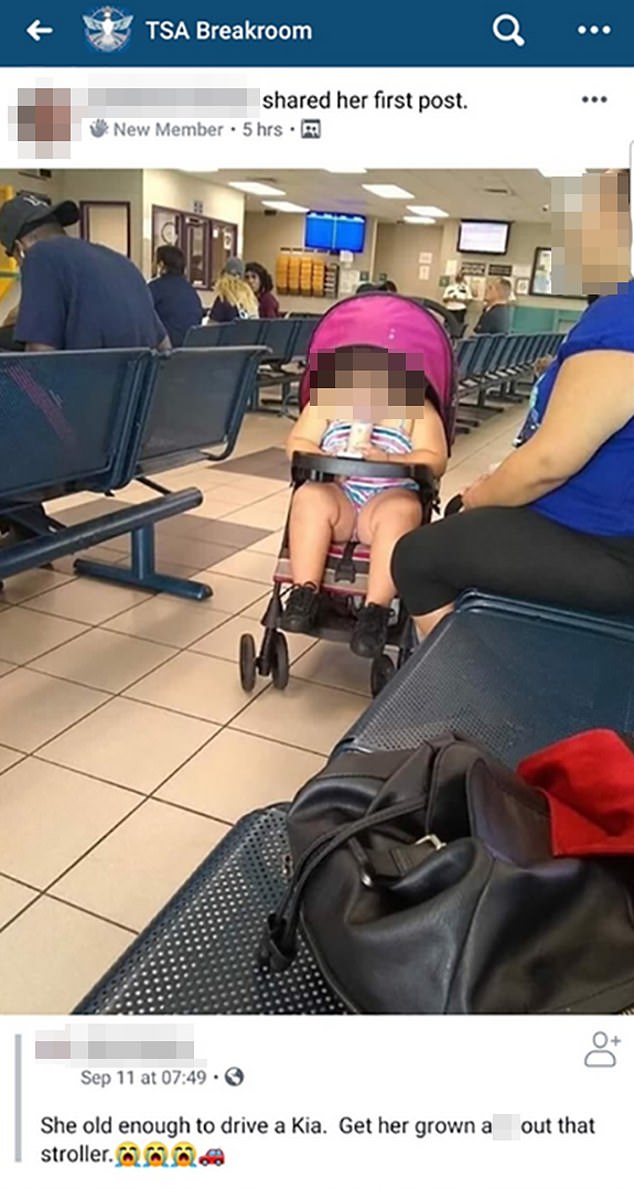 A team from NBC Washington led the investigation. They found a series of posts and exchanges in which members of the group used a variety of slurs to describe passengers and colleagues.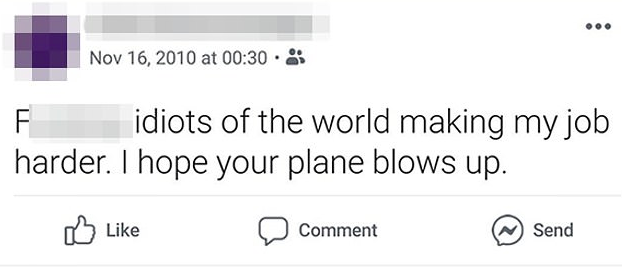 "F***ing idiots of the world making my job harder. I hope your plane blows up," said one group member whose social media profile indicates he works at Baltimore/Washington International Thurgood Marshall Airport.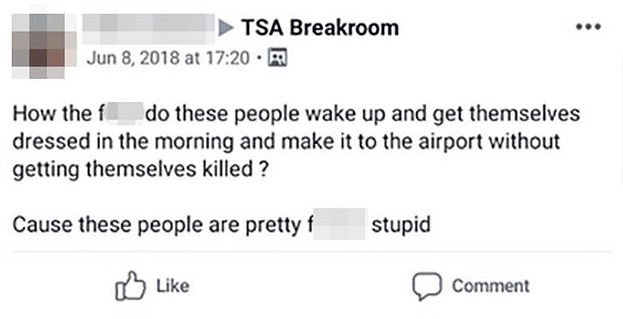 "How the f*** do these passengers wake up and get themselves dressed in the morning and make it to the airport without getting themselves killed? Cause these people are pretty f***ing stupid," said another poster.
A transphobic post criticized the TSA's policy requiring employees to respect passenger gender identity: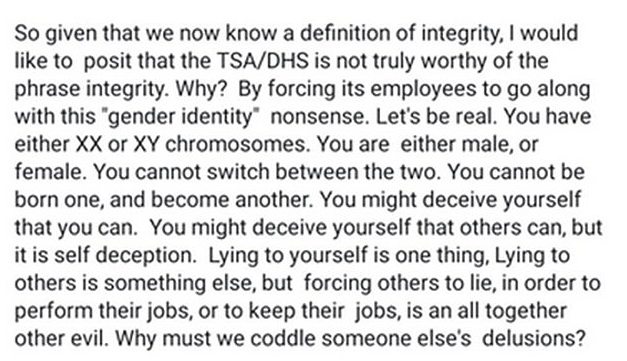 "By forcing its employees to go along with this 'gender identity' nonsense…why must we coddle someone else's delusions," the person wrote.
One TSA agent made racist comments about a group of Chinese passengers, writing, "I should buy a Lotto ticket! We just screened a whole group of Chinese tourists without having to call a single bag check!"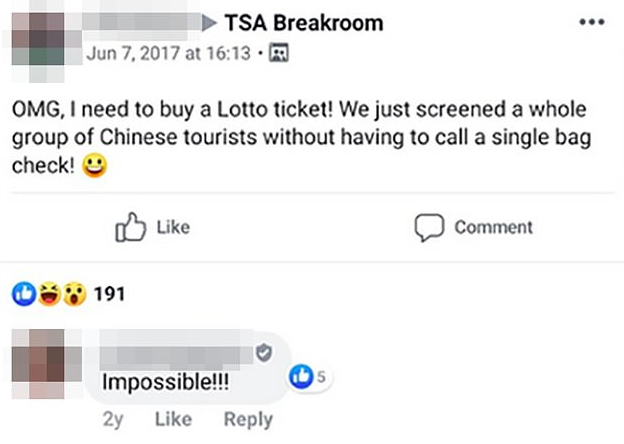 A TSA spokesperson confirmed that the page exists but it is not affiliated with the TSA: "It is a private site that is neither affiliated with nor endorsed by TSA. As such, TSA does not monitor the site."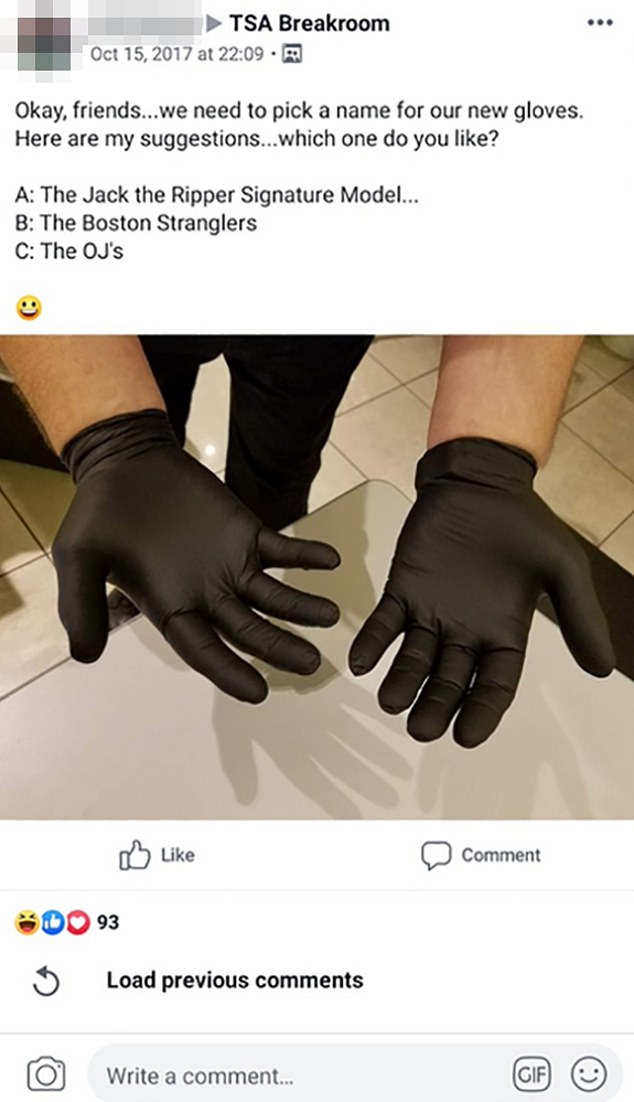 "The Code of Conduct for TSA employees provides that an employee's off-duty internet use must not adversely reflect on TSA or negatively impact its mission, cause embarrassment to the agency, or cause the public and/or TSA to question the employee's reliability, judgment, or trustworthiness," the TSA said.
Former TSA employee Monica Stoddard, who worked for the agency for 11 years in Washington DC, told NBC that she is a member of the group but does not post on it.
"The morale wasn't a good one," she said. "[Workers] don't have an outlet to say what's going on and speak their minds."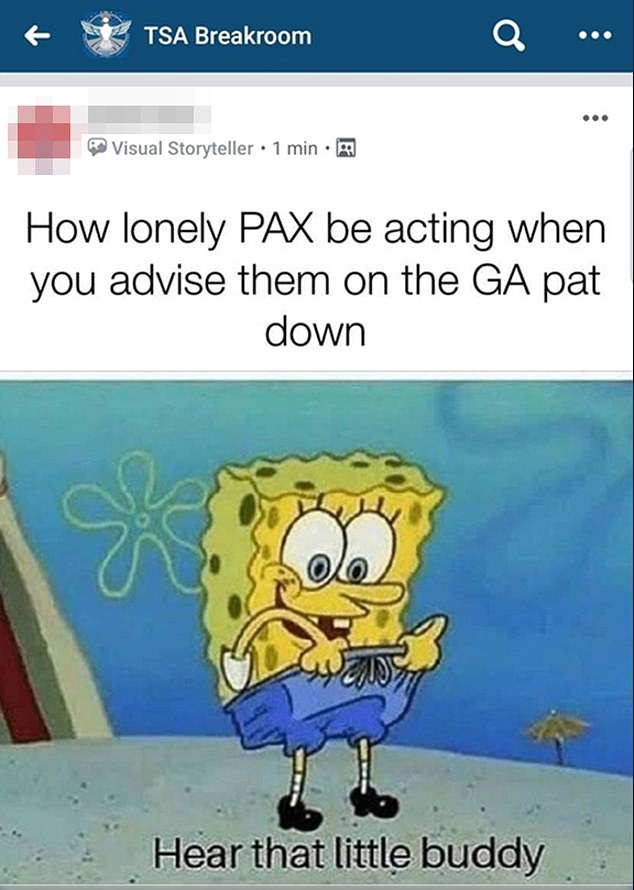 More travel nightmares: