Convincing Americans to wear masks to protect the people around them from potential coronavirus exposure has proven to be far more challenging than it should be over the last few months.
Even when local governments put requirements in place for residents spending time outside of their own homes, it often falls to businesses to enforce the rules themselves. And we've already seen how difficult that can be, resulting in irate, maskless customers arguing with employees, throwing things, or even instigating physical altercations over such a simple request.
Bottom line: simply tacking up a sign that says "masks required" often fails to convince customers that yes, that rule applies to everybody.
So a vintage store in Phoenix, Arizona decided to try a different tactic.
Antique Sugar owner Sarah Bingham said she became frustrated with some customers' refusal to wear masks, even though it's currently mandatory in Phoenix.
"It's such a minimal, easy thing to do, and I'm asking so nicely," she said. "Well, not anymore, but I did."
Rather than continue "asking nicely," Bingham put up a sign at the front of the store that escalates from polite to dark as hell.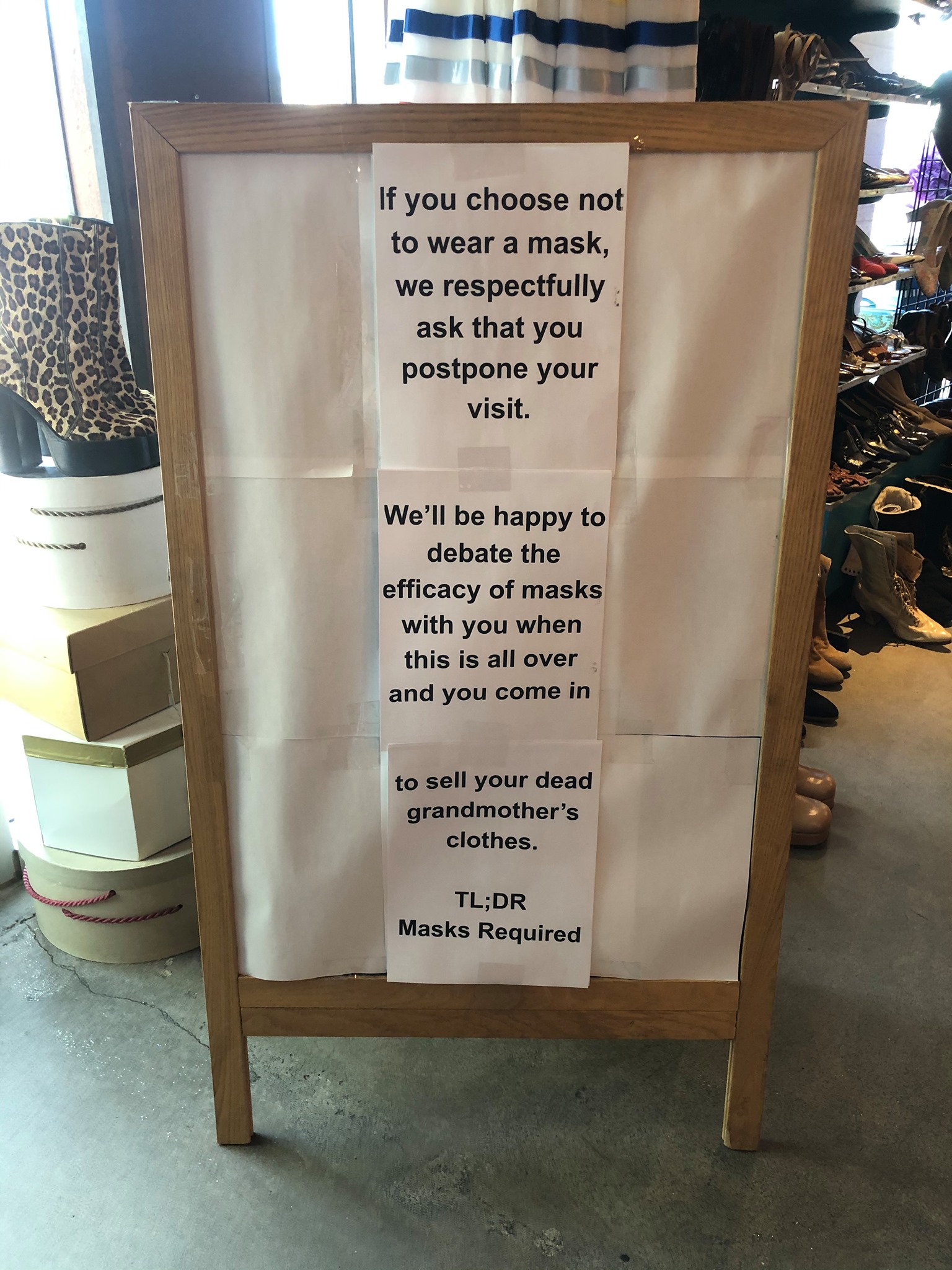 "We'll be happy to debate the efficacy of masks with you when this is all over and you come in to sell your dead grandmother's clothes," it reads.
The sign went viral, circulating far beyond just Phoenix and Antique Sugar's usual customers.
Much like the pandemic, this vintage store warning sign escalated quickly pic.twitter.com/wm9LMVw7Dx

— Chris Illuminati (@chrisilluminati) June 30, 2020
I was like, wow this is very respectful and real and then i was like pic.twitter.com/6ynWlSYUQl

— Miguel Colucci⭐️ (@miguelneyy) June 30, 2020
OH DAMN. Vintage clothing store in AZ is not f**king around. https://t.co/phd32KZqPX

— A Robinson writes Stuff… at home for a while (@Ardrous1) July 2, 2020
2020 has been moving so quickly, even for the educated… I can hardly imagine what it must be like to the ignorant. Should we leave them a package of stone tools & a visual guide, or are they too hopeless?

— 🔥🌹Zarasha🌹🔥Not voting for rapists, red OR blue (@Zarasha4) June 30, 2020
My reaction as a read towards the bottom… pic.twitter.com/S8nB885bmS

— #StayHomeMN (@MattPTurner) June 30, 2020
Man, that escalated quickly…but duly NOTED 📝 #wearamask https://t.co/j0bChhnOvE

— Carla Jimenez (@carlajimenez) July 2, 2020
But, of course, it's also brought pushback from the anti-mask crowd still out here screaming about "muh freedoms!"
Despite the online trolls, Bingham says the store hasn't had any further issues with customers refusing to wear masks.
"I wonder if [the sign is] actually being the deterrent I wanted it to be," she told USA Today.
View this post on Instagram
And she's figured out how to deal with the trolls, anyway.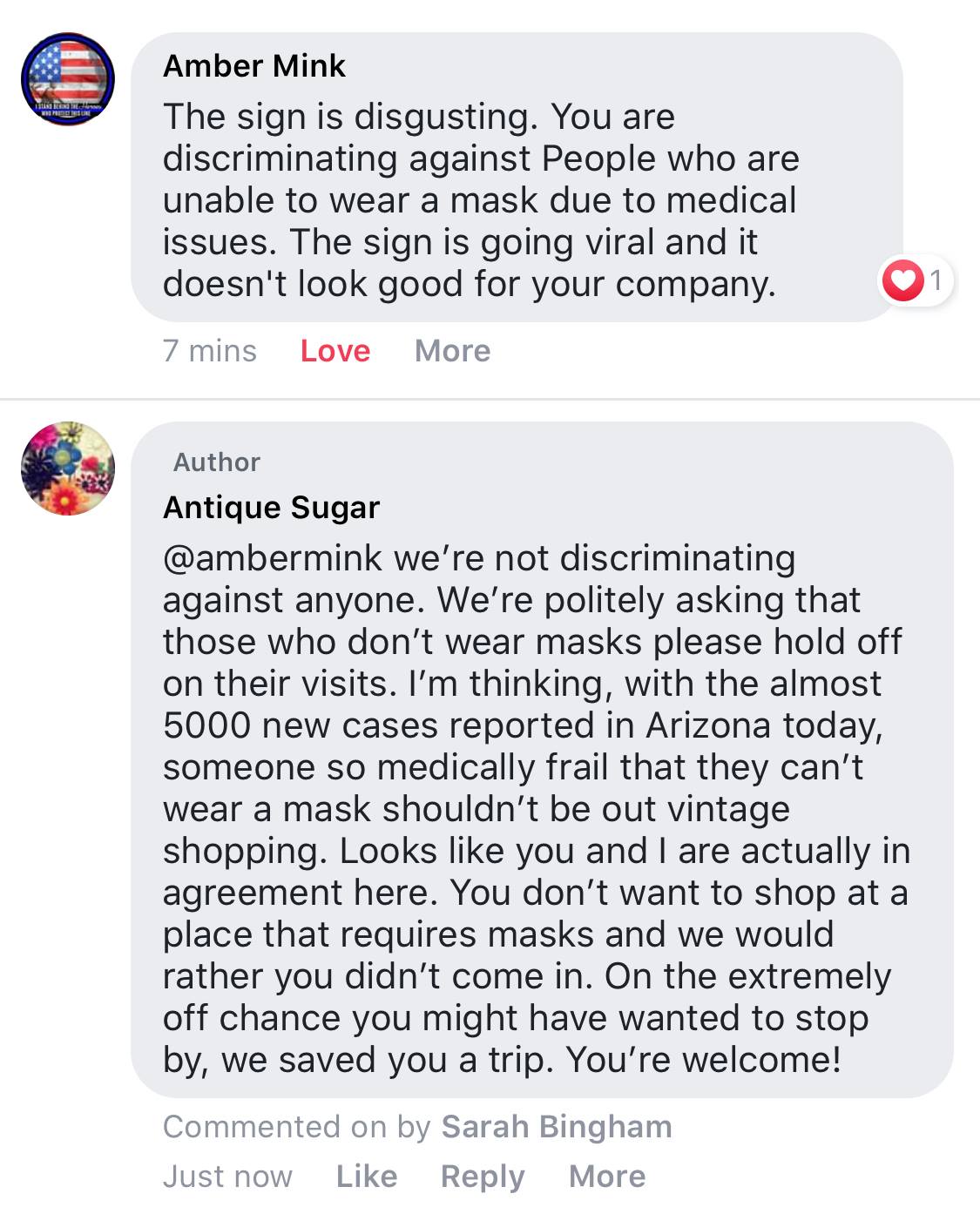 More stories about face mask fails: