The best relationships are the ones where you feel secure enough with your significant other that you can let them make fun of you (within reason, obvi).
There's nothing quite like a good flirty roast sesh between you and your partner—it can strengthen your bonds and remind each of you why you fell in love in the first place.
These husbands certainly know how good it feels to blow off some steam ripping their wives with funny marriage tweets, and we hope their partners do too.
1.
2.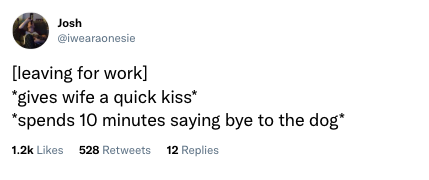 3.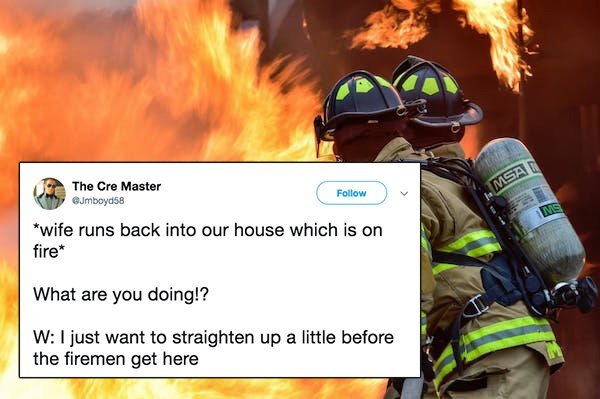 4.
Me: Look, I love you, But I made exactly the amount of cheese & crackers I want to eat right now.
Wife: But I only…
Me: EXACTLY the amount

— keith (@tchrquotes) November 4, 2014
5.
[runs to the door to greet wife]
I'm afraid there's been a terrible accident involving all the things you asked me to do today.

— David Hughes (@david8hughes) February 28, 2016
6.

7.
Boss: I see your wife visited the office again.

Me (picking up throw pillows): Yep

— Boyd's Backyard™ (@TheBoydP) August 16, 2018
8.
Wife: [reaches for the fries on my plate]

Me: [slides grocery divider between plates]

Wife: you said you didn't take that from the store.

Me: and you said you didn't want any fries but here we are.

— NewDadNotes (@NewDadNotes) August 16, 2018
9.
The Mrs and I have been married so long she can finish my sentences.
She also starts most of them and supplies the middle parts too.

— The Alex Nevil (@TheAlexNevil) April 12, 2016
10.