Is there a more high-pressure day than a wedding? It's expensive, it takes months to plan, and all your family members and their grievances with one another are there. Plus, there's an open bar. If you make it through a wedding without disaster striking, it's basically a miracle.
This was brought home by the responses to Jimmy Fallon's hashtag game #WeddingFail. Fallon asked his followers for their stories of weddings gone wrong for the chance to have it told on his show.
It's Hashtags time! Tell us about a weird or embarrassing wedding story, and tag it with #WeddingFail. Could be on the show!

— jimmy fallon (@jimmyfallon) February 10, 2020
Everyone was happy to share their embarrassing moments, often with photos and videos, for the chance at TV fame. Or maybe when something this crazy happens on the day of your wedding, you feel compelled to talk about it for the rest of your life. Scroll through for the hilarious and harrowing tales of love and failure.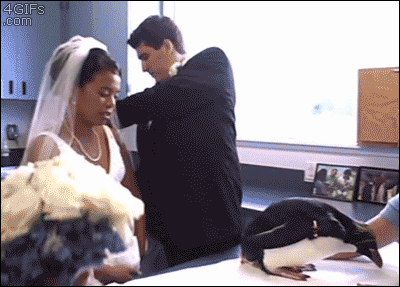 1.
@FallonTonight
Our photographer photoshopped Jesus into our wedding photo. #WeddingFail pic.twitter.com/wB4wnwQOTd

— Some Lady (@annie_howington) February 10, 2020
2.
At my dad's friend's wedding in the 70's, a hungover groomsman farted, and it smelled so bad that the flower girl barfed all over the bride. #weddingfail

— Stephanie B (@StephanieAngus) February 10, 2020
3.
My maid of honor passed out right before I walked down the aisle. She sat in a chair on stage for the rest of the ceremony. She was ok. #weddingfail pic.twitter.com/51PBnnTurZ

— Keshana (@Keshana22) February 10, 2020
4.
My brother didn't like my first husband , so in the back of the church just before he walked me down the aisle, he offered me $2000 in cash and a new car of I turned and ran. I should have listened #Weddingfail

— Patricia Van Schaick (@PatriciaSchaick) February 11, 2020
5.
We had just married and we were getting ready for the party. One of the older ladies was one of the first to arrive. She went to some food platter and took a big scoop of guacamole.
The guacamole was wasabi and they had to call the paramedics. #weddingFail pic.twitter.com/hp13t7rLMD

— John McMurray (@Iriesheik) February 10, 2020
6.
My husband was best man in a wedding where the groom was so drunk that we needed to drag him into the back seat of his own car and then onto a luggage cart to get him to his hotel room. The father of the bride took photos of his head in a toilet as blackmail. #WeddingFail pic.twitter.com/V2zHhLNgnx

— Randi Kotlar (@rkotlar216) February 11, 2020
7.
At my mom's second wedding, when everybody was clapping after they kissed, my brother who was 8 at the time yelled "You don't have to clap. She's already been married before." #WeddingFail

— Josh Ayerdi (@Joshie_Ayerdi17) February 11, 2020
8.
He swept me off my feet (kind of)😉 #WeddingFail pic.twitter.com/HTUs8jpaKw

— Deanna (@dnp_816) February 11, 2020
9.
At my Cousins wedding, I couldn't open the bag of rice in time so I tossed the whole bag and smacked the videographer in the face. #WeddingFail

— Becca's Journey Into The Unknown! (@Beccaj914) February 10, 2020
10.
My dad forgot to take his hat off so he did a hat toss into the bushes #WeddingFail 🤔🤷🏼‍♀️ pic.twitter.com/QrtBT2K81j

— Natalie Wine (@nwine) February 11, 2020