Mansplaining is one of the more annoying things that happen to women. Do you really think I don't understand how stocks work? (I don't, but don't tell me.)
Yes, there are enough mansplaining tweets to do a round-up of them. If you're a man reading this, maybe this will help you understand how annoying it is?
---
1.
2.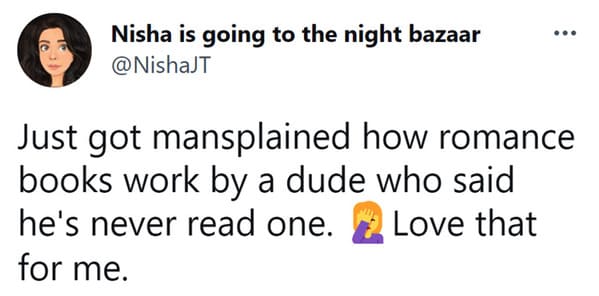 3.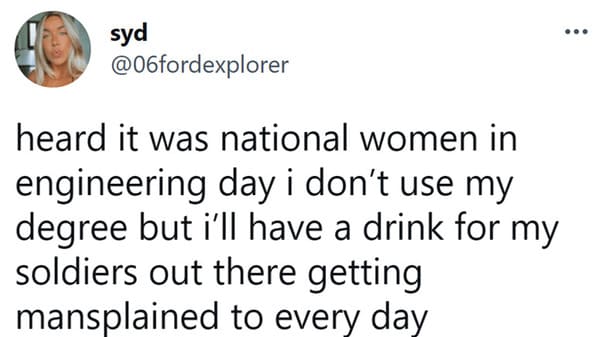 4.
5.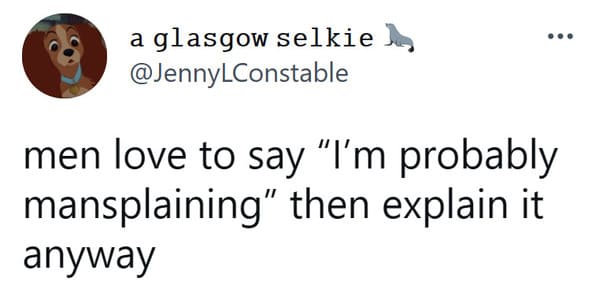 6.

7.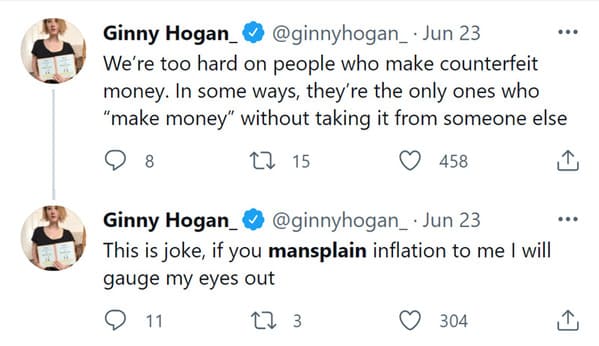 8.
Physicists be like: I can't cook for her but at least I can mansplain to her

— george iskander (جورج إسكندر) #SaveSilwan (@gwisk20) June 25, 2021
9.
my boss (50+) tries to mansplain the most basic things about computers to me every day, like i was not coding my own custom html theme on tumblr at age 12

i'm pretty sure i can handle a microsoft update, larry…..

— harley (@harlilyyy) June 29, 2021
10.
Tonight's transition milestone: dude explained the prostate to me

— Ari Drennen (@AriDrennen) June 29, 2021
11.
Itd actually be really nice if someone would mansplain my health insurance benefits to me

— hannah (@TribalSpaceCat) June 22, 2021
12.
It's three years since the University of Adelaide introduced their Masters of Mansplaining. And this did the rounds. A classic. pic.twitter.com/bo27zXJneE

— Emily Mayo (@iamemilymayo) June 28, 2021
13.
Ah, my favorite part of the day, when random internet bros arrive to mansplain the military to me. pic.twitter.com/0BzSioLIU0

— Stonekettle (@Stonekettle) June 25, 2021
14.
When a male carpenter tries to mansplain contraceptives to a renowned gynecologist. pic.twitter.com/AX9JCw9tWO

— Tim the Nutty History Instructor (@GuyCaveOfficial) June 25, 2021
15.
this is what mansplaining looks like pic.twitter.com/9rQqSFORL3

— Adam (@adamgreattweet) June 26, 2021
16.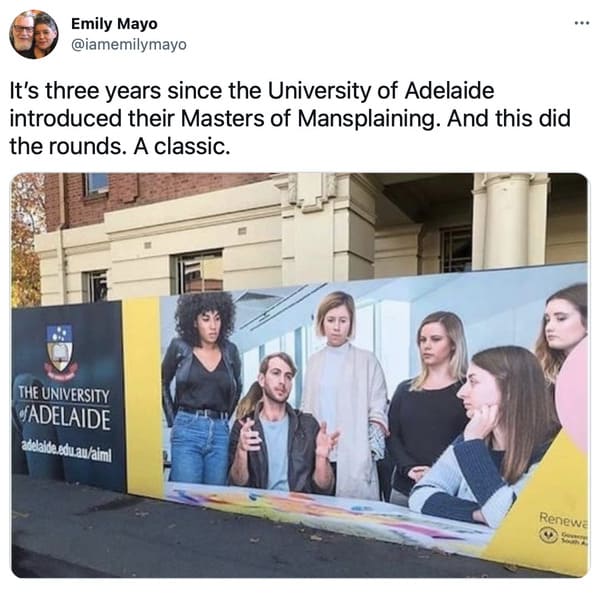 ---
More Mansplaining Stuff: