TikTok is a popular platform for users to attempt dance challenges, which is what user @reubix_cube (or, "Reu," for short) was ostensibly doing when he recently shared a video of himself performing the popular routine to "Say So" by Doja Cat.
What Reu was probably not expecting was for the video to go insanely viral—due not to his sick moves, but because of a creepy figure peering down at him from the staircase in the background.
"Lmao I'm home alone so I learned a TikTok dance," he wrote. "Lov u Doja but what has my life come to?"
It didn't take long before people began to notice the figure, or face, which can be seen in the below screenshot, like the second coming of Dear Daniel.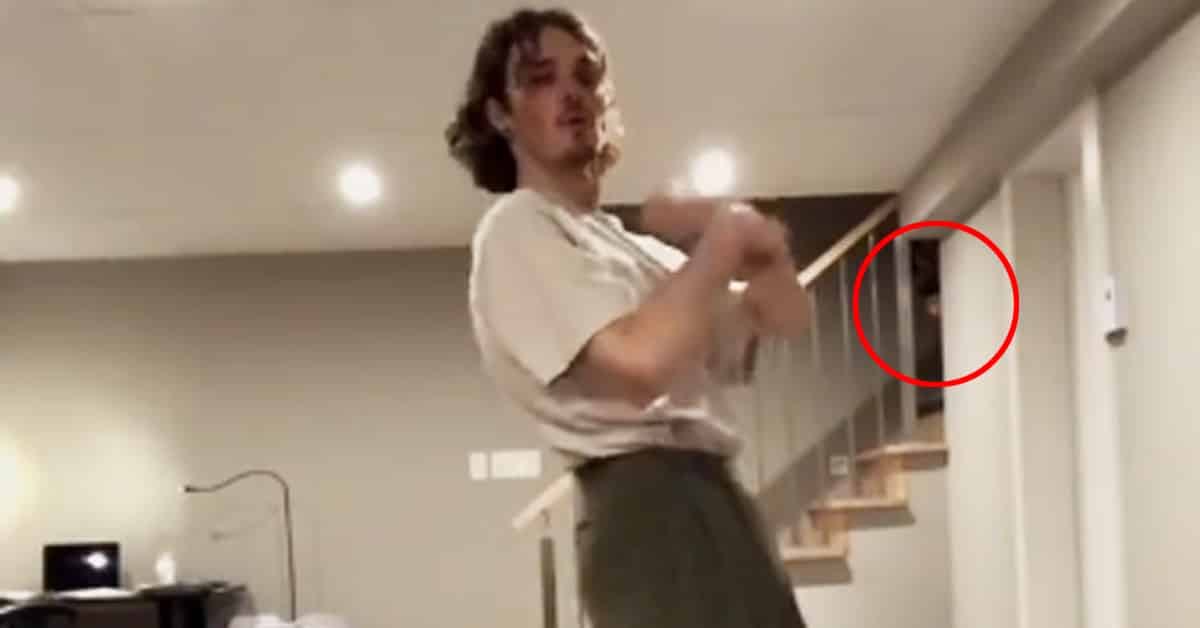 "The AMOUNT OF ANXIETY I have from this video," commented one user. "That's someone literally poking their head TO LOOK AT YOU." Others evoked the 2004 supernatural horror film The Grudge.
Apparently no one was more shocked by this development than Reu himself, who the following day posted another clip of the incident, side-by-side with his reaction to watching it. "[What the hell] is that one the stairs," he captioned it. "I was home alone!"
Naturally, some users accused Reu of fabricating the creepy viral moment—particularly, given the fact that he had intentionally noted in the original clip that he had been home alone at the time. The terrified TikToker clarified that in a followup Q&A video.
"The reason I said I was home alone is because I was home alone," he said. "And I didn't want, like, my family to hear me," he added, because he didn't want to subject them to him playing the same part of the song "over and over again" while he was trying to learn the dance. It seems reasonable enough!
Readers, there is more.
In yet another followup video, directed at those who still think he staged the whole thing, Reu posted an old video from what he says was 2012 or 2013, in which he filmed renovations that had just been done to his family home. He said he took the video to send to his grandparents who had been living far away at the time.
At one point, his camera pans past the unmistakable silhouette of someone—or something—standing behind a curtain. But when the camera pans back just a moment later, it's already gone.
Who wants to see those again isolated and in slow motion?
Real or staged, you have to admit the creepy figure is unsettling, nonetheless. Good luck sleeping tonight!
More viral TikTok videos: