The name "Karen" has been getting kicked around a lot this year, and what it means to various people has shifted a lot. It started as a joke-y way to refer to entitled women who call the manager to get all their demands met and make service worker's lives hell. Then it started getting applied to even more serious acts of aggression, up to and including crimes like lying to the police to get a Black man arrested, like Amy Cooper did, or pointing guns at protestors like a couple in St. Louis did. The woman was "Karen" because she was pointing a loaded revolver at a crowd. Not quite the right word for me, but okay.
There are plenty of women named Karen of all races and ethnicities, and some of them aren't necessarily all that bad. The ones complaining about the meme-ing of their name kind of are though, because they lack the awareness to know that starting a petition against using "Karen" or comparing it to the n-word is exactly what a "Karen" would do. The kinds of people who would get upset about this are probably similar to the people who came up with this Chick'nCone promo just for Karens in Houston, Texas.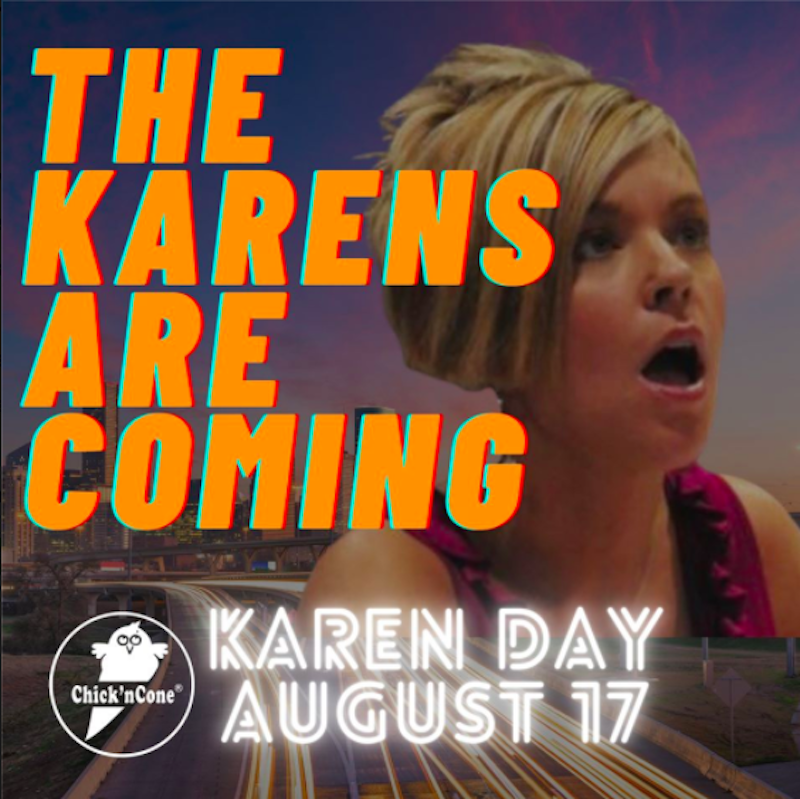 The promotion was only at the one Chick'nCone location, Fox News gleefully reports, and the Facebook post about it attracted quite a bit of attention. It reads:
The KAREN's ARE COMING We know this year has been interesting for anyone named Karen, that's why we'd like to host a "Karen Day" to show sympathy to the good "Karens" of the world !! If your legal name is Karen, stop by Chick'nCone on August 17th and redeem a FREE Chick'nCone when you say the password at the register: "I want to speak to the manager" Share this event with anyone you know named Karen! Rules: ▪️ Legal name must be Karen (please bring a form of ID to validate) ▪️ Valid 11AM-8 PM only on Monday Aug. 17
A spokesperson for the company told Fox in an email that "about 40 Karens" came by for the promo and that the "event was well received and got a lot of attention."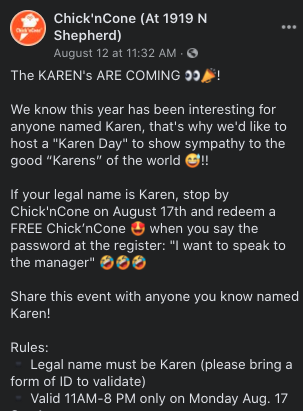 I would definitely not want to walk into a restaurant with 40 Karens inside. After seeing the cone full of fried chicken they were being served, I'm wondering if it was actually a murder plot. For their arteries:
View this post on Instagram
To get the cone, Karens were told to "ask for the manager," but apparently it was all too real. The manager himself got confused.
"Terrance Foley, the [General Manager] mentioned that at two points in the day Karens came in and asked to speak with the manager – so he would introduce himself and ask what assistance they needed," the spokesperson said. "Since they made no mentioned of the offer, he himself forgot that it was Karen Day."
And that's why it's so ridiculous to get mad about being called a Karen. It's exactly who you are, ladies!
More Karens: