If you have a presence on the Internet, you've probably come across a few inside stories of minimum wage-paying jobs treating their workers unfairly.
Whether it be a DoorDasher sharing how little income they make after tips, a McDonald's worker discussing being thrown into her position without any training, or Tropical Smoothie Cafe employees not being allowed to sit down during a seven-hour shift, there's no shortage of these blue-collar horror stories.
One Walmart employee who had been with the company for 16 years shared how she was fired for posting her insider perspective on TikTok. Though the popular social media platform was her downfall, it provided her with a safe space to share more information on the story.
User Steph (stephunleashed), who is a former Walmart store coach, displayed her grievances by ripping apart one of her blue Walmart employee uniforms.
Afterward, she shared one of the original TikToks that got her fired in the first place.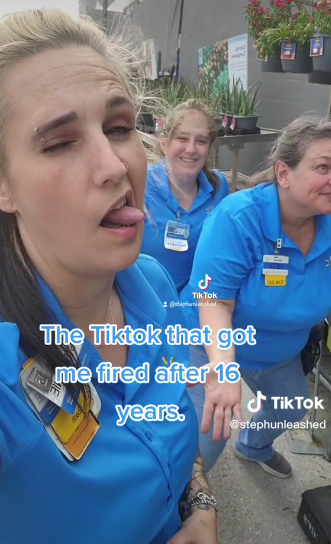 The video that ended in termination showed the inside scoop on how her Walmart location takes inventory. Throughout the video, you can see a multitude of employees strewn about the store scanning and counting products.
Steph explained that first, the on-site employees count "every freaking feature" in the store, including the backroom. Then, the 'inventory people come in and scan like, the side counters and stuff."
Afterward, the in-store workers are asked to recount everything again to double-check the numbers. Steph captured her and her co-workers counting plants in the garden center outside as she said "12 hours in and we're 98.8% completed."
The TikTok that got the former Walmart employee fired after 16 years brought in over 440k viewers.
Those who saw the video were baffled as to what the grounds for termination could have been. Some speculated that perhaps the higher-ranked employee was unprofessional by posting her clip. Others said that because she was recording and posting while on the clock, she had liability to be let go.
Read through some of the top comments on the (maybe wrongful) termination of the veteran Walmart store coach below: