Earlier this week, Twitter account @drakesbrother (not actually Drake's brother…I think…) tweeted out, "Weird Confessions: let's hear them."
Weird Confessions: lets hear them pic.twitter.com/ky8sVnLQKZ

— ana 😌 (@lovelyfeelz) January 6, 2019
To say that Twitter delivered would be an understatement. If anything, Twitter over-delivered.
The confessions were, in fact, weird. Really, really weird. But what's striking is the common thread running through all of them. They're universal.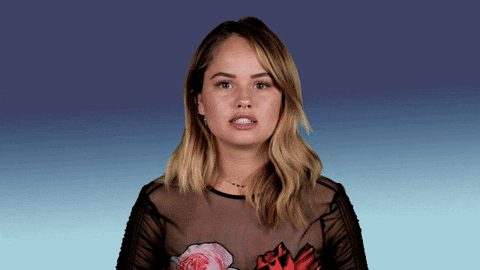 Sure, you probably won't relate to every single one of them. But odds are, you'll read a good many of them and be like, "wait, what? I thought that was just ME!" If anything, this thread proves that we are all equally psycho, OCD, neurotic, what have you. It's comforting, in a strange way.
1.
When I'm driving and I see the person behind me switch lanes & speed up, I do the same so they can't go infront of me

— fred (@Fredmaano) January 8, 2019
2.
if someone sneezes around me I hold my breath for like 15 seconds till all of their germs disperse in the air away from me

— Diane Lynn (@dailydiane_) January 7, 2019
3.
All doors and closets in the room gotta be completely shut when Im sleeping.

— Ryo of Wildfire (@SpeedFors5) January 7, 2019
4.
I can sing a whole song in my head without really knowing the lyrics but cant recite it out loud

— Jordan🕊🔥 (@Vcksn) January 8, 2019
5.
Whenever I'm inside a building I think of what would happen if there were to be a shooter come in through any of the doors and think of what'd I'd do and where I would hide

— irma (: (@irmva) January 8, 2019
6.
I'm scared to use a flashlight at night because I feel that it's going to land on some weird monster/humanoid creature thingy and that's how I will die pic.twitter.com/gK2oD4BwMw

— Marci, The Great (@truly_wild) January 7, 2019
You May Also Like…
— Ruin My Week (@RuinedWeek) January 10, 2019
7.
https://twitter.com/xveronicaluvx/status/1082730740566118400
8.
My car radio volume has to be an even number or a multiple of 5

— Jackson Downs (@jacksondowns_22) January 8, 2019
9.
https://twitter.com/Buneta_x/status/1082678316434378753
10.
Since my first bf and I didn't lose our virginity until we were 18 (started dating at 14)…I gave him a LOT of BJ's.Sometimes it tasted awful,and he said "it can't be THAT bad". So I had him 💦 into a dixie cup and made him drink it lmao. My nickname has been "Dixie" ever since.

— Jody (@DizzyLizzyPDX) January 7, 2019
11.
I constantly dance to music, no matter what kind I'll move some part of my body. If no music is even playing I'll move to the song in my head.

— Tony Montana (@AC_Phlegm_) January 7, 2019
12.
I can't be in a parking garage for to long because I'm always afraid a giant earthquake will happen and the building will collapse and I'll be trapped under the rubble and die slowly even though i live in an area where earthquakes are extremely rare

— 🐙 (@missforehead) January 7, 2019
13.
I stand in the mirror and make fake arguments or act like im a motivational speaker and sometime i make fake arguments and start fighting the air (if i was to ever have beef with someone thas how inwould fight them )

— The "Lique" Effect (@Honeybrei) January 8, 2019
14.
I think of emergency/escape plans for every room/building I walk into for a variety of situations (public shooter, terrorist attack, natural disaster, etc.)

— ⚯͛  ♈︎ ♉︎ ♊︎ ♋︎ ♌︎ ♍︎ ♎︎ ♏︎ ♐︎ ♑︎ (@8ensei) January 7, 2019
15.
when i'm in my car i talk by myself as if i were getting interviewed on tv

— jas (@jvsmine88) January 8, 2019
16.
When I'm listening to music in public, I can only have one ear bud in my ear at all times. I need to be aware of my surroundings. I only put both in if I'm on a bus or plane.

— Asia ✨ (@Plane2Asia) January 8, 2019
You May Also Like…
— Ruin My Week (@RuinedWeek) January 9, 2019
17.
If I'm home alone & I vacuum or play loud music, I pause it very frequently to make sure I don't hear anyone breaking in.

— ASH❄️ (@ashclayborne) January 8, 2019
18.
https://twitter.com/simplynidal/status/1082748256772329473
19.
I pay attention to numbers and patterns a lot, and accidentally memorize them. I'll be driving and read the license plate in front of me and it will be stuck reciting in my head all day

— Kira (@low_keykira) January 7, 2019
20.
I had really low self esteem throughout school and now when any guy shows me he's interested I think he's setting me up🙂

— Ash-Li❤️‍🔥🤪 (@Ashaleyyy_918) January 7, 2019
21.
I have the weirdest impulses sometimes like if I'm holding someone's baby I'm like what if threw it out the window

— x (@sudxnia) January 8, 2019
22.
Me driving- "I could floor it and swing into the guard rail."
Other me: o.O
Me: "Lol I mean change the radio station! :)"

— Punky Brewster (@xLAWx_) January 8, 2019
23.
https://twitter.com/Freshnoodlez/status/1082484170310512642
24.
https://twitter.com/ishhquinones_/status/1082164629130936320
25.
https://twitter.com/_breezjae/status/1082355686187577344
26.
If I'm waiting for a timer, I do a countdown with it in my head to see if I can keep up. I also countdown in increments of single digits. Makes it a lot easier.
(If it's 37 seconds, I go 7-6-5-4-3-2-1-0-29-8-7-6-5-4-3-2-1-0-19-8-7-, etc.)

— Lex (@lexieeWABO) January 7, 2019
You May Also Like…
— Ruin My Week (@RuinedWeek) January 9, 2019
27.
I had no idea sitcoms where taped n front of live studio audiences. So When i used to watch shows & heard people laughin, i thought it was the rest of the whole world at home watching & laughing into their tvs, so i used to laugh xtra hard right into the speakers .

— Ashley C. (@AshleyyC__) January 8, 2019
28.
I do personal bets with myself like if I'm about to throw something in the trash I say "ok if I make this me and my gf will get married one day".

— Caramel Macchiato (@A1Kaycakez) January 7, 2019
29.
I sleep with the tv on because when it's quiet I start to overthink things and my anxiety kicks in

— Malachi :3 (@zMalachii) January 7, 2019
30.
everytime i get in my car, i make sure i check the backseat because i dont wanna get choked out from behind

— . (@vashonnd_) January 8, 2019
31.
sometimes i find the floor much comfier than my bed. i just be laying on it for no reason even tho my bed right there

— adelle s (@maadessi) January 8, 2019
32.
https://twitter.com/MandieMasked/status/1082549003324076033
33.
https://twitter.com/Axlogixx/status/1082748016040255489
34.
If I knock/scrap one foot on the floor by accident I have to even it out and knock/scrap the other foot otherwise I feel uneven

— Harrison Carnegie (@Haz_ink) January 8, 2019
35.
https://twitter.com/B_doll23/status/1082688251712946176
36.
I once bookmarked this porn video that popped up on my timeline because I really liked ole girls nails and I didn't know the color and design but I couldn't show the nail lady well because 😂😂😂

— Kami (@HeadassKrystal) January 7, 2019
37.
https://twitter.com/_urdestynee/status/1082191794773913601
You May Also Like…
— Ruin My Week (@RuinedWeek) January 9, 2019