On Sunday, singing celebrities found a way to actually help people: by raising money. The iHeart Living Room Concert for America was hosted by Elton John and allowed audiences at home to see musicians in their homes, with performances from Alicia Keys, Billie Eilish, Billie Joe Armstrong, Camila Cabello with her boyfriend Shawn Mendes, Dave Grohl, H.E.R., Mariah Carey, Sam Smith, and Tim McGraw. Proceeds from the event went to Feeding America and First Responders Children's Foundation.
Do I still think celebs good open their own dang wallets instead of trying to get cash this roundabout way? Yes. But that doesn't stop the delight that I and most of the Internet took in the amazing rendition of shelter-in-place "I Want It That Way" from the Backstreet Boys broadcast during the program.
Each of our boys is alone at home, except for Kevin, who was accompanied by his two sons going absolutely wild on a drum set and ukulele.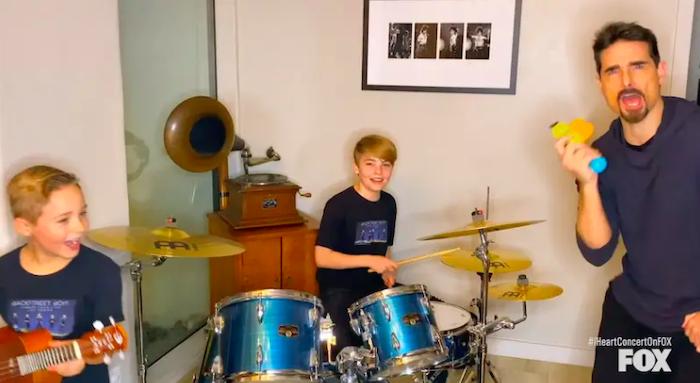 They're wearing Backstreet Boys shirts! Help!
The song was the anthem for so many middle school and high school dances, so many at-home slumber parties and so many amazing moments in cinema, including this incredible set-piece featuring Joe Manganiello grinding in Magic Mike XXL:
And also this rendition on Brooklyn 99:
I really enjoyed the Backstreet Boys' performance of "I Want It That Way" on #iHeartLivingRoomConcert but still don't know which one I like better: that one or the one from #Brooklyn99 🤔💁🏻‍♀️ pic.twitter.com/hCvwMv3I9M

— julietta cisneros🦖 (@julescisneros19) March 30, 2020
But could anything be better than seeing the boys back together again?
Watching these guys come together for America and for our past teenage selves was absolutely delightful in every way:
View this post on Instagram
Twitter absolutely exploded as nostalgia reminded them of more hopeful times and the possibility of goodness in the world. If the Backstreet Boys can be reunited, anything is possible, even an end to this madness:
They just unlock my childhood memories https://t.co/WE2ewFgmEy

— ASH (Foodhunter) (@Ashril_92) March 31, 2020
I can't love this any more than I do which is a LOT! https://t.co/0mwWS7VmpN

— Dave Moore (@DaveTodayFM) March 30, 2020
Will there ever be a day when the Backstreet Boys' "I Want it That Way" doesn't slap? 🔥 #iHeartConcertonFOX pic.twitter.com/161aguDNq4

— Alejandro Guerra (@Cinephile420) March 30, 2020
I never realized this is what would put a smile on my face at a time like this https://t.co/CCazVUQQsG

— Sara 🧢≥ ☂️🌺😷 (@SaraEnki) March 30, 2020

Gal Gadot could never.
Gal Gadot watching the Backstreet Boys on #iHeartConcertonFox pic.twitter.com/vYSMpZKKuP

— Kevin F McCarthy (@kfinmccarthy) March 30, 2020
More celebrities and coronavirus: